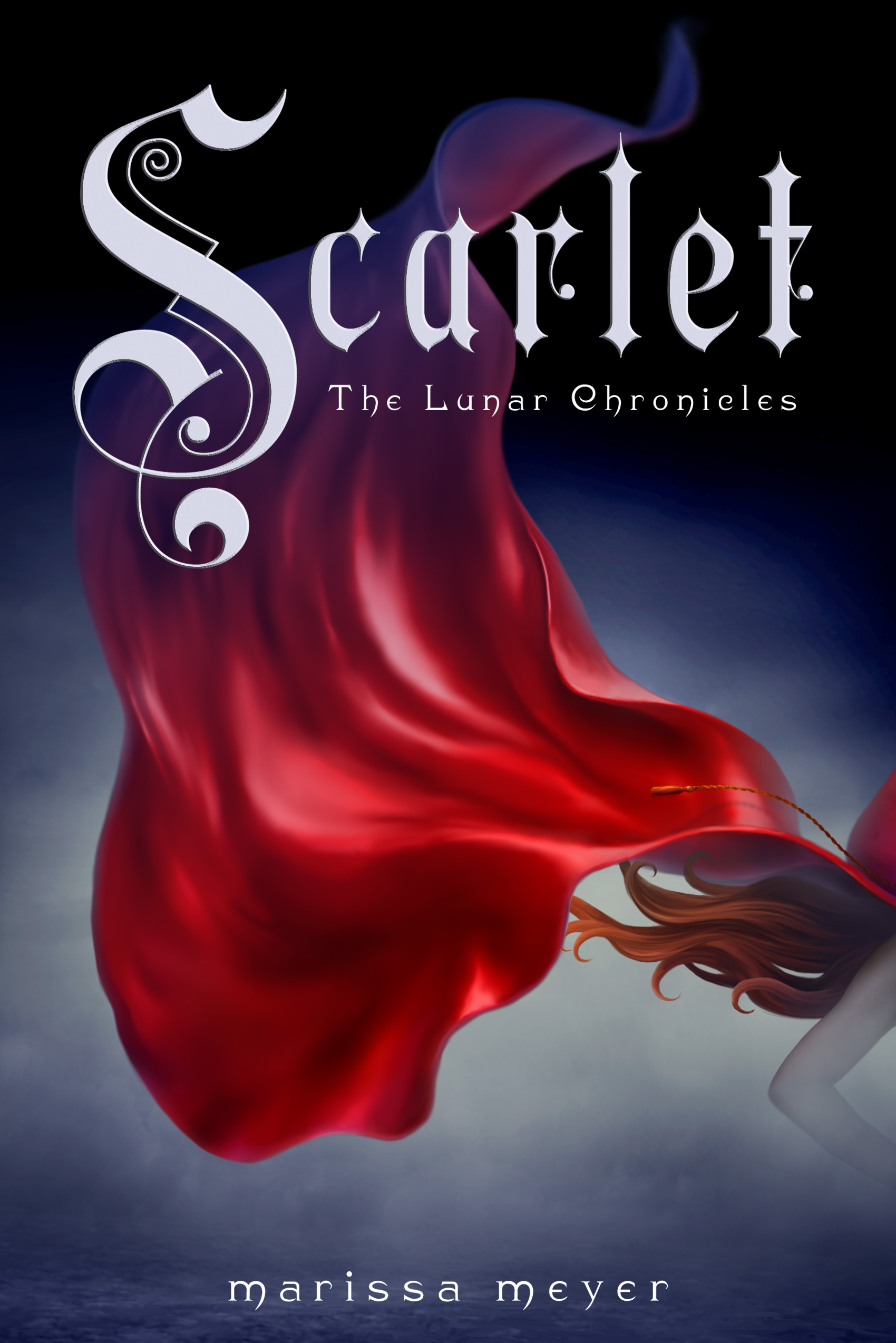 Scarlet by Marissa Meyer
Page Length: 454 pages
Rating: 4 Stars
The fates of Cinder and Scarlet collide as a Lunar threat spreads across the Earth...

Cinder, the cyborg mechanic, returns in the second thrilling installment of the bestselling Lunar Chronicles. She's trying to break out of prison—even though if she succeeds, she'll be the Commonwealth's most wanted fugitive.

Halfway around the world, Scarlet Benoit's grandmother is missing. It turns out there are many things Scarlet doesn't know about her grandmother or the grave danger she has lived in her whole life. When Scarlet encounters Wolf, a street fighter who may have information as to her grandmother's whereabouts, she is loath to trust this stranger, but is inexplicably drawn to him, and he to her. As Scarlet and Wolf unravel one mystery, they encounter another when they meet Cinder. Now, all of them must stay one step ahead of the vicious Lunar Queen Levana, who will do anything for the handsome Prince Kai to become her husband, her king, her prisoner.
I loved this book! Usually second books in series aren't as good as the first books.
Scarlet
proved this wrong. I love this story. It is original and captivating. The writing is amazing too. It's unique and descriptive.
Scarlet
was written in multiple point of views that changed frequently. And while this would normally be extremely irritating, Meyer somehow makes it work, she makes all their perspectives worthwhile. It was so interesting seeing the stories all come together in the end. The details from each point of view make the story come around full circle. I loved the little details of
Red Riding Hood
that Meyer incorporates into the story. Meyer weaves the information into the story so nicely, and the story flows so well.
Cinder
is about lies and manipulation.
Scarlet
focuses on the lies that led up to that. This book had much more action and adventure. The stakes are much higher now. This story is building-up to be so much more than a Cinderella love story.
I really like the protagonist, Cinder. She is tough, strong, fierce, smart, and a born leader. Thorne was great comic relief. I love his character and he complements Cinder nicely. She is the all too serious type while Thorne is the easygoing, not a care in the world type. At first, I didn't really like Scarlet, but I grew to like her as well. She is stubborn, confident, and tenacious. Wolf had a lot of character development in this story, which I always like to read of.
There were only a few minor things that I didn't like about this book. The beginning was a little slow. It took me a while to get used to Scarlet's point of view because I really didn't like her. I just wanted Cinder's point of view. I learned later on, that all of these points of view are necessary and essential to the story. Meyer did need that story development in the beginning though, so I forgive the slowness. I loved the humor and wittiness that is Linh Cinder, who I grew to love in
Cinder
. Now, Cinder seems hard, and cold, and just not the same girl she used to be. Come back Cinder! I miss the carefree, fun you! I understand that she is a fugitive now and has a lot of things on her plate right now. I wish she hadn't changed so much though. I also didn't like the insta-love between Scarlet and Wolf. The romance was too quick and unnecessary. It did break the girliness out of me near the end though, and made me say "awwww" during the lovers' confessions at the end of the book. And I miss Prince Kai!!
This book is engrossing and fast-paced. That ending was awesome! Cinder has finally come to terms with her new status and knows what she must do: defeat Queen Levana and take back her crown. I love these books!