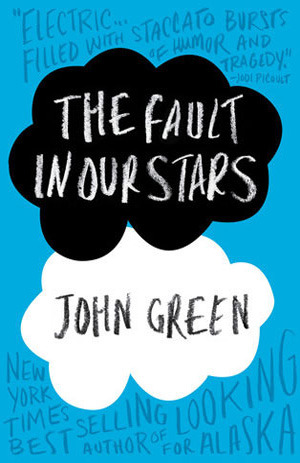 Series: No
Genre: YA Contemporary
Page Length: 318 Pages
Publication Date: January 10th, 2012
Publisher: Dutton Books
Source: Borrowed
Goodreads
Despite the tumor-shrinking medical miracle that has bought her a few years, Hazel has never been anything but terminal, her final chapter inscribed upon diagnosis. But when a gorgeous plot twist named Augustus Waters suddenly appears at Cancer Kid Support Group, Hazel's story is about to be completely rewritten.
I've been putting off reading this book for a long time simply because I don't like sad books, specifically books about cancer. I know way too many people who've suffered and lost in the fight against cancer, and I didn't want to be reminded of it with this book. After reading all the rave reviews about it though, I decided to give it a try. It was much better than I though it would be but still lacked in areas.
I respect John Green and like that he tried tackling a storyline such as this. In my opinion though, the execution was quite poor. The book had a slow pace and was really unrealistic: the Amsterdam part & Hazel going to Augustus's house RIGHT after meeting him (the list is endless). The writing was good although I felt as if Green were trying too hard. Basically every other line was deep and had some significant meaning. I saw motifs all over the place and ugh it was just too much. I like intellectual reads (my parents make me read all those "adult" books on economics, business, philosophy, technology, you name it), but you don't need to pack it into each and every dialogue. Hazel and Augustus have page long discussions on oblivion and fears and philosophy, and it just bored me to tears. I felt that some scenes weren't necessary at all while vital scenes were cut short or sped through.
Now as much as I hated the cramming of discussions and philosophy, it was quite interesting. There were some great quotes in this book that I've highlighted. And I'm glad I finally understand the "Okay," "Okay," thing.
The characterization was horrid. Augustus and Hazel are basically the same person except Hazel is female and Augustus is male. They have the exact same voice yet I know avid fans are going to say they are just so alike and that's why they like each other. I don't know though, it seems like bad characterization to me when you have two identical copies. I found those two to be dull and boring and a bit pretentious. Each character should have a unique voice. If I switched Augustus' lines with Hazel's you wouldn't even be able to tell the difference. I really liked Isaac though! He was my favorite character by far.
The romance, though it developed way too quickly (and was love at first sight), was adorable once it did happen. Seeing their love and devotion was so sweet and charming. They have so many cute moments. What broke my heart (in a good way) was seeing how Hazel stuck by Augustus through thick and thin and was always there for him.
I was expecting to cry sometime in this novel yet I didn't. Some parts that I could tell were supposed to be emotional just didn't seem emotional to me. The funeral was lacking depth and emotion (in my opinion) and didn't make me feel anything.
I know this review might sound like I'm slamming the book, but it was a good read. There were too many flaws to call it a favorite, but I respect Green's attempts and who doesn't love a good love story?
What were your thoughts on this book?