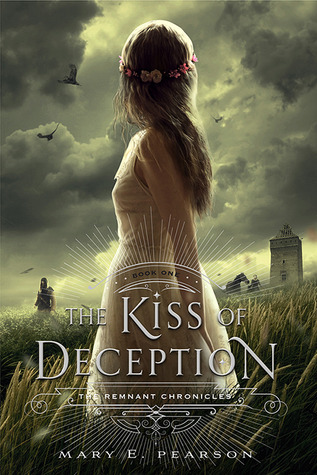 Series: The Remnants #1
Genre: YA Fantasy
Page Length: 489 Pages
Publication Date: July 8th, 2014
Publisher: Henry Holt & Co.
Source: Purchased
Goodreads
In this timeless new trilogy about love and sacrifice, a princess must find her place in a reborn world.
In a society steeped in tradition, Princess Lia's life follows a preordained course. As First Daughter, she is expected to have the revered gift of sight—but she doesn't—and she knows her parents are perpetrating a sham when they arrange her marriage to secure an alliance with a neighboring kingdom—to a prince she has never met.
On the morning of her wedding, Lia flees to a distant village. She settles into a new life, hopeful when two mysterious and handsome strangers arrive—and unaware that one is the jilted prince and the other an assassin sent to kill her. Deception abounds, and Lia finds herself on the brink of unlocking perilous secrets—even as she finds herself falling in love.
After hearing all the buzz and praise for this book through the blogosphere, I was anxious to read The Kiss of Deception. I was wildly impressed and can easily say this is one of the best books of 2014.
The synopsis of this book is so enticing. I knew from the beginning that I was going to love this book. YA Fantasy is my current favorite genre after all. I was so surprised by this book, and I'm glad to add it to my favorites shelf. I can gush on and on about how amazing this book is, but what makes this book so great?
The world-building was fantastic. I could picture everything so clearly in my mind. We learned the brief history of the land, we could visualize it all. There are setting changes in this book as there's a bit of traveling. Pearson does an amazing job of describing it all. The town seems so idyllic and rustic, the forest creepy and dangerous, the desert hopeless and barren.
The execution of this book was nearly flawless. The pacing was great. Nothing was too fast or too slow. The writing was phenomenal. Pearson was so descriptive, and I love the way she writes. Her writing is so beautiful, I just love the way she tells a story. There were so many plot twists in this book. I love when the author keeps you guessing until the end and shocks you left and right. I especially enjoyed how Pearson hide the identity of the assassin and the prince. As we see part of the story from Lia's view, we had to guess who was who! We saw the two guys, we just had to guess which was the prince and which was the assassin. <-- Quite creative and lots of fun!
The diversity of this book also makes it great. The plot was so involved yet simple at the same time. Pearson manages to weave in various aspects and elements to make the story more well-rounded without diverting from the original storyline. I loved the 3rd person switching of points of view. This helped round out the story more and bring the whole story together as just having one point of view couldn't accomplish.
The characters were great! They were realistic and admirable. I really like the main character, Lia. She's stubborn, strong, smart, and compassionate. I love her tenacity and loyalty. All of the supporting characters are great as well!
The romance was perfect. I'm pretty sure it's not a love triangle, thank gosh. I could NOT handle another one of those in a series. The romance is so sweet and adorable. They had that connection in the beginning, but it was great to see the romance actually grow and develop.
The ending of this book was phenomenal. It left you wanting more and wondering what would happen next. I am SO excited for the next book!
Overall
Go read it!! Best fantasy read of the year so far :)
What were your thoughts on the book? Do you like high fantasy?