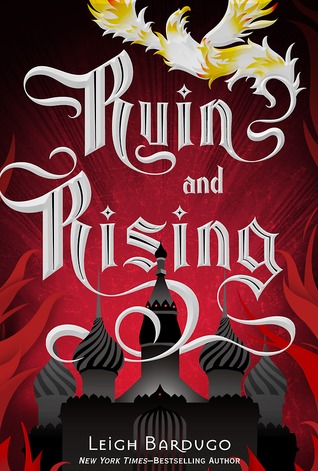 Series: The Grisha #3
Genre: YA Fantasy
Page Length: 417 Pages
Publication Date: June 17th, 2014
Publisher: Henry Holt & Co.
Source: Purchased
Goodreads
The capital has fallen.

The Darkling rules Ravka from his shadow throne.Now the nation's fate rests with a broken Sun Summoner, a disgraced tracker, and the shattered remnants of a once-great magical army.

Deep in an ancient network of tunnels and caverns, a weakened Alina must submit to the dubious protection of the Apparat and the zealots who worship her as a Saint. Yet her plans lie elsewhere, with the hunt for the elusive firebird with hope that an outlaw prince still survives.

Alina will have to forge new alliances and put aside old rivalries as she and Mal race to find the last of Morozova's amplifiers. But as she begins to unravel the Darkling's secrets, she reveals a past that will forever alter her understanding of the bond they share and the power she wields. The firebird is the one thing that stands between Ravka and destruction—and claiming it could cost Alina the very future she's fighting for.
I started this book with high expectations and wasn't completely impressed. There were some very great parts and others I found lacking. Overall I did enjoy this series as a whole, and the ending of this book was amazing.
I love the world that Bardugo has created. It's so complex and rich and magical while also being harsh and unforgiving. Her writing is superb. The way that she describes things. The plot twists. The detailed storyline. Her writing keeps readers guessing until the end. That being said though, t
his book was riddled with darkness and despair. I felt the lack of happiness in the book. I read for entertainment and enjoyment and fun, and this book was lacking it in my opinion. It had a more somber tone filled with loss and mourning and sadness.
I still don't like Alina as a character, but I do respect her. I love Nikolai who is basically the only comic relief in this book. The characters in this book are all quite realistic and bring something to the table, be it humor, intelligence, support... Mal's character improved in this book as well. And oh, the mysterious Darkling. I wish I'd learned more about his character in this series. He's so intriguing.
I felt that the plot was dragging in parts. There were few action scenes interspersed within the long journey that the characters go on. I just didn't like what little was happening in the book.
On another note, the romance in this book was so cute. Although I didn't ship it, I must admit it was adorable. The climax was confusing and quite underwhelming. I wanted more than that feeble end solution for it all.
The ending was perfect. Bardugo managed to make the most of a Happily Ever After as she could for these characters. After all of the death and destruction it was wonderful to see these characters finally get the happiness that they truly deserve. I can't repeat it enough. It was a cliché but well done.
Overall
Ruin and Rising brings a satisfying conclusion to the amazing tale yet falls short in other areas.