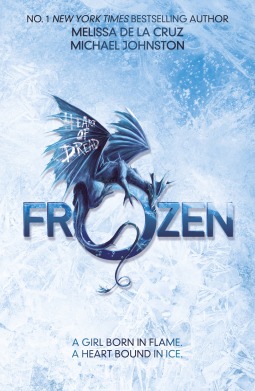 Series: Heart of Dread #1
Genre: YA Fantasy/Sci-Fi/Dystopian/Apocalyptic??
Page Length: 365 Pages
Publication Date: October 2nd, 2014
Publisher: Orchard Books
Source: e-ARC via Netgalley
Goodreads
Welcome to New Vegas, a city once covered in bling, now blanketed in ice. Like much of the destroyed planet, the place knows only one temperature—freezing. But some things never change. The diamond in the ice desert is still a 24-hour hedonistic playground and nothing keeps the crowds away from the casino floors, never mind the rumors about sinister sorcery in its shadows.

At the heart of this city is Natasha Kestal, a young blackjack dealer looking for a way out. Like many, she's heard of a mythical land simply called "the Blue." They say it's a paradise, where the sun still shines and the waters are turquoise. More importantly, it's a place where Nat won't be persecuted, even if her darkest secret comes to light.

But passage to the Blue is treacherous, if not impossible, and her only shot is to bet on a ragtag crew of mercenaries led by a cocky runner named Ryan Wesson to take her there. Danger and deceit await on every corner, even as Nat and Wes find themselves inexorably drawn to each other. But can true love survive the lies? Fiery hearts collide in this fantastic tale of the evil men do and the awesome power within us all.
Why don't I listen to myself? STOP READING Melissa de la Cruz's work. Just stop. Save yourself the aggravation, Rachel. I thought since she co-wrote this book it would be safe to read. I thought it would be okay. Boy was I wrong.
I'm not even sure what to classify this book as. Fantasy? Dystopian? Sci-Fi? It's a mesh of so many different genres. Pick one, not three. Pick ONE and develop the story towards that genre. There were small bits of each genre thrown into the mix which heavily weakened the story. There were too many various elements brought in one after another. Zombies, Nymphs, "Smallmen," polar bears, drakons, warlocks, mages you name it! And get this, zombies are called "Thrillers" after Michael Jackson's song. It was all just overwhelming. The characters were dull and had no personality. I could have a more intellectually stimulating conversation with a telephone pole. The romance was so unbelievably bad and inconsistent. The world-building was so illogical and outlandish and inconsistent. What the heck?? English and literacy are gone. It's been replaced with Textlish. I kid you not. This hurts my bookish heart. How could these writers stand tormenting the English language with this drivel?? Another point that killed me. They say there's not a lot of water left. Ummm excuse me. You live in the icy tundra. MELT THE ICE YOU IMBECILES. Nothing in this book is explained. Everything is just told to us as a fact. I want to know WHY. It gets better: they drive in a Hummer for a long period of time in this book, and they never stop for gas.
Has anyone read
The Brave New World
by Aldous Huxley? I feel that the authors were on a soma holiday (soma is the drug that people took in
BNW
) when they wrote
Frozen.
This book contains all of those silly thoughts you've ever jokingly said ("What if...") and added them to the book. I think Cruz and Johnston created this book as a cruel joke. It's not funny.
This book was a horrifying nightmare that thankfully is over.
Frozen
was a disastrous read that I urge readers to stay away from.