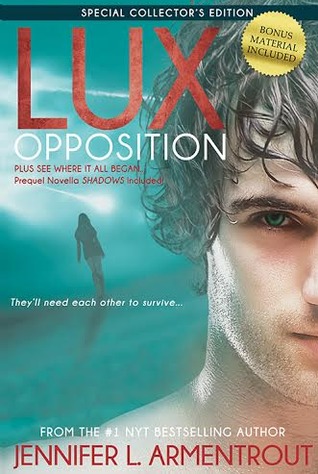 Series: Lux #5
Genre: YA Paranormal
Page Length: 534 Pages
Publication Date: August 5th, 2014
Publisher: Entangled Teen
Source: Purchased
Goodreads
Katy knows the world changed the night the Luxen came.

She can't believe Daemon welcomed his race or stood by as his kind threatened to obliterate every last human and hybrid on Earth. But the lines between good and bad have blurred, and love has become an emotion that could destroy her—could destroy them all.

Daemon will do anything to save those he loves, even if it means betrayal.

They must team with an unlikely enemy if there is any chance of surviving the invasion. But when it quickly becomes impossible to tell friend from foe, and the world is crumbling around them, they may lose everything— even what they cherish most—to ensure the survival of their friends…and mankind.

War has come to Earth. And no matter the outcome, the future will never be the same for those left standing.
Have you ever read a book that you absolutely loved and then when you went to reread it, you hated it?
I read the Lux books last summer and found them wildly entertaining and filled with awesome characters. I recently reread them and found them to be unsatisfactory. I didn't understand, I LOVED these books last summer... Saying I was excited for the release of this book would be an understatement. I think that my taste in books has changed since last year. Before (as in last year) I was very easily entertained and loved basically every book I'd read. Granted I was a new reader and didn't know any better, I think I've become more critical and now know my reading "likes and dislikes." With a heavy heart I must say that Opposition and Jennifer L Armentrout books in general have fallen out of my favor.
I don't know what's wrong with me!! I love JLA's humor and hot characters but besides that, I don't really love much else anymore. Her writing style, although it totally embodies her protagonist, was a bit childish and just plain dull. There are no meaningful quotes, there's only puerile remarks or blisteringly hot romance scenes. There's nothing quotable except some romance lines and comedic lines.
The romance in this book was cute at moments but just over-the-top in other instances. There were random sex scenes all over the place!! It's not erotica, but still. Isn't there a story going on??
The action scenes were pretty intense and exciting. Although the book was 500+ pages it didn't seem that long. The pacing was great.
Opposition
was amusing and entertaining in parts. This book is definitely a page turner.
I like the characters. They are all pretty amusing and charming. I didn't see any character growth in them though. That disappoints me a bit. I will miss these wonderful characters though.
I've noticed that between JLA's three YA series
Covenant, Lux,
and
The Dark Elements,
the plots are quite similar; they just happen to be about different paranormals. The protagonists of these three series are basically the same character. They have the same voice (and same narrative/writing style). I understand it's written by the same author, but the characters have the same mannerisms and silly exclamations. They have the same characteristics (stubborn, pretty-but-doesn't-know-it-until-hot-guy-tells-her-so, seemingly perfect, funny, feisty). It gets old and repetitive, fast. There's always a hot guy in each of her series that falls madly in love with the main character right away (Seth, Aiden, Daemon, Zayn, Roth). They're all really badass and cocky (with the exception of Aiden). All of the books have some semblance of a love triangle too. The beginning of all of these series start out innocent but then by book 3 they blow out into a catastrophic, characters-must-save-the-world routine.
Yikes this review is sounding very angry. I feel that this book is really just sugar sweet and fake, it's funny and action-packed but there's no substance. It's a crowd pleaser. I really can't think of much else to say. The epilogue of this book was satisfying though.
Lux
fans will definitely enjoy the heart-racing conclusion to the
Lux
series, but those who aren't die-hard fans of
Lux
and JLA might not enjoy this just as I didn't.