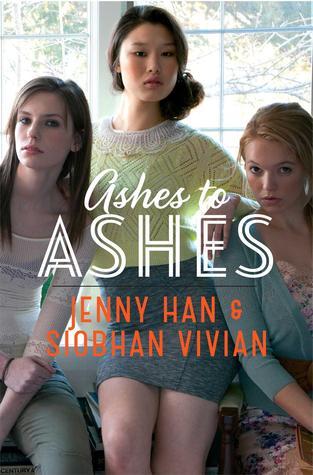 Author: Jenny Han & Siobhan Vivian
Series: Burn For Burn #3
Genre: YA Contemporary
Page Length: 400 Pages
Publication Date: September 16th, 2014
Publisher: Simon and Schuster Books for Young Readers
Source: ARC via Blogger friend!
Goodreads
New Year's Eve ended with a bang and Mary, Kat and Lillia may not be prepared for what is to come.

After *spoiler removed*, Kat and Lillia try to put the pieces together of what happened to . They both blame themselves. If Lillia hadn't *spoiler removed*... If Kat had only *spoiler removed*... Things could have been different. Now they will never be the same.

Only Mary knows the truth about that night. About what she is. She also knows the truth about *spoiler removed*, about Reeve being happy when all he deserves is misery, just like the misery he caused her. Now their childish attempts at revenge are a thing of the past and Mary is out for blood. Will she leave anything in her wake or will all that remain be ashes?
Doesn't that synopsis just intrigue you?? Haha I'm being sarcastic. Basically half the synopsis was spoiler removed-ed out XD All those *spoiler removed*'s were necessary because well, they'd spoil the series for you! All in all though,
Ashes to Ashes
is a contemporary novel about three girls who conspire against three people whom they want revenge on. Its got romance, partying, revenge, mystery, suspense, it's a pleasure read. It's not an intellectually-deep or thought-provoking story; it's pure enjoyment.
With that being said, I honestly don't know what to say about this book! I'm so conflicted, yikes I hope this doesn't become a trend.
Ashes to Ashes
had great moments, it had okay moments, it had horrible moments.
What I really enjoyed about
Ashes to Ashes
was the suspense. Readers were on-edge the whole time! I read this book in two sittings. I just sat there turning page after page until I finished! I had to break for food obviously, but that's besides the point... This book is a definite page-turner. Having no idea what was going to happen next, I kept reading. There were lots of twists and turns, things I never saw coming. The plot truly attached itself to the reader.
The three points of view really brought the story together as a whole. Each point of view was necessary and contributed to the story in some way. None of the parts were lacking or boring or less important than others. The pacing was great! The tones were different for each point of view as it should be (unlike
Allegiant
) and clearly expressed the different voices of the protagonists. The authors truly became the protagonists. We sympathized with these characters, we (mostly) liked these characters, we connected with them.
Romance was not a weak point in this book. There were tons of cutesy scenes, many pages were shrouded by my blissful and dazed gaze. I couldn't stop grinning at some of these adorable scenes. This is definitely one of my favorite ships!!
The theme of the book truly hit me hard though. I thought this book was just pure enjoyment and had little meaning. Through the summer reading assignments I've been forced to read, it's truly opened my eyes up to writing in general. Every story is told for a reason. The author is trying to convince us readers of something. The authors did that in
Ashes to Ashes
and did it well which I'm quite impressed by.
I can't (coherently) explain my thoughts on the ending so here's a gif to help show what I'm feeling:
The ending kind of pulled the rug out from under me. It's similar to the ending of
Even in Paradise
(psstt, review to come for that fabulous book). There was that twist at the end, the sting that just hurts. Something I truly wanted to happen, something I was rooting for, fell apart. I'm not going to lie, the ending tarnished this book's reputation for me. I felt the ending wasn't really necessary. It came out of left field and not in a good way. While the end of
Even in Paradise
is wistful and somber and well done,
Ashes to Ashes
ending makes no sense. It adds no significance to the story; it kind of just happens. Who knew that authors could kill a bookish vibe in two sentences?? The things that happened afterwards were just plain sad. I'm conflicted because I did like the last three sentences of the book. This reaffirms my opinion that not every book needs an epilogue.
Filled with suspense and romance and a great theme, the final book in the Burn for Burn series brings an "interesting" end to the revenge-driven series that may or may not please fans.