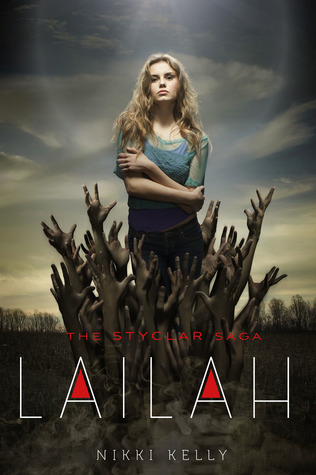 Series: Styclar Saga #1
Genre: YA Paranormal
Page Length: 416 Pages
Publication Date: October 7th, 2014
Publisher: Feiwel & Friends
Source: ARC via friend!
Goodreads
The girl knows she's different. She doesn't age. She has no family. She has visions of a past life, but no clear clues as to what she is, or where she comes from. But there is a face in her dreams – a light that breaks through the darkness. She knows his name is Gabriel.

On her way home from work, the girl encounters an injured stranger whose name is Jonah. Soon, she will understand that Jonah belongs to a generation of Vampires that serve even darker forces. Jonah and the few like him, are fighting with help from an unlikely Allie – a rogue Angel, named Gabriel.

In the crossfire between good and evil, love and hate, and life and death, the girl learns her name: Lailah. But when the lines between black and white begin to blur, where in the spectrum will she find her place? And with whom?

Gabriel and Jonah both want to protect her. But Lailah will have to fight her own battle to find out who she truly is.

In a battle for the soul of a nation, will love or destiny reign supreme?
Just when I thought the paranormal scene was dead (no pun intended), the glorious Nikki Kelly brought it back to life with a fascinating and creepy tale. The protagonist, Lailah, doesn't know who or what she is. She doesn't age, and whenever she dies, she mysteriously wakes up again. The only thing she does remember is a name matched with a face in her dreams, Gabriel. Thrust into a harrowing situation, Lailah becomes immersed in a fight of good versus evil.
Nikki puts a twist to the normal paranormal (see what I did there?) and brings a surprisingly fresh story that hasn't been told before. I feel that
Lailah
is a book that you need to be in the mood for though. If you're looking for a creepy and fun and sexy book filled with unique writing and awesome characters, this is the book for you. If you're looking for a book packed-full with motifs and life lessons and underlying meanings and philosophical entities, this isn't the book for you. It's fun and spooky, Halloween is the perfect to time to read it!
The characters in this book were what really made me enjoy
Lailah
. They are a bit stereotypical but also vivid and fun and just so interesting. Nikki weaves a wonderful backstory for each character yet leaves some mystery to makes us wonder and question and theorize. This book truly had a campy feel to it. It's a bit overly dramatic in parts, but it makes this book even more endearing and enticing.
Lailah
takes place in Europe, and Nikki did a wonderful job of describing everything. I just wanted to pack my bags and go tour Europe. Nikki's writing is unique and descriptive and addictive. I couldn't stop reading! I was hooked from the beginning, and my attention was held throughout.
There's a love triangle in this series. It's different than most though because this love triangle actually works. There's Gabriel, the perfect angel, and Jonah, the bad boy vampire. I don't know why, it just works people, IT DOES. I promise. They both have their secrets though, so it should be interesting to see these revelations come to light.
This book isn't perfect, but then again no book is. This book has so much going for it: addictive writing, intriguing characters, fascinating storyline, a lovely setting, and an amazing love triangle. So if you're in the mood for a fun paranormal read, this is for you! Dark. Sexy. Intriguing. Filled with twists and turns and set on a beautiful backdrop,
Lailah
is sure to enchant and haunt you from the start.