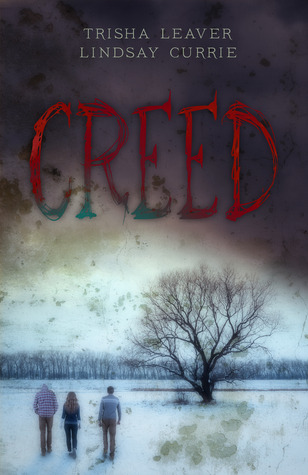 Release Date: November 8, 2014
Publisher: Flux
Genre: Young Adult Psychological Horror
ISBN: 0738740802
Three of us went in.
Three of us came out.
None even a shadow of who they once were.

When their car breaks down in the middle of nowhere, Dee, her boyfriend Luke, and Luke's brother, Mike, seek help in the nearby town of Purity Springs. But as they walk the vacant streets, the teens make some disturbing discoveries. The seemingly deserted homes each contain a sinister book with violent instructions on disciplining children. The graveyard is full of unmarked crosses. Worst of all, there's no way to contact the outside world.

When Purity Springs' inhabitants suddenly appear, Dee, Luke, and Mike find themselves at the mercy of Elijah Hawkins, the town's charismatic leader who has his own plans for the three of them. Their only hope for survival is Elijah's enigmatic son, Joseph. And his game may be just as deadly as his father's . . .
"Debut authors Leaver and Currie make an auspicious foray into YA horror...creating a believably desperate and terrifying situation for their characters, and Dee's history of physical and sexual abuse adds another layer of terror to this suspenseful and sporadically gory thriller." ~
Publishers Weekly
Welcome to a town that makes "Children of the Corn" look like child's play. There's no shortage of scary shenanigans happening in "Creed" ... We'd rather take a year- long gig teaching botany to the "Children of the Corn" than take a gas-and-bathroom break on a sunny day in Purity Springs. ~Kat Rosenfield author of Amelia Anne is Dead and Gone/ MTV News
"This is: a straight-ahead, cover-your-ears tale of terror that grows more nihilistic and grueling by the page.... Leaver and Currie do the best thing horror authors can do, presenting protagonists who make smart choices, over and over, but to no avail. Now that's scary" ~ Daniel Kraus/ Booklist Author
Excerpt
I flipped open my cell phone and used the light from my home screen to navigate the edges of the room. Hooks lined the walls, most of them supporting yard tools. Hedge trimmers, weed whacker, leaf blower. Pickaxe. "Pickaxe? What would somebody need a pickaxe for?" I asked.

"I don't know. Maybe they use it in the winter when people die and the ground is frozen," Luke offered up.

I turned to glare at him, not even remotely thankful for his insight. Mike ignored us and continued rifling through some large plastic bins lining the wall, cursing as a large cardboard box toppled over onto his feet.

Papers spilled out and Luke bent down, casting the beam of light across the mess. Dozens of names hand-written in pencil lined the sheets. Next to each name was a date. I reached down and picked up the first sheet I touched. It was a newer one, dated November 5th … two days ago. "James McDonald, age six. Margaret Elizabeth Cunningham, age fifty-four. Sadie Calbert, age twenty-two," Luke read aloud. He inhaled sharply and began stuffing the papers back into the box. "These are … I think these are death records."

"I can beat that," Mike chimed in. "Check this out."

Luke turned his light in Mike's direction, slowly scanning it upward until a sign came into view: Purity Springs. Population 152. He moved the sign aside; another one, nearly identical, was behind it. "Purity Springs, population 151," Luke read before shuffling yet another sign aside.

"And looky here," Mike said. "This one looks pretty new, not a scratch on it. Says 'population 149.' That's messed up."

Luke shook his head, grumbling something incoherent under his breath. I stepped aside, forcing myself to focus on the search for gas as opposed to the archaic death records scattered across the floor.

My mind flashed back to the grave we'd passed on the way here. It was new, and I couldn't help but think there was a sign hanging on the side of the road somewhere that read Purity Springs. Population 148.
Author Bios
Trisha Leaver graduated from the University of Vermont with a degree in Social Work. She lives on Cape Cod with her husband, three kids and one rather irreverent black lab. She is a member of the SCBWI, the Horror Writers Association, and the YA Scream Queens
Website
|
Twitter
|
Facebook
|
Instagram
Lindsay Currie graduated from Knox College in Galesburg, IL with an English Literature degree. She is a member of the SCBWI, the Horror Writers Association and a contributor to the YA Scream Queens.
Website
|
Twitter
|
Facebook
|
Instagram