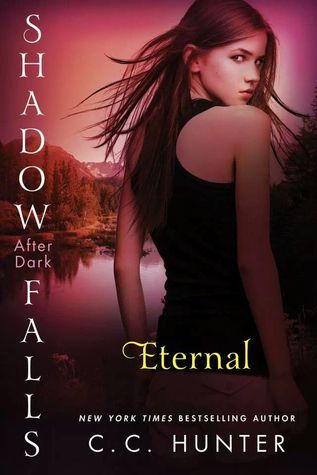 Series: Shadow Falls: After Dark
Genre: YA Paranormal
Page Length: 386 Pages
Publication Date: October 28th, 2014
Publisher: St. Martin's Press
Source: ARC via author & Finished Copy via publisher
Goodreads
All her life, Della's secret powers have made her feel separated from her human family. Now, she's where she belongs, at Shadow Falls. With the help of her best friends Kylie and Miranda, she'll try to prove herself in the paranormal world as an investigator—all the while trying to figure out her own heart. Should she chose Chase, a powerful vampire with whom she shares a special bond? Or Steve, the hot shapeshifter whose kisses make her weak in the knees? When a person with dark connection to her past shows up, it'll help her decide which guy to choose–and make her question everything she knows about herself.
Eternal is the second book in the epic spin-off series Shadow Falls by C.C. Hunter. This series is just as fun and spectacular as the original!
C.C. Hunter's writing is consistently wonderful. She weaves in twists and turns that you never see coming. She incorporates great themes and develops great characters and swoonworthy romances. I have nothing but praises for her and her books.
As I've said before, I love how C.C. Hunter puts a spin to the normal paranormal. What I really love about this book and series is the campy feel that it has. It'll make you warm and fuzzy. This book is just so much fun! It's light and happy, a perfect read to get you out of any reading slump.
Della has enormous character growth in this series, and especially in this book. I love how this book focuses on race and culture and how important those are. All of the characters are descriptive and fun and lovable. I could read about these characters any day.
I really like both of the guys in the love triangle. They both have their great qualities and flaws. I think I'm leaning towards Steve though... The romance was sweet and adorable. I'm so conflicted though, they're both great guys.
This book was a fantastic sequel to the Shadow Falls: After Dark series!
And now... a cover reveal for the 3rd book, Unspoken out July 14th, 2014!
And now a giveaway for Eternal! It's US only and a VERY AWESOME book!
Thanks to St. Martin's Press for providing a finished copy to giveaway!
a Rafflecopter giveaway