The final book in Jenna Black's
Replica
series came out on Tuesday! I haven't read this series yet, but it sounds really good, and I've read lots of positive reviews. The awesome people at Tor Teen are graciously allowing me to giveaway the
whole
series (Replica, Resistance, and Revolution) to one lucky winner! More information on that later...
Replica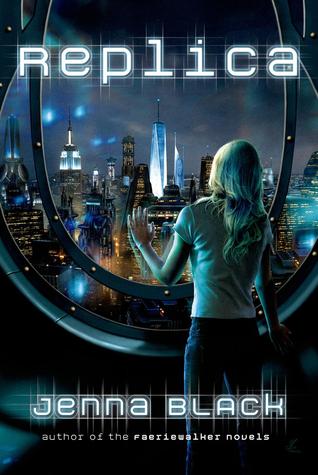 Goodreads
|
Amazon
Sixteen-year-old Nadia Lake comes from a high-class Executive family in the Corporate States. Her marriage has been arranged with the most powerful family in her state, which means she lives a life of privilege but also of public scrutiny, followed everywhere by photographers, every detail of her private life tabloid fodder. But her future is assured, as long as she can maintain her flawless public image — no easy feat when your betrothed is a notorious playboy.
Nathan Hayes is the heir of Paxco — controller of the former state of New York, and creator of human replication technology, science that every state and every country in the world would kill to have. Though Nadia and Nate aren't in love, they've grown up close, and they (and the world) are happy enough with their match.
Until Nate turns up dead, and as far as everyone knows, Nadia was the last person to see him alive.
When the new Nate wakes up in the replication tanks, he knows he must have died, but with a memory that only reaches to his last memory backup, he doesn't know what killed him. Together, Nadia and Nate must discover what really happened without revealing the secrets that those who run their world would kill to protect.
THE ACTION-PACKED FINALE OF JENNA BLACK'S CHILLING SCIENCE FICTION SERIES FOR TEENS THAT BEGAN WITH REPLICA
REVOLUTION by Jenna Black
400 Pages | $9.99 | Nov. 11, 2014
ISBN: 978-0-7653-3373-5
E-book ISBN: 978-1-4668-0491-3
"
This fast-paced, futuristic novel will delight fans of Orwellian science fiction, as well as readers of dystopian literature. Black explores love, loss, and loyalty against the backdrop of a chillingly familiar future world.
" —VOYA on Replica
This November, Tor Teen is bringing readers the conclusion to Jenna Black's Replica trilogy,
REVOLUTION
Nadia Lake and Nate Hayes live in a future dystopian world with a vast gap between the rich and the poor populations of nation states. This is a world where humans rich and powerful enough can effectively forestall death using expensive replicas of their bodies. But this is also a world where a super computer gains sentience and creates its own replica to imitate, pass for, and ultimately rule over the humans who created it.

In Replica Nate woke up after his murder with no memory of who killed him – he was actually a replica, a biological clone of himself imported with his memories. With his fiancée, Nadia, he set out to discover who killed him and why – and instead finds the darkest secrets of his society, Paxco.

In the next book, Resistance, Nate and Nadia attempted to reform the government – but they had no idea how deep the corruption runs. They found themselves on the losing side against not just human enemies but a computer more vast, cunning, and brilliant than they can contend with.

Now in REVOLUTION Paxco has a new ruler: Dorothy Hayes, who claims to be the secret daughter and rightful heir of the Chairman. Nate and Nadia are the only ones who know the truth about what really happened to the Chairman, and more importantly, the truth about Dorothy – but she claims Nate murdered the Chairman and she is hunting them down. On the run for their lives, Nate and Nadia know one thing: they didn't intend to start this revolution. And they aren't at all sure they can win it.
Praise for Jenna Black
"
Likely to be gobbled up by fans of the genre.
" —Kirkus Reviews on
Replica
"
Set in a dystopian New York City, the story has an interesting premise and its world is fleshed out…The idea of the replication process, how it works, and how it fits into the structure of Paxco are what set this particular dystopian future apart from other books in this genre. The ending sets the stage for a sequel, as a few major and minor plotlines are left dangling. Readers will be eager to see what comes next.
" —School Library Journal on
Replica
"
The story of Nate Hayes, the Chairman Heir, and his betrothed, Nadia Lake, ramps up as the pervasive Orwellian elements layer over light romance . . . Black is an accomplished author, and her approach to sf and dystopian genres focuses on politics and trust rather than hard science.
" —Booklist on
Resistance
JENNA BLACK received her Bachelor of Arts in physical anthropology and French from Duke University. She is the author of the Faeriewalker series for teens as well as the
Morgan Kingsley
urban fantasy series. You can visit her online at
jennablack.com
.
a Rafflecopter giveaway