There's a read-along for Rites of Passage by Joy N. Hensley happening all throughout this month!
Week 1: Chapters 1-10
Week 2: Chapters 11-21
Week 3: Chapters 22-31
Week 4: Chapters 32-43
We'll be reading and discussing and just having lots of fun!
Joy is going to be posting on her
website
behind-the-scenes aspects of writing and about going to military school. Each week has a different theme, and she'll be posting bi-weekly.
I've joined Joy's Street Team, The Cadre! I had read multiple rave reviews about her book along with a chapter preview, and I was immediately taken with this book. The themes this book conveys and the plot are both fantastic. The theme/storyline is a world problem that Joy expressed in such a dynamic fashion. That is why I was so very excited to join her Street Team.
Sorry for the delay in posting this! I couldn't get my hands on a copy until today. I'll be posting reactions and other theme-based posts all throughout November about this book so stay tuned. Psst there might be a giveaway coming soon for this book :)
About The Book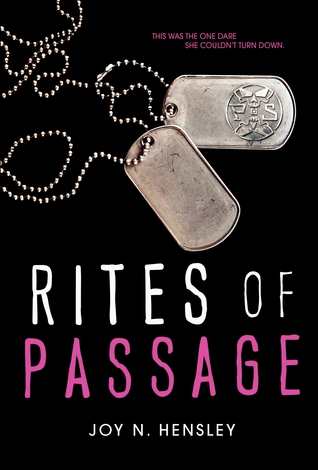 Sam McKenna's never turned down a dare. And she's not going to start with the last one her brother gave her before he died.

So Sam joins the first-ever class of girls at the prestigious Denmark Military Academy. She's expecting push-ups and long runs, rope climbing and mud-crawling. As a military brat, she can handle an obstacle course just as well as the boys. She's even expecting the hostility she gets from some of the cadets who don't think girls belong there. What she's not expecting is her fiery attraction to her drill sergeant. But dating is strictly forbidden and Sam won't risk her future, or the dare, on something so petty...no matter how much she wants him.

As Sam struggles to prove herself, she discovers that some of the boys don't just want her gone—they will stop at nothing to drive her out. When their petty threats turn to brutal hazing, bleeding into every corner of her life, she realizes they are not acting alone. A decades-old secret society is alive and active… and determined to force her out.
At any cost.

Now time's running short. Sam must decide who she can trust...and choosing the wrong person could have deadly consequences.
About The Author
Joy N. Hensley is a former middle school teacher. She used to spend her twenty-minute lunch breaks hosting author Skype chats for her students. Once upon a time she went to a military school on a dare. She lives in Virginia with her husband and two children, finding as many ways as she can to never do another push-up again.
I hope you'll join the read-along! Have you read the book? How is it?