Thank you so much to Jessica, Teresa, and Chelsea who planned this blog event where each day one blogger spotlights a book boyfriend! There will be giveaways and swoonage, so make sure to follow the event with this
schedule
.
For those of you who know me well, you may know that I adore Chaol Westfall from the phenomenal
Throne of Glass
series by the spectacular Sarah J Maas. I have the highest praise for this series and for Sarah!
So why do I love Chaol Westfall?
The better question is why wouldn't I love him?
I think I need to start by giving you a background of Captain Chaol Westfall. He's the Captain of the Guard for the King of Adarlan. He comes from a wealthy family, his father is Lord of Anielle. He is twenty-two, has close-cropped chestnut hair and d
reamy
golden brown eyes. His best friend is Dorian Havilliard, the Prince of Adarlan. There are
so
many admirable traits that my fair captain possesses, and I've selected his best.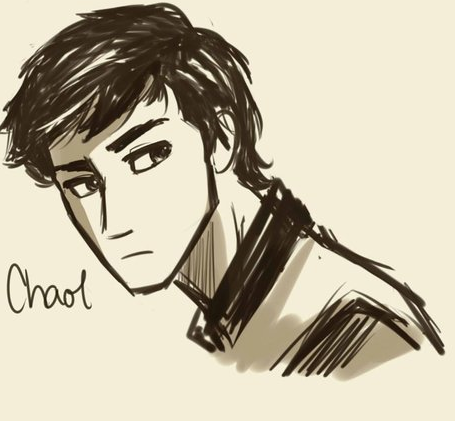 1.
Loyal
- Chaol is the most loyal character I have ever met. He'll stick by his friends no matter what.
2.
Intelligent
- Perceptive and strategic, Chaol is a smart guy. He can see things coming before anyone else. He'd be a great secret agent, he's done lots of recon and late-night following and tracking to take down Adarlan's biggest and baddest guys.
3.
Hard-working
- He gave up his title and worked his way up from soldier to Captain of the Guard. He's great at his job and takes pride in his work.
4.
Fierce
- Basically, he's super-badass. He can best the invincible Celaena Sardothien, notorious Adarlan's Assassin.
5.
Thoughtful & Sweet
- Although he has a rough exterior, he's actually the most thoughtful YA male I know! There are so many moments in this series where I just clutch my heart and say "Awwww!! That was so adorable and thoughtful and amazing of him."
6.
Classy and Genuine
- Everyone respects him. He's brutally honest. He's got honor, basically no vices, and they all see what a genuinely amazing person he is. As should you ;)
7.
Passionate
- We're used to seeing the prim and proper Chaol at court, but in
Crown of Midnight
we see a more passionate and sexy side to our captain. I APPROVE.
8.
Attractive
- Oh and he has that broody, sexiness about him. He's just really hot, okay?
Quotes
"I worry because I care. Gods help me, I know I shouldn't, but I do. So I will always tell you to be careful, because I will always care what happens."


"Celaena," Chaol said gently. And then she heard the scraping noise as his hand came into view, sliding across the flagstones. His fingertips stopped just at the edge of the white line. "Celaena," he breathed, his voice laced with pain--and hope. This was all she had left--his outstretched hand, and the promise of hope, of something better waiting on the other side of the line."

"Chaol kept his sword drawn. "I will not go to Anielle," he growled. "And I will not serve you a moment longer. There is one true king in this room—­there always has been. And he is not sitting on that throne."

"He would see that world reborn, even if it took his last breath."


The Book
After serving out a year of hard labor in the salt mines of Endovier for her crimes, 18-year-old assassin Celaena Sardothien is dragged before the Crown Prince. Prince Dorian offers her her freedom on one condition: she must act as his champion in a competition to find a new royal assassin. Her opponents are men-thieves and assassins and warriors from across the empire, each sponsored by a member of the king's council. If she beats her opponents in a series of eliminations, she'll serve the kingdom for three years and then be granted her freedom.
Celaena finds her training sessions with the captain of the guard, Westfall, challenging and exhilarating. But she's bored stiff by court life. Things get a little more interesting when the prince starts to show interest in her... but it's the gruff Captain Westfall who seems to understand her best.
Then one of the other contestants turns up dead... quickly followed by another.
Can Celaena figure out who the killer is before she becomes a victim? As the young assassin investigates, her search leads her to discover a greater destiny than she could possibly have imagined.
+Goodreads
The Author
Sarah J. Maas is the author of the New York Times and internationally bestselling Throne of Glass series. A New York City native, Sarah currently lives in Bucks County, Pennsylvania, with her husband and dog.
Website
|
Twitter
|
Pinterest
|
Facebook
|
Tumblr
|
Blog
You can win the ENTIRE Throne of Glass series. And it's international!!