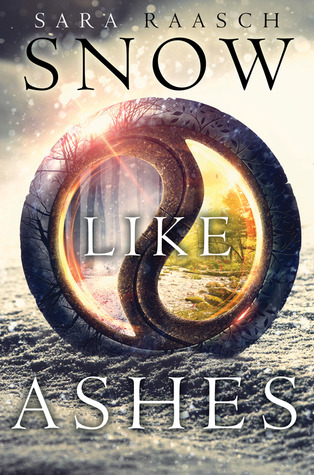 Series: Snow Like Ashes #1
Genre: YA Fantasy
Page Length: 422 Pages
Publication Date: October 14th, 2014
Publisher: Balzer + Bray
Source: Physical Copy
Goodreads
A heartbroken girl. A fierce warrior. A hero in the making.

Sixteen years ago the Kingdom of Winter was conquered and its citizens enslaved, leaving them without magic or a monarch. Now, the Winterians' only hope for freedom is the eight survivors who managed to escape, and who have been waiting for the opportunity to steal back Winter's magic and rebuild the kingdom ever since.

Orphaned as an infant during Winter's defeat, Meira has lived her whole life as a refugee, raised by the Winterians' general, Sir. Training to be a warrior—and desperately in love with her best friend, and future king, Mather — she would do anything to help her kingdom rise to power again.

So when scouts discover the location of the ancient locket that can restore Winter's magic, Meira decides to go after it herself. Finally, she's scaling towers, fighting enemy soldiers, and serving her kingdom just as she's always dreamed she would. But the mission doesn't go as planned, and Meira soon finds herself thrust into a world of evil magic and dangerous politics – and ultimately comes to realize that her destiny is not, never has been, her own.
When I read the synopsis of Snow Like Ashes, I was immediately excited to read it. I knew it was going to be great. And then I read it. And. I. Loved. It.
Snow Like Ashes
is one of the best fantasy novels I've read in a long time. It's definitely a favorite book of the year.
This book seriously has everything. Romance. Sword Fight. A Ball. Magic. Hoy Guys. Battles. Badassery. My enjoyment level stayed at a consistent 100% throughout. I was just so enthralled by what was going on.
Snow Like Ashes
was devoured in one sitting. And then quickly reread five times, but who's counting...
The writing was simplistic and great! The pacing was perfect. There were slow moments and heart-racing moments so perfectly matched. I felt that what happened in this book usually takes place over three books in a series. SLA was jam-packed with action and thrills. I loved the premise of this story. Raasch is quite imaginative. She truly knows how to write an addictive book. I was also impressed by the lingo that each respective nation had and how well it was incorporated. It was just the little meticulous details that brought this book to the next level for me. My only two critiques: The world-building was stellar, but I felt that it was a bit of a memory dump in the beginning. Sometimes the author blatantly told us some things (especially in regards to character's feelings and thoughts) instead of implying or hinting. We can figure it out!
SLA was highly enjoyable. Do you ever fantasize or imagine something happening in the book you're reading?
What if _____ happened?!
This book left me so satisfied and took my hopes and desires to the next level and made it even better than I'd imagined! This book is sure to take the YA scene by storm.
The characters were wonderful and so realistic. They're all so lovable and truly enjoyable to read about. I cared for all of them so much!! Very rarely am I invested in characters as much as I was with SLA's characters. The characterization was superb. Meira was a strong protagonist whom I enjoyed reading about.
This book isn't romance-heavy which I appreciated. There's a love triangle forming, but it really wasn't the focus of the book. There were much more important things going on, and I'm glad the author chose that aspect over the romance. I'm a bit weary though, I hope this love triangle doesn't take center stage in book #2.
I can't stop reveling in the epicness of this book. Just open it up and read and enjoy!
Snow Like Ashes was a wonderful start to a new favorite fantasy series of mine.
Have you read this book? What were your thoughts?