Meet The Newbies is a blog event co-hosted by
Dana @DanaSquare
and I, in which we introduce you to all of the new kids in school, the 2015 debut authors!
Meet Becky Wallace:
In second grade, Becky Wallace had to sit in the corner because she refused to write anything besides princess stories and fairy tales (and because she talked too much). Her time in isolation gave her plenty of opportunities to dream up the fantasy worlds she's been dabbling with ever since. She was lucky enough to find her own, real-life prince charming. They have four munchkins and live in a happy little town outside Houston, Texas.
Meet Her Debut Novel: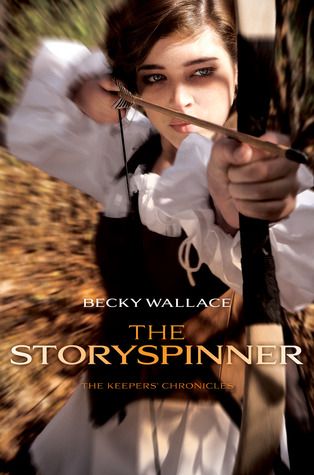 Drama and danger abound in this fantasy realm where dukes play a game for the throne, magical warriors race to find the missing heir, and romance blossoms where it is least expected.

In a world where dukes plot their way to the throne, a Performer's life can get tricky. And in Johanna Von Arlo's case, it can be fatal. Expelled from her troupe after her father's death, Johanna is forced to work for the handsome Lord Rafael DeSilva. Too bad they don't get along. But while Johanna's father's death was deemed an accident, the Keepers aren't so sure.

The Keepers, a race of people with magical abilities, are on a quest to find the princess—the same princess who is supposed to be dead and whose throne the dukes are fighting over. But they aren't the only ones looking for her. And in the wake of their search, murdered girls keep turning up—girls who look exactly like the princess, and exactly like Johanna.

With dukes, Keepers, and a killer all after the princess, Johanna finds herself caught up in political machinations for the throne, threats on her life, and an unexpected romance that could change everything.
I read Becky's book back in February and it instantly became one of my favorites. You can read my review
here
! What really made the book stand out was the characters. And so here are Becky's character profiles.
Guest Post:
Occupation: Performer – master storyspinner and acrobat. Currently employed by Lord Rafael DeSilva (who she thinks is equal parts arrogant and attractive).
Strengths: Fiercely loyal, protective of her younger brothers, scrappy in a fight.
Weaknesses: Says what she thinks too often, has a hard time apologizing.
Biggest fear: Failing to provide for her family.
Secret wish: To be the world's foremost Storyspinner, making her family proud.
Described by others as: Intensely devoted (by her older brother, Thomas); difficult, overbearing, and deceptively pretty (by Rafael).
Name: Duke Rafael DeSilva (Rafi)
Occupation: Soon to be duke of Santiago.
Strengths: Determined to always to the "right" thing, even if it has nasty consequences.
Weaknesses: Unable to ask for help, slow to ask forgiveness.
Biggest fear: Not living up to his father's memory.
Secret wish: To go back to the time before his father's death.
Described by others as: A sow kissing, mud sucking spoiled noble who happens to be unfortunately good looking (by Johanna); boring and stressed out (by his brother, Dominic); a good, trustworthy son (by his mother).
Name: Jacaré (you don't give people like Jacaré nicknames).
Occupation: Captain of the Keepers' Elite Guard
Strengths: A badass warrior, a strategic thinker.
Weaknesses: Unfriendly, unpersonable, ignores his own emotions.
Biggest fear: Living forever.
Secret wish: Undoing a series of mistakes he made in his youth.
Described by others as: A perfectly respectable leader (by Tex, his friend and confidant); hardnosed and impossible (by his sister, Pira); kind of scary (by Leao, one of his soldiers).
Name: Pira (call her anything else and she'll
Occupation: Soldier in the Keepers' Elite Guard
Strengths: She's an earth elemental with a metal affinity, which means if you try to stab her in the back she'll sense your dagger, disarm you, and slit your throat with it. She's also cold enough to do just that without thinking about it too much.
Weaknesses: She's attracted to a fellow solider and it messes with her emotions in ways she refuses acknowledge.
Biggest fear: Being compared to her brother.
Secret wish: To take over as Captain of the Elite Guard.
Described by others as: Overly confident in her skills (by her brother, Jacaré); smart, talented, beautiful, and a little bit terrifying (by Leao).
Name: Leao
Occupation: Soldier in the Keepers' Elite Guard
Strengths: He's a full mage able to control and manipulate all of the elements and a talented healer.
Weaknesses: Naïve, shy, hesitant to act unless forced.
Secret wish: To be seen as a real soldier.
Described by other as: a powerful mage in need of training (by Jacaré); kind and tenderhearted (by Johanna); absolutely infuriating (by Pira).
Name: Dominic DeSilva (Dom)
Strenghts: Finds the humor in every situation, charming, quick witted.
Weaknesses: A little bit lazy, happy to leave responsilbity to other people.
Secret wish: To never be responsible for anything.
Described by others: Funny and well-spoken (by Johanna), difficult to motivate (by his brother, Rafi), a sweet, mild-tempered boy who could use a swift kick in the pants every now and then (by his mother).
a Rafflecopter giveaway
Also here is the link to our giveaway for a bundle of 2015 debuts ARCs:
May ARC Bundle
I hope you'll join us for our first Meet the Newbies twitter chat on May 22nd at 8 PM EST!! There will be prizes and lots of fun. :)
Other #MeetTheNewbs Posts & Giveaways: