Meet The Newbies is a blog event co-hosted by Dana @DanaSquare and I, in which we introduce you to all of the new kids in school, the 2015 debut authors!
Elaine studied writing at Simmons College's Center for the Study of Children's Literature. She was admitted to its M.F.A. program on the basis of a single short story. That story would become the first chapter of her novel Material Girls.
Before dedicating herself to writing for young people, Elaine earned a degree in literature from Yale and an M.A. in education leadership from the Klingenstein Center at Columbia. She currently teaches children's literature and writing courses at Boston University and Grub Street. She served as the Associates of the Boston Public Library's Children's Writer-in-Residence while she wrote Material Girls and was also named a St. Botolph Club Emerging Artist. She blogs about children's books for the parenting site Mommybites.com, and her writing has appeared in Of Looms and Lilies, a modern dance composition by choreographer Jody Weber. Elaine lives outside Boston with her family.
Meet Her Debut Novel: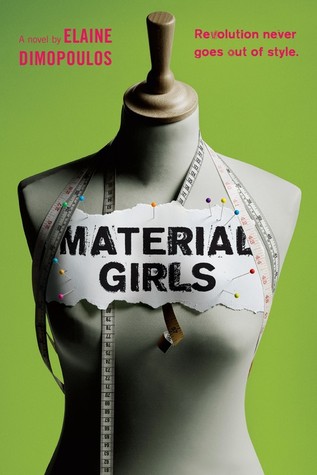 In Marla Klein and Ivy Wilde's world, teens are the gatekeepers of culture. A top fashion label employs sixteen-year-old Marla to dictate hot new clothing trends, while Ivy, a teen pop star, popularizes the garments that Marla approves. Both girls are pawns in a calculated but seductive system of corporate control, and both begin to question their world's aggressive levels of consumption. Will their new "eco-chic" trend subversively resist and overturn the industry that controls every part of their lives?
Smart, provocative, and entertaining, this thrilling page-turner for teens questions the cult like mentality of fame and fashion.
Are you in or are you out?
WHAT DOES IT MEAN TO BE ECO-CHIC?
Guest Post:
Hi, everyone! Elaine Dimopoulos here, author of
Material Girls
,
the story of a world where teenagers dictate trends in industries such as fashion, music, and film. The novel follows two girls, a fashionista and a pop star, who try to rebel against their world's obsession with youth and consumption. They usher in an "eco-chic" trend, where anything
but
new clothes is popular.
In the novel, I had fun inventing garments made out of fabric scraps, old newspapers, melted soda bottles, and broken mirror pieces. But you don't have to wear mirror shards to be eco-chic. Here are three ways to
dress with the environment in mind
:
Challenge yourself: Go into your closet and find the oldest thing you own. I found this black dress that I bought fifteen years ago. I wore it out last summer! I get that growth spurts and wear and tear necessitate new clothes, and I also understand that it's natural to crave variety. But ask yourself whether you're maniacal about following every new trend, or whether you buy clothes, especially basics like jeans, t-shirts, black pants, sweaters, etc., to last. Instead of heading to H&M, go shopping in your closet!
Thrift store clothes? Really? Yes, really. Not all the time -- I know a brand new dress is special -- but as much as you can. These days, secondhand has gone high end. Near me, there's a
Buffalo Exchange
, a
Revolve
, and
Pink Dolly
, where I did a lot of maternity and children's clothing shopping. Here are some nearly new shoes I found on eBay:
Or throw a swap party! Get together with friends and bring clothes you're tired of wearing; what's old to you might be new and joyful to someone else.
This can mean different things: clothing made from organic or recycled materials; manufacturers that minimize waste and pay fair wages; products made in artisanal communities, etc. Check out my
Pinterest
page for links to some wonderful vendors! I bought Soko's fair trade cuff, and it's beautiful.
I hope readers will think a little harder after reading
Material Girls
about where their clothing comes from and where it's going. Americans throw away 11 million tons of clothes and shoes a year; only fifteen percent is recycled. We can do better. Remember: It's a pleasure to look good and feel good about what you put on!
a Rafflecopter giveaway
Also here is the link to our giveaway for a bundle of 2015 debuts ARCs:
May ARC Bundle
I hope you'll join us for our first Meet the Newbies twitter chat on May 22nd at 8 PM EST!! There will be prizes and lots of fun. :)
Other #MeetTheNewbs Posts & Giveaways: