Meet The Newbies is a blog event co-hosted by
Dana @DanaSquare
and I, in which we introduce you to all of the new kids in school, the 2015 debut authors!
Meet Renée Ahdieh:
Renée Ahdieh is a graduate of the University of North Carolina at Chapel Hill. In her spare time, she likes to dance salsa and collect shoes. She is passionate about all kinds of curry, rescue dogs, and college basketball. The first few years of her life were spent in a high-rise in South Korea; consequently, Renée enjoys having her head in the clouds. She lives in Charlotte, North Carolina, with her husband and their tiny overlord of a dog. She is the author of
The Wrath and the Dawn.
Meet Her Debut Novel: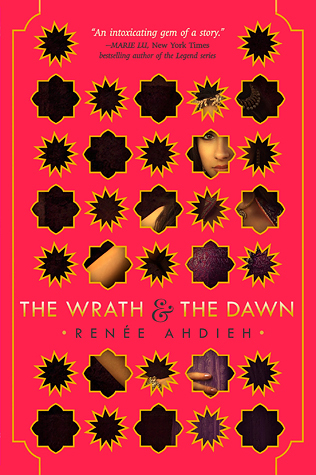 A sumptuous and epically told love story inspired by A Thousand and One Nights
Every dawn brings horror to a different family in a land ruled by a killer. Khalid, the eighteen-year-old Caliph of Khorasan, takes a new bride each night only to have her executed at sunrise. So it is a suspicious surprise when sixteen-year-old Shahrzad volunteers to marry Khalid. But she does so with a clever plan to stay alive and exact revenge on the Caliph for the murder of her best friend and countless other girls. Shazi's wit and will, indeed, get her through to the dawn that no others have seen, but with a catch . . . she's falling in love with the very boy who killed her dearest friend.
She discovers that the murderous boy-king is not all that he seems and neither are the deaths of so many girls. Shazi is determined to uncover the reason for the murders and to break the cycle once and for all.
I was captivated by Renée's writing the moment I opened it. The plot is truly mesmerizing and amazing. Wrath is definitely a new favorite book and a 2015 standout; check out my review
here
! Renée answered some questions for #MeetTheNewbs!
Interview:
-To start things off: Describe your book in five words or less.
Choices and their consequences.
-What's your favorite part of being a debut author?
Getting to meet and interact with so many amazing authors, bloggers, librarians, and fellow booklovers.
-What was your favorite thing about the first day of a new school year?
That weightless thrill of feeling as though anything were possible. Also the smell of a new notebook.
-I absolutely loved the descriptions and Arabian flair you added to your book. Did you have to do any research for your book?
Thank you so much! I did do a lot of research, but I was also very lucky because my husband's family is Persian. A great deal of the inspiration for the worldbuilding came about from immersing myself in their culture.
-The romance in this book is perfect. What are your favorite types of romances? What's your favorite part of Shazi and Khalid's relationship?
You are so kind. In truth, I love almost any kind of romance, as long as the writer can convince me both sides of the equation are authentic. If I'm invested in each character, I automatically become invested in their love. This is important to me because I need to feel as though each character is a real person on his/her own. Not that love completes them, so to speak, but that it makes them better. That it challenges them to see the world in a new light. I think this is my favorite part of Shazi and Khalid's relationship. Both of them are strong on their own, but they are even stronger together because they push and challenge each other to grow beyond their limitations.
-Can you give your take on why diversity in YA is so important?
Gosh, I don't think there are enough words to describe how important this is to me. When I was a child, I don't remember seeing myself in fiction. As a child of mixed race, it was always very hard for me to find what was beautiful or special about me--I always wanted to be someone else. I think it's so important for a child to be able to see his/her hero/heroine staring back in the mirror. But it's also equally important for a child to learn about someone different from him/her because it teaches empathy, and I think empathy is the means by which we are able to bridge some of the greatest divides that exist in our society today.
-If you could give any advice to an aspiring writer what would it be?
Never stop learning. Never stop trying to be better.
-How many books are going to be in this series? Can you tell us anything about The Rose and The Dagger?
Right now, it's a two book series. And I can tell you THE ROSE AND THE DAGGER is on my desk at this very moment, going through edits and being made into a story I hope everyone will enjoy half as much as I enjoyed writing it!
Renée is kindly offering a giveaway for a signed copy of The Wrath and The Dawn, US only!! You want this people, trust me.
a Rafflecopter giveaway
Also here is the link to our giveaway for a bundle of 2015 debuts ARCs:
May ARC Bundle
I hope you'll join us for our first Meet the Newbies twitter chat on May 22nd at 8 PM EST!! There will be prizes and lots of fun. :)
Other #MeetTheNewbs Posts & Giveaways: