Meet The Newbies is a blog event co-hosted by
Dana @DanaSquare
and I, in which we introduce you to all of the new kids in school, the 2015 debut authors!
Meet Stephanie Oakes:
Stephanie Oakes is a teacher and YA author from Washington State. Her debut novel, THE SACRED LIES OF MINNOW BLY (Dial/Penguin, June 9, 2015), about a girl who escapes from a religious commune only to find herself at the center of a murder investigation, is based on the Grimm fairy tale, "The Handless Maiden."
THE ARSONIST, her second YA mystery through Dial/Penguin, is scheduled for publication in fall 2016.


Meet Her Debut Novel: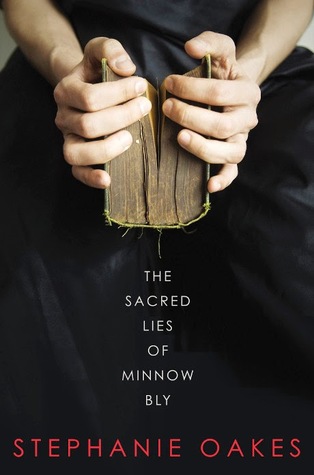 With a harrowing poetic voice, this contemporary page-turner is perfect for fans of Laurie Halse Anderson's Speak, Julie Berry's All The Truth That's in Me, and the works of Ellen Hopkins.

The Kevinian cult has taken everything from seventeen-year-old Minnow: twelve years of her life, her family, her ability to trust.

And when she rebelled, they took away her hands, too.

Now their Prophet has been murdered and their camp set aflame, and it's clear that Minnow knows something—but she's not talking. As she languishes in juvenile detention, she struggles to un-learn everything she has been taught to believe, adjusting to a life behind bars and recounting the events that led up to her incarceration. But when an FBI detective approaches her about making a deal, Minnow sees she can have the freedom she always dreamed of—if she's willing to part with the terrible secrets of her past.

The Sacred Lies of Minnow Bly is a hard-hitting and hopeful story about the dangers of blind faith—and the power of having faith in oneself.
I thoroughly enjoyed Stephanie's amazing and inspiring debut. You can read my thoughts
here
. Her book includes a wonderful friendship between Minnow and Angel (one of the other girls at the juvenile detention center), so today Stephanie shares her top ten favorite friendships.
Guest Post:
Top Ten Favorite Friendship Stories
One of my favorite aspects of
The Sacred Lies of Minnow Bly
is the relationship between Minnow and her cellmate, Angel. They are opposites in so many ways—Angel is salty and foul-mouthed while Minnow is earnest and hopeful—but they also end up being exactly what the other needs. In the spirit of Minnow and Angel's friendship, here are my top ten friendship stories:
Sam and Frodo from Lord of the Rings
I mean, really, what other of friendship could survive everything that Sam and Frodo go through? I'm going to give extra friendship points to Sam, though, for putting up with Frodo (honorable mention: Bill the Pony).
These spunky, self-reliant, and hilarious campers living inside a paranormal forest are some of the best characters I've read in a while. Their friendship jumps off the page.
Harry, Ron, and Hermione from the Harry Potter series
You can't talk about friendship stories without mentioning the greatest friendship of all. They challenge each other, teach each other, and support each other. They are also eternally hilarious and relatable (honorable mention: Neville Longbottom).
Sam and Annamae from

Under a Painted Sky
Two strong girls—one a Chinese immigrant, one a former slave—help each other survive on the Oregon Trail. One of the best friendship stories in recent years.
I like to think of the Rat Queens as the Lumberjanes all grown up. These ladies are badass to the maximum and demonstrate what a strong adult friendships look like.
Liesel and Rudy from

The Book Thief
My heart is breaking just thinking about them.
Harriet, Sport, and Janie from

Harriet the Spy
From the books and, yes, also from that 1990s movie that I still watch at least once a year, these three friends survive the ups and downs of 6
th
grade. Their friendship still feels like one of the most unique and authentic I've seen.
Kathy, Tommy, and Ruth from

Never Let Me Go
Talk about friendship put to the test. There is a sadness permeating this book and the characters' relationships that feels really true.
The Sisterhood of the Traveling Pants
I love this series for how real all of the characters feel and by extension, how real their friendship is. These books are truly some of the greatest YA out there.
Charlie and Rose from

A Little Wanting Song
This is one of those slow-burn, heart-rending coming of age stories that Australian YA has become so well-known for. I absolutely loved the friendship at the center of this book between city-girl Charlie and small town-girl Rose.
Stephanie is kindly offering a finished copy and some swag of the book to one winner! (US/CA ONLY)
a Rafflecopter giveaway
a Rafflecopter giveaway
Remember to mark down on your calendar that Saturday, June 20th @ 4pm EST the second Meet The Newbies twitter chat is taking place using the hashtag #MTN2015


Other #MeetTheNewbs Posts & Giveaways: