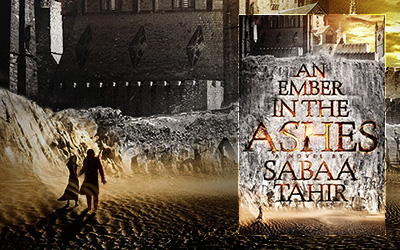 I really love the characters in AEITA! Here's quick description of the three main characters and what types of social media I think they'd have.
Elias - Elias values honor and doing the right thing. He secretly disagrees with the way things are done in the Empire. He's tall, dark, and handsome. ;) Quite a badass, he could do some serious damage. His perseverance and loyalty to his friend Helene are admirable.
Elias would tweet links to his YouTube workout videos. He'd probably have an Instagram showing his healthy foods that keep his body ripped!
Helene - She's a star student at the Academy and one of the few girls there. Her fierce nature and obedience makes her a dangerous weapon in the Empire world. Do not cross her.
Helene would have a Vine account where she'd post videos showing off her skills to everyone. She might even do some how-to videos like "how to incapacitate someone in 5 seconds."
Laia - She's lost nearly everyone she loves, and it takes lots of courage and bravery for her to risk everything to save her brother. She puts herself in danger often and does daring things to right her wrongs and save those she cares for.
Laia would have a Facebook, so she could keep tabs on her friends and see what they're up to. Her Pinterest would be of herbs and medicine.
About the Book:
Series: THANKS RAZORBILL!
Genre: YA High Fantasy
Page Length: 443 Pages
Publication Date: April 28th, 2015
Publisher: Razorbill
Goodreads
Set in a terrifyingly brutal Rome-like world, An Ember in the Ashes is an epic fantasy debut about an orphan fighting for her family and a soldier fighting for his freedom. It's a story that's literally burning to be told.
LAIA is a Scholar living under the iron-fisted rule of the Martial Empire. When her brother is arrested for treason, Laia goes undercover as a slave at the empire's greatest military academy in exchange for assistance from rebel Scholars who claim that they will help to save her brother from execution.
ELIAS is the academy's finest soldier—and secretly, its most unwilling. Elias is considering deserting the military, but before he can, he's ordered to participate in a ruthless contest to choose the next Martial emperor.
When Laia and Elias's paths cross at the academy, they find that their destinies are more intertwined than either could have imagined and that their choices will change the future of the empire itself.