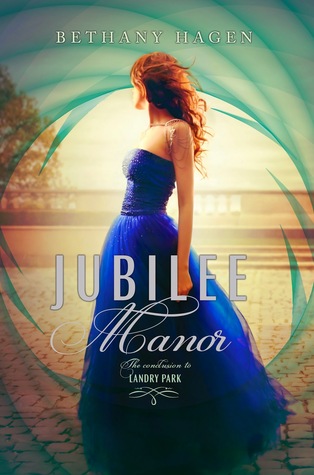 Jubilee Manor

(Landry Park #2)
by Bethany Hagen
Publisher: Dial/Penguin
Release Date: August 11th 2015
Genre: Dystopian, Young Adult, Romance, Science Fiction
The thrilling conclusion to Landry Park is full of love, betrayal, and murder--perfect for fans of Divergent, The Selection, and Pride and Prejudice.
In Landry Park, Madeline turned her back on her elite family, friends, and estate to help the Rootless. Now, in Jubilee Manor, she struggles to bring the Gentry and the Rootless together. But when Gentry heirs—Madeline's old friends—are murdered, even she begins to think a Rootless is behind it, putting her at odds with the boy she loves and the very people she is trying to lead. If she can't figure out who is killing her friends and bring them to justice, a violent war will erupt and even more will die—and Madeline's name, her estate, and all the bonds she's forged won't make any difference.
This conclusion to Landry Park, which VOYA dubbed "Gone with the Wind meets The Hunger Games," is a richly satisfying, addictive read.
Goodreads
|
Amazon
|
Barnes & Noble
|
Book Depository
|
iTunes
|
Kobo
Jubilee Manor
faces a horrifying mystery as tensions heat up in the rebellion and as the East threatens to attack once more. Someone is killing off gentry heirs, and everyone is desperate to find the killer. In their hurry to solve the crime though, will they send an innocent person to jail based on prejudice? And will the search for a cure to radiation poisoning prove futile? So many problems to solve, and Madeline Landry can't help but find herself in the middle of it all.
Jubilee Manor
is much darker than the first novel as the threats from both outside and within the country press on the gentry class. Lots of tragedies strike this novel, but it's not in vain. Every bad thing that happens strengthens our characters more and makes the situation more grave. I love how the characters have grown and how strongly these characters fight for their beliefs. Really none of these characters are plagued with indecisions and stupidity (thank gosh). Smart, level-headed, admirable, these characters will be missed!
Once again Hagen's writing is beautiful and Austen-influenced. The prose is gorgeous, and the pacing of the novel was perfect. I felt like this whole series was so well thought out!! Everything makes sense, everything happens for a reason. There's no dragging in the plot nor are there any unnecessary scenes and plot threads that don't belong. Everything fits so nicely together like a puzzle.
The romance is angst-riddled which was totally frustrating. There were some cute moments so no worries there. Overall I really loved the chemistry and dynamic between David and Madeline. They are strong and independent, yet they also work well together. They don't force each other's beliefs on one another, and they push each other to be the best to their abilities.
I've thoroughly enjoyed this series, and I'm sad to see it end. Two books was the perfect length for this novel, and everything is resolved and tied up neatly yet there's still an open end. Something for us to ponder with fond memories and wistful thinking.
Overall I liked this book even more than its predecessor, and I can happily add this series to my favorites list.
Favorite Quotes
"'It's not always lives that have to be sacrificed. Sometimes it's a thing. Or a place.' 'Perhaps. But what if you had sacrificed all those pieces and still hadn't won? What then? How would you justify that strategy to yourself? To someone else?'"

"How could it be that the thing that had brought us together would be the thing that drove us apart?... We were both searching for our grails, knights on an impossible quest, because this grail didn't exist. There was no shining castle at the end of the road."

"There were parts of this life that were cruel and ridiculous, but there was beauty, too, elegance and a mastery of pleasure and contentment. And I would miss it. Even as I knew this all had to change, I would miss it."

"If our past choices hadn't lined up in this precise constellation, then we wouldn't be here, now... waiting for the world to change for the better."


About The Author
Bethany Hagen was born and raised in Kansas City. She grew up reading Charlotte Brontë, Jane Austen, and all things King Arthur, and went on to become a librarian. Landry Park is her debut novel.
Website
|
Goodreads
|
Twitter
|
Tumblr
|
Pinterest
a Rafflecopter giveaway
Rachel is a teenaged unapologetic fangirl and perfectionist.
She loves reading for the escape it gives from reality and enjoys crying over books, swooning over characters, and laughing out loud over funny lines. She is a semi-recovering Netflix addict and a middle child of three.
You can find her on Twitter
@yaperfectionist
&
Goodreads
.