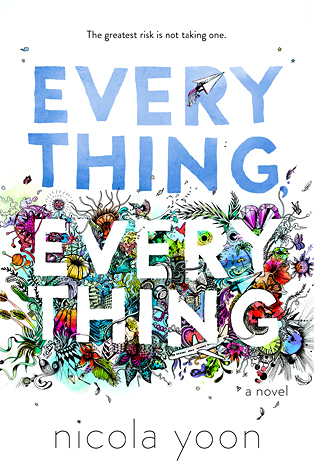 Author: Nicola Yoon
Genre: YA Contemporary
Page Length: 320 Pages
Publication Date: September 1st, 2015
Publisher: Delacorte Press
Source: ARC via author (Thank you, Nicola <3)
This innovative, heartfelt debut novel tells the story of a girl who's literally allergic to the outside world. When a new family moves in next door, she begins a complicated romance that challenges everything she's ever known. The narrative unfolds via vignettes, diary entries, texts, charts, lists, illustrations, and more.
My disease is as rare as it is famous. Basically, I'm allergic to the world. I don't leave my house, have not left my house in seventeen years. The only people I ever see are my mom and my nurse, Carla.
But then one day, a moving truck arrives next door. I look out my window, and I see him. He's tall, lean and wearing all black—black T-shirt, black jeans, black sneakers, and a black knit cap that covers his hair completely. He catches me looking and stares at me. I stare right back. His name is Olly.
Maybe we can't predict the future, but we can predict some things. For example, I am certainly going to fall in love with Olly. It's almost certainly going to be a disaster.
"Life is a gift. Don't forget to live it."
This book is such a breath of fresh air. First let's talk about the cover. Isn't it just gorgeous?! Madeline Whittier is allergic to so many things that she stays confined in her house, which is basically devoid of color just as Madeline's every day is devoid of life and ordinary experiences. The cover shows the beautiful transformation that takes place in Madeline's life as she falls in love and lives her life like she's never done before.
"Love is worth everything. Everything."
I love the diversity in Everything, Everything. Madeline is half Japanese and half African American, and I think it's great that more and more authors are starting to branch out from the normal all American girl protagonists that center many YA books and bringing more diverse characters. Madeline's stubbornness, humor, and positivity make her one of my favorite protagonists. I love how she doesn't take anything for granted and wants to experience all that life has to offer. It's really humbling and a great reminder to us of how fortunate we are to be healthy and get to experience all parts of life while others only get fragments. Olly is so adorable and his energy and thoughtfulness make him so swoony. I love the relationships between Madeline and her mother. It speaks of closeness and understanding that far surpasses any words.
"I was happy before I met him. But I'm alive now, and those are not the same thing."
The romance is saccharine sweet with great development and cute moments. The gestures, the poems, the IMs, the five favorites, the limericks, the everything! It's all so well done, and I love how it all starts out as a tentative curiosity, then a great friendship before turning into an epic love. It's hard at first because Madeline needs to be careful who she touches for fear of triggering her illness, so every touch holds so much meaning between these two. Just the description of the feelings a single touch evokes for Madeline is mesmerizing.
"I was crying so hard to find the single pivotal moment that set my life on its path. The moment that answered the question, how did I get here? But it's never just one moment. It's a series of them. And your life can branch out from each one in a thousand different ways. Maybe there's a version of your life for all the choices you made and all the choices you don't."
The writing is so very literate and gorgeous. It's thought-provoking too. I kept snapping pictures of so many lines to quote in my review, and I had to narrow it down. Nicola's writing is golden. I also loved the adorable little charts and sketches and personal touches that really bring us closer to Madeline, her thoughts, her dreams, and her humor. It's such a unique portrayal unlike anything I've ever read before. There are so many great themes in this novel, and I especially love how this book practically shouts be your happiest self and do what you want to do. Don't take life for granted and just live every day to the fullest. It's something that we can all relate to and hopefully learn from this book.
My only faults with this book is that it's a bit unrealistic in parts (especially when Madeline secretly sets up her own credit card. HOW?!) Also there's a twist near the end of the novel, and I predicted it. It dulled the effect of the plot twist a tad, but I still felt the overall feelings and emotions that such a surprise would evoke in readers and Madeline alike.
Overall this emotional and heartfelt read really struck a chord, and I'd recommend this book because it means everything, everything to me.
Rachel is a teenaged unapologetic fangirl and perfectionist.
She loves reading for the escape it gives from reality and enjoys crying over books, swooning over characters, and laughing out loud over funny lines. She is a semi-recovering Netflix addict and a middle child of three.
You can find her on Twitter
@yaperfectionist
&
Goodreads
.