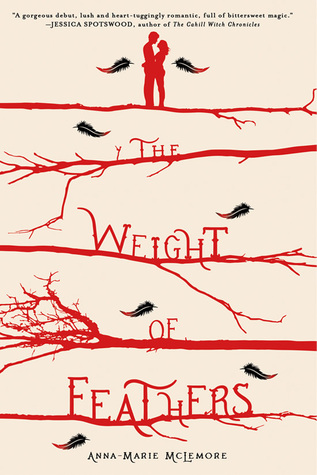 Author: Anna-Marie McLemore
Genre: Contemporary
Page Length: 320 Pages
Publication Date: September 15th, 2015
Publisher: St. Martin's Griffin
Source: eARC via Netgalley
Goodreads
|
Amazon
|
B&N
|
Indie Bound
|
Kobo
|
iBooks
|
Books-A-Million
For twenty years, the Palomas and the Corbeaus have been rivals and enemies, locked in an escalating feud for over a generation. Both families make their living as traveling performers in competing shows—the Palomas swimming in mermaid exhibitions, the Corbeaus, former tightrope walkers, performing in the tallest trees they can find.

Lace Paloma may be new to her family's show, but she knows as well as anyone that the Corbeaus are pure magia negra, black magic from the devil himself. Simply touching one could mean death, and she's been taught from birth to keep away. But when disaster strikes the small town where both families are performing, it's a Corbeau boy, Cluck, who saves Lace's life. And his touch immerses her in the world of the Corbeaus, where falling for him could turn his own family against him, and one misstep can be just as dangerous on the ground as it is in the trees.

Beautifully written, and richly imaginative, The Weight of Feathers is an utterly captivating young adult novel by a talented new voice.
Interview
1. What inspired you to write The Weight of Feathers?

Years ago, my father told me about a mermaid show he'd seen when he was in his twenties. Ever since I've wanted to write a story about performing mermaids, but it wasn't until a photographer friend had me out in the woods while wearing a set of wire and cloth wings that the idea for the book came to me. Women swimming in mermaid tails, and winged tree performers. The story grew from those two images coming together.

2. What was the hardest part of writing your book?

I felt tremendous responsibility to be respectful and authentic in my portrayal of characters with Romani heritage. So that was probably the most challenging part of writing TWOF, but that process—getting to talk with a Romani scholar, discovering how much Latinx and Romani traditions have in common—was also so rewarding.

3. How would you describe magical realism? What are your favorite magical realism books?

Magical realism is a literary culture and tradition born out of histories of oppression, in which those histories influence how elements of magic are portrayed and received. (I actually have a post coming up about magical realism on Diversity in YA, so I'll be talking about this a little more in-depth.) A couple of my favorites: Isabel Allende's Portrait in Sepia and Laura Esquivel's Like Water for Chocolate.

4. Besides Romeo and Juliet, which other star-crossed lovers are your favorites?

There are some beautiful Mesoamerican legends about star-crossed lovers, and they go back hundreds, sometimes thousands of years. On the recent side, I always think of Sarah and Linda from Robin Talley's Lies We Tell Ourselves. There are so many forces that should keep them apart, but they still find each other.

5. This is your debut novel! How has the experience been so far?

It's an exciting process with a steep learning curve—the wonderful team at St. Martin's has been so welcoming of my questions along the way! And I love how many amazing people I get to meet—publishing industry professionals, fellow authors, book bloggers, booksellers, readers… so many wonderful book lovers!

Praise
"McLemore's prose is ethereal and beguiling… The enchanting setup and the forbidden romance that blooms between these two outcasts will quickly draw readers in, along with the steady unspooling of the families' history and mutual suspicions in this promising first novel." —
Publishers Weekly
"Readers beguiled by the languorous language—a striking mix of French and Spanish phrases, wry colloquialism, lush imagery, and elevated syntax—will find themselves falling under its spell. The third-person narration alternates between Lace and Cluck, doling out twists and building to a satisfying, romantic conclusion." —
Kirkus Reviews
"
In this tale of magical realism, the magic is so deftly woven into the fabric of the story… Told with skillful poetic nuances, this Romeo-and-Juliet story of forbidden love will entice fans of Maggie Stiefvater's
Raven Cycle
who wished for a little more romance." —
School Library Journal
"
Anna-Marie McLemore's debut novel is a very imaginative modern-day romance akin to Romeo and Juliet and is infused with the whimsy of magical realism." —
RT Book Reviews
"
An air of mysterious fantasy enshrouds the whole book, pulling the reader through it as if in a spell.
McLemore is a writer to watch."—
The Guardian
"
You've never read a love story quite like this one. Anna-Marie McLemore has created in entirely imaginative world and rich characters that will pull you in as if she's spinning magic herself."
—
Bustle
"
With prose as magical as its characters,
The Weight of Feathers
is an exciting debut." —
Paste Magazine
"
McLemore's debut novel has ties to
Romeo and Juliet
, David Almond's mythical
Skellig
, and the real-life performances of Cirque du Soleil." —
Booklist
I was stunned by this book from page 1, and I want everyone to give it a try!
1. The Writing
The first element that caught my attention in this gorgeous book was the writing. I absolutely loved the beautiful prose and the lyrical nature of the words. Everything was so evocative, and Anna-Marie's use of figurative language and other literary techniques was superb.
2. Magical Realism
I finally read a book that contained magical realism! The magical realism made this book so mysterious and fascinating. It also gives it ties to The Night Circus. I loved hearing about these special attributes the characters have and how they portray it in their shows. It was such a unique and detailed idea, and Anna-Marie explained and developed it wonderfully.
3. Characters
There's a diverse cast of characters, and I really enjoyed the two main ones, Lace and Cluck. Although they have odd names, they're quite realistic and easy to sympathize for.
4. The Romance/The Retelling
I'm glad to report that there is no insta-love in this book! I love the romantic development. It was sweet and sincere and developed so wonderfully. I like how it's a loose retelling of Romeo and Juliet. It had similarities but definitely deviated in parts.
5. The Culture
Anna-Marie also mixes in some French and Spanish culture into the book. It's another big difference between the two warring families, and I love how she weaved in the cultural elements through language and dress among other things to tell her story.
Overall this debut was a definite hit for me!
About the Author:
Anna-Marie McLemore was born in the foothills of the San Gabriel Mountains and grew up in a Mexican-American family. She attended University of Southern California on a Trustee Scholarship. A Lambda Literary Fellow, she has had work featured by the Huntington-USC Institute on California and the West, CRATE Literary Magazine's cratelit, Camera Obscura's Bridge the Gap Series, and The Portland Review. The Weight of Feathers is her first novel.
Giveaway
St. Martin's Press is kindly hosting a giveaway for a signed finished copy of The Weight of Feathers (US/Canada). You can enter below!
a Rafflecopter giveaway
Rachel is a teenaged unapologetic fangirl and perfectionist.
She loves reading for the escape it gives from reality and enjoys crying over books, swooning over characters, and laughing out loud over funny lines. She is a semi-recovering Netflix addict and a middle child of three.
You can find her on Twitter
@yaperfectionist
&
Goodreads
.