I've been so intrigued by A Madness So Discreet since I first heard about it, so I was especially thrilled when Hannah of Irish Banana Book Tours allowed me to join the tour!
The Book: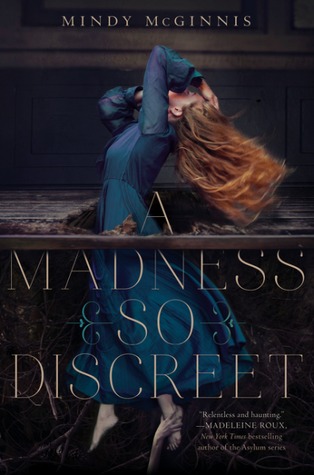 Title: A Madness So Discreet
Author: Mindy McGinnis
Publication Date: October 6th, 2025
Publisher: Katherine Tegen Books
Page Length: 384 pages
Goodreads
|
Amazon
|
Barnes & Noble
|
iBook
|
The Book Depository
Grace Mae knows madness.

She keeps it locked away, along with her voice, trapped deep inside a brilliant mind that cannot forget horrific family secrets. Those secrets, along with the bulge in her belly, land her in a Boston insane asylum.

When her voice returns in a burst of violence, Grace is banished to the dark cellars, where her mind is discovered by a visiting doctor who dabbles in the new study of criminal psychology. With her keen eyes and sharp memory, Grace will make the perfect assistant at crime scenes. Escaping from Boston to the safety of an ethical Ohio asylum, Grace finds friendship and hope, hints of a life she should have had. But gruesome nights bring Grace and the doctor into the circle of a killer who stalks young women. Grace, continuing to operate under the cloak of madness, must hunt a murderer while she confronts the demons in her own past.
This is my first Mindy McGinnis book, so I was a bit unsure as to what I should expect. I've heard glowing remarks about her previous two books, but I was not prepared for the pleasantly surprising (and haunting)
A Madness So Discreet
.
Mindy McGinnis's writing is beautiful for starters. It perfectly matches the tone of the novel and has a twisted elegance that captures the time period and situation so well. The writing carries the same bleak edge as Grace does yet has fancy airs and great sentence structures and inversions that will send lingophiles into a tizzy. I was oohing and aahing over the writing because it's just THAT good. It's hauntingly ethereal like the asylum.
The historical fiction aspects were well-researched, and the setting reflected the time period very well. The dialogue and surrounding ideas were all in tune too. The portrayal of asylums, mental health, and women were well executed. I warn you that there are some very disturbing scenes in parts of this novel.
My one critique is in regards to the characters. Sadly I didn't like them too much. They all seemed a bit dull and not very animated or interesting. At first the various insane asylum patients' banter and behavior around one another was enjoyable and funny, yet it was short-lived and thus lost some spark. That being said though, there's definitely a complexity to this novel that surrounds madness, especially Grace's. Grace is strong-willed and is highly witty. Both of these characteristics make her a great protagonist! The secondary characters pale in comparison.
This book is so spine-chillingly creepy in parts. Now is the ideal time to read it with Halloween right around the corner. The paranormal edges to this book are so fascinating and absorbing. This book sucks you in with horror after horror and whispers of eeriness quaking from the walls of the asylum. Eventually the plot evolves into solving Sherlock Holmes type mystery cases, and I really enjoyed it!
Filled with plot twists, gore, and chills
A Madness So Discreet
is one I'd recommend you give a try.
ABOUT MINDY McGINNIS:
Mindy McGinnis is a YA author who has worked in a high school library for thirteen years. Her debut, NOT A DROP TO DRINK, a post-apocalyptic survival story set in a world with very little freshwater, has been optioned for film my Stephanie Meyer's Fickle Fish Films. The companion novel, IN A HANDFUL OF DUST was released in 2014. Look for her Gothic historical thriller, A MADNESS SO DISCREET in October of 2015 from Katherine Tegen Books. Mindy is represented by Adriann Ranta of Wolf Literary.
Giveaway
One Winner Will Receive a Harper Teen Horror-themed prize pack!
a Rafflecopter giveaway
Schedule
Week 1:
Week 2:
10/16 -
Adventures in Reading: Review
Rachel is a teenaged unapologetic fangirl and perfectionist.
She loves reading for the escape it gives from reality and enjoys crying over books, swooning over characters, and laughing out loud over funny lines. She is a semi-recovering Netflix addict and a middle child of three.
You can find her on Twitter
@yaperfectionist
&
Goodreads
.