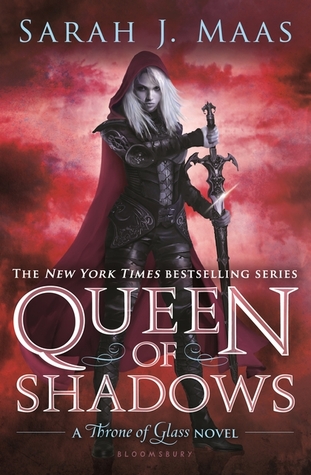 Author: Sarah J Maas
Genre: YA Fantasy
Page Length: 656
Publication Date: September, 2015
Publisher: Bloomsbury
Source: Bought
Goodreads
|
Amazon
Everyone Celaena Sardothien loves has been taken from her. But she's at last returned to the empire—for vengeance, to rescue her once-glorious kingdom, and to confront the shadows of her past . . .

She will fight for her cousin, a warrior prepared to die just to see her again. She will fight for her friend, a young man trapped in an unspeakable prison. And she will fight for her people, enslaved to a brutal king and awaiting their lost queen's triumphant return.

Celaena's epic journey has captured the hearts and imaginations of millions across the globe. This fourth volume will hold readers rapt as Celaena's story builds to a passionate, agonizing crescendo that might just shatter her world.
**Spoilers from previous books. Slight QoS spoilers about romance.
Throne of Glass has been one of my favorite series for a few years now, so I've been impatiently waiting for Queen of Shadows and building the expectations to the highest degree. The fourth installment wowed me yet had some flaws I can't ignore.
As much as I'd like to blindly give myself over to the epicness of this series and say "It was perfect, and everything was amazing" I can't do that as a reviewer. Nor can I do that as a reader/person in general. I refuse to trick myself! Overall though, I have so many positive things to say about this book,and a few negative things to discuss.
The Plot
First let's start with the plot development. I bow down to Sarah J Maas and her brilliant plotting. I am astounded by all the ties and connections reaching so far back to The Assassin's Blade. There are lots of ah-ha and mind-blowing moments. Everything connects in some way, and Maas is a magnificent plotter. The pacing was a bit slow for the first 300 pages, but there's so much plot build-up and development that keeps us engaged. Maas' writing has progressively matured into a beautiful story-telling talent. There's an ominous edge to it that perfectly matches the tone of the series. I feel this series is getting darker and darker; it's often pitched as a less promiscuous YA Game of Thrones. There are some bloody scenes, lots of death, and quite a bit of pain. Action is interspersed throughout the story too.
The Characters
Let's talk about the characters! In Heir of Fire, I had a few issues with the various POV switches, but I thought the transitions were smoother in Queen of Shadows, and I actually like Manon and her story a bit more in this book. Elide is also introduced, and while her POV was my least favorite, her character is pretty tenacious and smart, so I can't wait to see where she goes next. Lysandra is re-introduced, and I love her sassy and snarky character. Nesyrn is a rebel who is part of the city guard. She's pretty stoic and strong-willed, and I like her! Aedion will always be a bright star with his unending devotion and loyalty to Aelin. Dorian's character and POVs were painful and sad to read. I love him and thought his tenacity and decisiveness were admirable.
Squad assembled in this book, and I was so happy about that!! I love Aelin's court/group and seeing them all come together was definitely one of my favorite parts. Light banter and strong female friendships prevail, and I approve! Arobynn comes back into this novel and oh geez I forgot how cynical and ruthless he is. Sam has such a presence in this novel which was equal parts surprising, somber, and up-lifting.
Let's talk about Rowan, Chaol, and Aelin. Such fun. While I loved all the other characters mentioned above, I had so much trouble with these three. Please don't stone me, but I'm going to call BS and say these people were SO out of character for the first 300 pages. I liked Rowan a bit better in this book, but whoa has he changed. No longer is he the tight***, brutal and unemotional warrior. He's now reduced to a horny teenager who pines over Aelin. I failed to see many similarities between this Rowan and the one from HoF. Chaol, oh my sweet Chaol. Honorable Captain of the Guard, now disgraced and rebel-turned. His bitterness has reached his peak just as his character and his POV has been diminished. I still hold on to the hope he'll achieve redemption. Chaol has grown so much throughout this series, yet he still needs time to grow. He's used to his beliefs and blindly and honorably follows his king. Now that everything he knows and loves is being threatened and challenged, he's had to change, and not everyone reacts the same way to change. He's made progress!
Aelin has turned malicious and bitter. I love how bad*** she is and how she fights for what she believes in, but I missed her sarcastic nature. I missed the girl who loved reading and dresses yet also loved to show people her girl power and how awesome she is. She lacked the confidence and humor I associate with her. Just because she and Celaena have different goals, I don't think that should mean her character takes a 180 turn. Most of all Aelin is highly hypocritical, especially towards Chaol. Aelin and Chaol are both mad at each other for both reasonable and unreasonable things. Personally I think they were both being hypocritical as they slung insults and accusations at each other at their first meeting in QoS. I see faults on both sides, but I think they'll work through it eventually.
The Romance
Speaking of Aelin and Chaol, you've probably heard about the romance news. I'll be honest, this ship is sunk and blasted to smithereens. They want and need different things, and it would never work out. It twinges my heart and makes me wonder about the so-called significance of the words exchanged on Crown of Midnight. Some things literally do NOT make sense. Aelin even says something to the effect of "Even though I said I'd always pick you, I didn't mean I'd actually always pick you." I feel like books 1 and 2 were so insignificance and fake now in regards to the romance. I think it's fresh and unique to see how realistic the portrayal of falling into and out of love is, but it still hurts. I feel like we were led on in Crown of Midnight, and you can't deny all the words they said to each other.
Jumping to the romance, I do not understand it nor will I get on board with it. I'm not being a stubborn Chaolaena shipper (okay maybe a little bit), but I fail to see Rowaelin in the long run. Rowan is the type of guy Aelin needs right now. I just don't understand how things progressed from Heir of Fire as a platonic friendship to a lusty and yearning attachment in Queen of Shadows. I feel like I missed an extra novella or something. Rowan had his one true mate AND is three hundred years old. This romance does not compute. That being said, there actually isn't much romance in this book, it's more promises to come in the next book.
As Cait from Paper Fury pointed out, there are so many conveniences in the romance department. Nesryn will take Celaena's place in Chaol's heart, so Aelin and Rowan can be happy together, and everything is all sparkly rainbows and wonderful now. I feel like this is such an easy way out. The Chaolin breakup was brutal, and I'm sad to see how it wrecked their friendship too.The last 150 pages of the book are insanely epic and wonderful. The characters grow into their own a bit more as well.
Overall the amazing plot, squad assemblage, and writing make this book wonderful while the romance and earlier portrayal of the characters sorely disappointed and confused me.
Rachel is a teenaged unapologetic fangirl and perfectionist.
She loves reading for the escape it gives from reality and enjoys crying over books, swooning over characters, and laughing out loud over funny lines. She is a semi-recovering Netflix addict and a middle child of three.
You can find her on Twitter
@yaperfectionist
&
Goodreads
.