I've heard such wonderful things about Courtney C. Stevens worm, so I was especially thrilled when Hannah of Irish Banana Book Tours allowed me to join the tour!
The Book: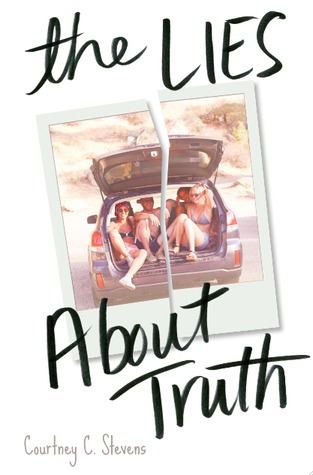 Title: The Lies About Truth
Author: Courtney C. Stevens
Publication Date: November 3rd, 2015
Publisher: Katherine Tegen Books
Page Length: 336 pages
Amazon
|
Barnes & Noble
|
IndieBound
|
The Book Depository
|
Goodreads
Sadie Kingston, is a girl living in the aftermath. A year after surviving a car accident that killed her friend Trent and left her body and face scarred, she can't move forward. The only person who seems to understand her is Trent's brother, Max.

As Sadie begins to fall for Max, she's unsure if she is truly healed enough to be with him — even if Max is able to look at her scars and not shy away. But when the truth about the accident and subsequent events comes to light, Sadie has to decide if she can embrace the future or if she'll always be trapped in the past.
Plagued with both physical and emotional scars after the terrible accident that leaves her friend, Trent, dead, Sadie struggles to feel comfortable in her own skin and patch up the strained relationships with her friends who've let mistrust and misconceptions get in the way of their friendship.
Grief and the need to forgive are both such strong parts of this novel. Sadie grieves the loss of her friend, the glue of their group of friends. They don't know how to pick up the pieces of their lives after someone so important to them died. They blame each other and refuse to listen and talk to one another about what happened. Courtney did such a great job with the emotional portrayal in this novel. It felt real, and I couldn't help but empathize with these characters. She perfectly captures Sadie's emotions and insecurities along with the pain and guilt that the other characters feel.
Sadie's growth throughout this novel is tremendous and inspiring. Although this book is sad and dreary in parts, there are many uplifting parts that show us that life does indeed go on after tragedies, and we need to embrace these times. Truth is also such an important part of this novel. Half of the problems that fractured the friendships were the misconceptions. Instead of being honest with one another, they all hid behind secrets. Being truthful and upfront about everything could have saved so much grief.
I loved the little quirks, mannerisms, and traditions that Courtney weaved into the story. It really contributes to the backstory in such a unique and fun way. It adds a bit of personalization and depth to these characters too. Since all we really see is the aftermath of the car crash, the flashbacks really helped readers see how close these friends were.
The romance was saccharine sweet and swoony, yet I couldn't fully get on board with it. I think because a lot of the development happened before the book started I just couldn't connect or fall for it as much. I loved how Sadie and Max communicated so well. Often in YA books I see characters too timid or stubborn to talk about their feelings.
Courtney's writing was lovely, yet the story in general didn't wow me as much as I'd hoped. I enjoyed the novel and the themes it represented, but I felt this story was like so many others.
About Courtney C. Stevens:
Courtney C. Stevens grew up in Kentucky and lives in Nashville, Tennessee. She is an adjunct professor and a former youth minister. Her other skills include playing hide-and-seek, climbing trees, and being an Olympic torch bearer. She is also the author of Faking Normal, which Kirkus Reviews called "a story that resonates" and Publishers Weekly called a "rich debut," as well as the e-novellaThe Blue-Haired Boy.
Website
|
Twitter
|
Facebook
|
Tumblr
Giveaway
3 Finished Copies of The Lies About Truth
a Rafflecopter giveaway
Schedule
Rachel is a teenaged unapologetic fangirl and perfectionist.
She loves reading for the escape it gives from reality and enjoys crying over books, swooning over characters, and laughing out loud over funny lines. She is a semi-recovering Netflix addict and a middle child of three.
You can find her on Twitter
@yaperfectionist
&
Goodreads
.