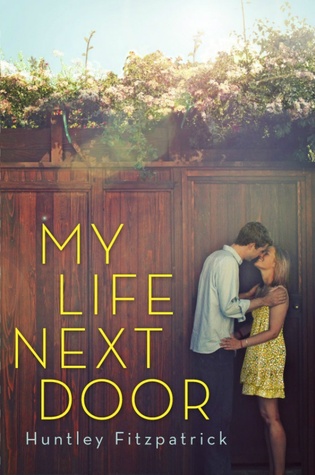 Author: Huntley Fitzapatrick
Genre: YA, Contemporary Romance
Page Length: 394
Publication Date: June 14th 2012
Publisher: Dial Books
Source: #Booksfortrade
Goodreads
"One thing my mother never knew, and would disapprove of most of all, was that I watched the Garretts. All the time."

The Garretts are everything the Reeds are not. Loud, messy, affectionate. And every day from her rooftop perch, Samantha Reed wishes she was one of them . . . until one summer evening, Jase Garrett climbs up next to her and changes everything.

As the two fall fiercely for each other, stumbling through the awkwardness and awesomeness of first love, Jase's family embraces Samantha - even as she keeps him a secret from her own. Then something unthinkable happens, and the bottom drops out of Samantha's world. She's suddenly faced with an impossible decision. Which perfect family will save her? Or is it time she saved herself?

A transporting debut about family, friendship, first romance, and how to be true to one person you love without betraying another.
My Life Next Door has been in my TBR ever since I knew what a TBR is! I've wanted to read this book for years, so when I finally got a chance to do so, I went into it with high expectations, and I am glad to say that the book was everything I expected it to be - cute, adorable, sweet, heart touching and gave me all warm and happy feels!
My Life Next Door is the story of Samantha, the daughter of an aspiring politician, who imposes her ideal high society life on her daughter, which Sam struggles to rebel against, unlike her elder sister. The only act of rebellion is in the form of socializing with the Garretts - the loud, happening and huge family next door, whom Sam's mother looks down upon and refuses to befriend. Sam finds herself at home with the Garretts, and starts to fall for Jase - the second eldest son of the family. But everything becomes chaotic, when a situation calls for Sam to choose, and questions her loyalty, love, affection and choices.
"The Garretts were my bedtime story, long before I ever thought I'd be part of the story myself."
The story was so adorable yet deep. The Garretts were such a wonderful bunch of people. with diverse personalities and good hearts. They reminded me of my own extended family - who are super loud and uncaring of public opinion. There was so much warmth and affection existing in the family which will definitely give you all the feels! Samantha's journey with this group of people was fascinating to read about. Family is an important element in this story, and I really loved that fact about My Life Next Door.
Sam was nothing remarkable. She was a stable narrator, and a fairly likable character, but she didn't make any mark in me. Plus, at moments, I wished she had more spine, and sometimes felt like her decisions and choices were a bit stupid and immature.
Jase was downright adorable!!! He was such an understanding and compassionate guy, and I loved his character! He was a fixer, knew his way through machines and cars, and had a mini zoo in his room. Plus he was a terrific love interest, as he was supporting and incredibly loyal.
The highlight of this novel is the secondary characters! There were a lot of them, but most managed to make an impact. The Garretts were awesome! The heads were loving, kind yet firm. The children were all different in their own way! My favourite is - besides Jase - George, the four year old genius who is impossibly adorable and smart. He also repeatedly asks Sam to marry him and come and live with a big family - if it were me, I don't think I could've rejected that offer! He was too cute!!! I also loved Alice, who slowly grew up on me as the story progressed.
George gives me a smile, the same dazzling sweet smile as his big brother, although at this point, with green teeth. "I might marry you," he allows. "Do you want a big family?"
Sam's side of the family didn't trigger a lot of warm feelings from me. I didn't like her mother at all, and her sister was just a filler character whom I eventually forgot about. Plus I hated her best friend - Nan! That girl was such a nuisance!
Another character I want to mention is Tim. He is a minor character, who's a childhood friend of Sam, and a drug addict who was behaving like an asshole for the better part of the first half. For some reason, I really loved his character, though I couldn't understand why, as clearly there was nothing likable about him. But later on, he proved that my instinct, which told me to like him was right, and he was, hands down, my favourite character in the book, despite being a minor one.
The romance was super cute! It reminded me of Kasie West's romances - a mixture of Distance Between Us and On the Fence - and I really liked the relationship between Sam and Jase. The story focused more on family than the romance, which was fine by me, as it made the romance sweet without it being too much and cheesy. I loved all their stolen moments, especially their nights of stargazing from the rooftop.
"Um. So ... Are we going to study?"
Jase slides his thumbs behind my ears, rubbing the hollow at their base. He's only inches from my face, still looking into my eyes. "You bet. I'm studying you."
Overall, My Life Next Door is a really cute and touching novel about family, relationships and loyalty. I'll recommend it to any reader of contemporary romance, especially if you're a fan of Sarah Dessen and Kasie West.
Mishma is a 16 year old teenager from Sri Lanka who's always loved books and talking about them. She often comes off as a loud, outgoing, funny, hyperactive and happy go lucky girl! Her addictions include books, Twitter and Buzzfeed and she has an unapologetic love for classic old movies with uncensored violence and villains with a vulnerable side.
You can find her at her own
blog
,
Twitter
,
Instagram
. She loves making friends, so stop by to say a hi!