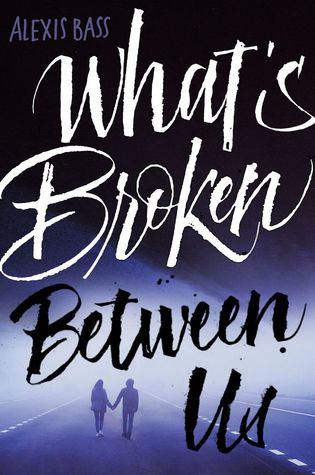 Author: Alexis Bass
Genre: YA Contemporary
Page Length: 304
Publication Date: December 29th, 2015
Publisher: Harper Teen
Source: eARC via Edelweiss
Goodreads
|
Amazon
Alexis Bass's heartbreakingly beautiful second novel is a tale of love, loss, and learning to forgive, perfect for fans of Gayle Forman and of Robyn Schneider's The Beginning of Everything.

A year and a half ago, Amanda Tart's brother got behind the wheel drunk and killed his best friend. Today, he's coming home from prison.

Amanda's been the one living with the fallout, made worse by her brother's recent unapologetic TV interview. People think he's a monster. Still, she loves him. It's her dark secret, until she starts getting close to Henry again--whose sister is paralyzed from the accident.

A year and a half ago, her brother destroyed his life. Now Amanda has to decide if she'll let his choice destroy hers.
I wanted to read Alexis's debut,
Love and Other Theories
but stayed away after some negative reviews I read. Still the summary of this book was so intriguing and seemed like an emotional-driven plot, so how could I not hitch a ride on this reading adventure?
Amanda's older brother Jonathan, while under the influence of alcohol, caused a serious car accident that nearly paralyzed his girlfriend, Sutton, and did kill his friend, Grace. While he's off serving jail time, Amanda tries to cope with the fallout and the responses of the people around her. She used to being the one who says sorry, the one who comforts others. Constantly hiding her emotions and grief because she feels she doesn't deserve it or that it'll appear fake to others, Amanda is a different sort of protagonist. She's kind of depressing and bitter at times, but she's easy to empathize with, especially with all the responsibilities she's tasked with. Another character I really enjoyed was Henry, Sutton's little brother. Henry and Amanda had feelings for each other, but after the crash they avoided each other. Henry's understanding towards Amanda and protective nature for his sister and family were wonderfully executed.
After a year in jail, Jonathan is released from jail and on probation. Now you'd think he'd come out rejuvenated and remorseful, determined to prevent this horrible tragedy from happening to anyone else. Alexis Bass did such a wonderful job describing the complex emotions Jonathan was experiencing. I was rooting for him all along wondering if he'd redeem himself. I really liked his sibling relationship with his sister and how they seem to look out for each other all the time.
The romance of this book was probably one of my favorite parts. It was complicated and intricate, sweet and adorable, and Amanda and Henry are so feisty with one another! I love their cute arguing and bickering, and I love how well they seem to communicate. Their relationship felt pretty natural and although the feelings evolved well before the book started, it felt genuine, and we still get to see it grow throughout the book.
I was widely impressed by how Alexis Bass tackled so many different issues in this book and left behind such a clear and honest message in all aspects. Her portrayal of the various layers of guilt each character holds was masterfully done. We really see how broken and tormented these characters are by Grace's death and their part in it and the effect it has on them. The messages on drunk driving were well enforced too without seeming preachy. Redemption and forgiveness are also huge parts of this novel and the realistic twist that Alexis puts in this story makes it all the more relevant. It's not easy to get back out there and right all your wrongs. It's not easy to own up to your decisions and forgive yourself, to forgive others. Parenting methods and long-distance friendships were also touched upon. This book has so many great elements and lessons of life we can learn from.
My main problem with this book falls in the ending. I don't know, I was just expecting more! I love how it ended similar to the way it started though; it was a neat writing technique. I'd recommend this book to avid contemporary readers who want to read a book about grief and finding happiness despite it all entwined with romance.
Book Twinning - Lies About Truth by Courtney Stevens
Rachel is a teenaged unapologetic fangirl and perfectionist.
She loves reading for the escape it gives from reality and enjoys crying over books, swooning over characters, and laughing out loud over funny lines. She is a semi-recovering Netflix addict and a middle child of three.
You can find her on Twitter
@yaperfectionist
&
Goodreads
.