Today I'm pleased to join the Frozen Tides Blog Tour hosted by Penguin Teen!
I binged the Fallen Kingdoms series by Morgan Rhodes a while back, and I was so excited to be part of the tour. Warning** This series is epic, proceed with caution.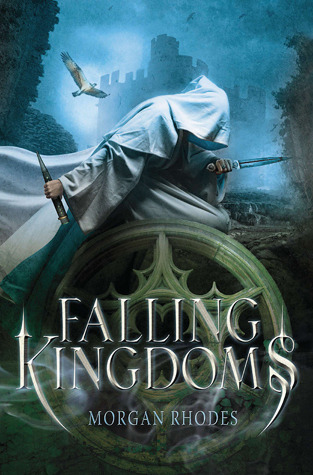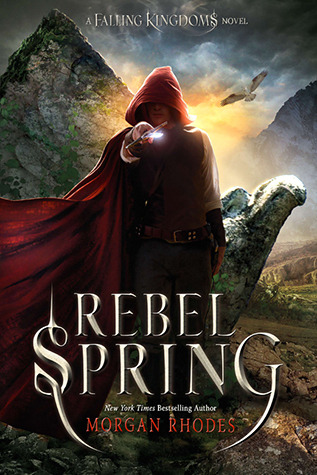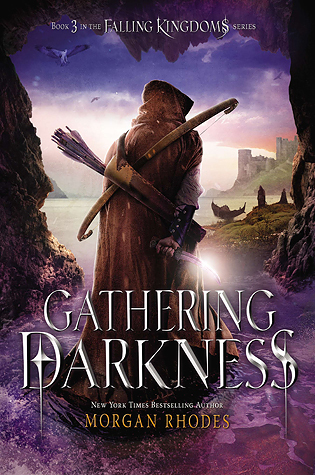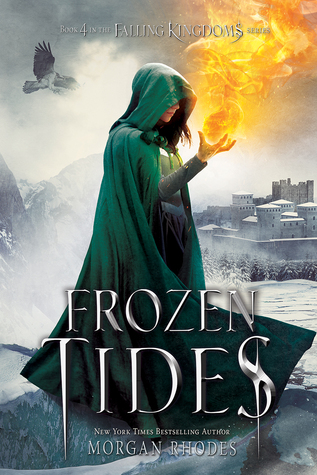 Review:
I promise to keep this review non-spoilery!
Just to set the story for you, book 1, Fallen Kingdoms takes place in a high fantasy world where magic is lost. There is an unsteady peace between the kingdoms, yet tension and unrest is brimming. I know, I know, this sounds epic right? Just wait, as the series goes on, the plot thickens, the characters grow, and action and romance ensue.
This series gets more and more intense as the books progress. There are multiple points of view in each book, and I love how the characters are all intertwined in some way. They grow so much in this series, and it's fascinating to see them make the tough choices and fall in love and deal with court politics and the likes. Although all of the character arcs are phenomenal, Magnus's shines about the rest. Morgan's writing is addictive and flows well. She never ceases to challenge her characters and push them to make decisions. She weaves in plot twists we never see coming and manages to draw out all of our emotions over every heartbreaking scene she crafts.
In regards to this book particularly, I'd have to say this is my favorite! The plot of this book was by far the best. I appreciate how it tied up the loose ends from book 3 too! A swoony ship that I ship so hard, lots of plot twisty-goodness, and a crazy ending has me yearning for book 5.
This is a series that gets better and better, and I'd highly recommend it for high fantasy readers who aren't fazed by blood splattering the pages and crushing deaths ripping your heart out.
About the Book:
CLEO: Reeling after a bloody showdown in Limeros ending with Amara's abduction of the water crystal, and a vacancy in the Mytican throne, Princess Cleo must cast aside her feelings and look toward her kingdom with the eyes of a Queen.

MAGNUS: With the kingdom in chaos, Princess Lucia still missing and quite possibly in danger, and a shocking realization about Cleo, the steely prince is once again torn between love and duty, leaving him wondering whether he's strong enough to rule his people.

LUCIA: The young sorcercess has had her vengeance after the cruel death of her first and only love. Heartbroken and unable to trust anyone, she allies with the awoken Fire god, who also seeks revenge.

JONAS: After escaping death by the skin of his teeth, the defeated rebel—along with a mysterious stranger–leader reunites with Princess Cleo, only to find himself a mere pawn in a dangerous hunt for the elusive Kindred.

KING GAIUS: Abandoned by Melenia and betrayed by his own children, Gaius flees Mytica and sails to Kraeshia, where he attempts to ally with the famously brutal emperor across the Silver Sea.
Buy Links:
Goodreads
|
Amazon
|
Barnes & Noble
|
Kobo
|
Audible
|
iBooks
About the Author:
Morgan Rhodes lives in Ontario, Canada. As a child, she always wanted to be a princess -- the kind that knows how to wield a sharp sword to help save both kingdoms and princes from fire-breathing dragons and dark wizards. Instead, she became a writer, which is just as good and much less dangerous. Along with writing, Morgan enjoys photography, travel, reality TV, and is an extremely picky, yet voracious reader of all kinds of books. Under another pen name, she's a national bestselling author of many paranormal novels. Falling Kingdoms is her first high fantasy.
Author Links:
| | | |
| --- | --- | --- |
| | The Irish Banana Review | 12/7 - interview |
| | Addicted Readers | 12/7 - review |
| | A Perfection Called Books | 12/8 - review |
| | Bookiemoji | 12/8 - Would You Rather? |
| | WinterHaven Books | 12/9 - guest post |
| | Once Upon a Twilight | 12/10 - Review & giveaway |
| | Two Chicks on Books | 12/11 - guest post |
| | Jessabella Reads | 12/11 - review |
| | My Friends Are Fiction | 12/14 - guest post |
| | A Midsummer Night's Read | 12/15 - Book Playlist |
| | Dark Faerie Tales | 12/15 - review |
| | IceyBooks | 12/16 - Top 10 list |
| | The Daily Quirk | 12/17 - review & giveaway |
| | Mundie Moms | 12/18 - interview |
| | Hollywood News Source | 12/18 - review |
Rachel is a teenaged unapologetic fangirl and perfectionist.
She loves reading for the escape it gives from reality and enjoys crying over books, swooning over characters, and laughing out loud over funny lines. She is a semi-recovering Netflix addict and a middle child of three.
You can find her on Twitter
@yaperfectionist
&
Goodreads
.