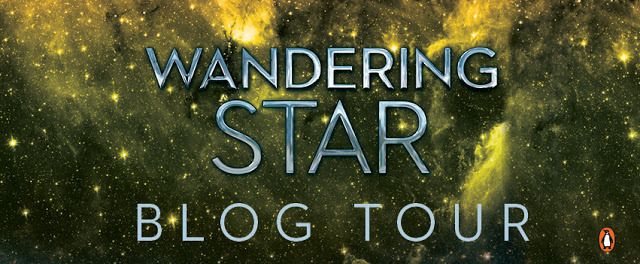 Author: Romina Russell
Genre: YA Sci-Fi
Page Length: 352
Publication Date: December 8th, 2015
Publisher: Razorbill
Source: ARC via Publisher
Goodreads
|
Amazon
Orphaned, disgraced, and stripped of her title, Rho is ready to live life quietly, as an aid worker in the Cancrian refugee camp on House Capricorn.

But news has spread that the Marad--an unbalanced terrorist group determined to overturn harmony in the Galaxy--could strike any House at any moment.

Then, unwelcome nightmare that he is, Ochus appears to Rho, bearing a cryptic message that leaves her with no choice but to fight.

Now Rho must embark on a high-stakes journey through an all-new set of Houses, where she discovers that there's much more to her Galaxy--and to herself--than she could have ever imagined.
I'm a huge fan of the Zodiac series by Romina Russell, and today as part of the blog tour Romina shares some content and I share my review of book #2.
As the Houses prepare for war in the third Zodiac novel, Romina shares the types of weapons each house would use to fight evil!
#7: HOUSE LIBRA, justice
The Knights of House Libra believe justice cannot be found without a proper trial, and so they defuse violent situations with Bind: a wispy white powder made from ground-up minerals found deep within Kythera's core. As soon as targets inhale the fine white mist, it seeps quickly into their muscular system, putting the body into a deep sleep. Each Knight has her own preferred method of dispersing Bind, but often it's as simple as blowing a fistful into someone's face. Librans are immune to small doses of the powder from breathing in trace amounts of it every day.
Wandering Star
, book 2 in the
Zodiac
series picks up right where book 1 left off. Disgraced and stripped of her title, Rho seeks refuge with the rest of her people on Capricorn. While she tries to adjust to her new and quiet life, she can't help but listen to the urges that tell her something evil is still threatening her world. With the help of her friends and new allies, Rho gains the courage and confidence to fight back and fight stronger against those who seek to oppress her and those who harm the Galaxy's people, most prominently the terrorist group the Marad.
In this book Rho really steps up to be a leader and shows some character growth. She's not unsure of herself anymore. I love how she embraces her talents and starts to listen to her intuitions. She's finally more assertive and stands up to others, woohoo! Although I love her optimism, her naiveté and stubbornness are still things she needs to work on. It causes her much pain, especially in this book. Oh my sweet Hysan. He's on his way to becoming a book boyfriend! He's sweet and thoughtful, intelligent and funny, he's like a big ball of energy. We also meet a new cast of characters, and I love how Romina delves into more traits and qualities of the various Houses and their people.
Tons of action finds its way into this novel as Rho and the gang travel around to new Houses to convince them of a threat much greater than Ochus (that might even be linked to Ochus), the Marad. These ruthless killers wrack up quite the body count in this book, some of which are people that are close to Rho. Some tears were shed, some jaws dropped, some mind-reeling numbness took over...
I love how Romina sheds more light and discussion on the Risers, people whose form physically shifts as their aspirations and personality match up with a different House instead. The characters in this book are inching slowly in the direction of accepting people who encompass all parts of the Zodaic, all the Houses, not just one. I definitely love where Romina is taking this series, and I just know it's going to be filled with theme-ly goodness!
Romina's writing is engaging and has reached an air of sophistication and philosophical nicety. She's found her writing niche, and I love it. The plot moved quickly, and my eyes quickly followed along. I was enthralled from cover to cover and was sad to see I had finished the book in so little time.
I love how much this book makes you theorize and question everyone's motives. There are major trust issues in this book and so much is going on at once that it's impossible not to guess and think ahead. It makes the reading experience so much more fun this way.
My issues with
Wandering Star
are minor yet present. I neglected to reread
Zodiac
before starting
Wandering Star
, so I was a bit disoriented in the beginning until I vaguely started to remember what had occurred in the previous book. Also the romance frustrated me to no end. It's a bit realistic that Rho would be torn between her teenaged crush Mathias and her new ally Hysan, but I was a bit peeved that Rho kept wavering between the two. I wish she'd just make up her mind! It's very in character for her to be unsure and hesitant, especially in this aspect, so I'm a bit more lenient about it. The wavering took up a bit more of the book than I'd hoped though.
The explosive sequel to the sci-fi action-packed "Zodiac" brings more galactic traveling, character growth, plot thickening, swoony romance, and mystery to keep readers fully enthralled. I'd recommend you check out this series!
Schedule:
| | | |
| --- | --- | --- |
| 7-Dec | | Aries |
| 8-Dec | | Taurus |
| 9-Dec | | Gemini |
| 10-Dec | | Cancer |
| 11-Dec | | Leo |
| 14-Dec | | Virgo |
| 15-Dec | | Libra |
| 16-Dec | | Pisces |
| 17-Dec | | Sagittarius |
| 18-Dec | | Capricorn |
| 21-Dec | | Aquarius |
| 22-Dec | | |
Rachel is a teenaged unapologetic fangirl and perfectionist.
She loves reading for the escape it gives from reality and enjoys crying over books, swooning over characters, and laughing out loud over funny lines. She is a semi-recovering Netflix addict and a middle child of three.
You can find her on Twitter
@yaperfectionist
&
Goodreads
.