Thank you so much to Jessica and Teresa for planning this blog event where each day one blogger spotlights a book boyfriend! There will be giveaways and swoonage, so make sure to follow the event.
Last year I featured Captain Chaol Westfall. You can read that post
here
.
This year I'm featuring the oh-so swoony Tucker Avery from the
Unearthly
series by Cynthia Hand. Haven't read the series? I highly recommend you do! Why? Because TUCKER AVERY, that's why. ;)

Why Tucker Avery is the Perfect Book Boyfriend
-He is a gentleman
He has proper etiquette and such wonderful manners. He's a guy who will treat you right! He doesn't cuss, and he's naturally sweet and thoughtful. Tucker is proper about so many things and oh-so chivalrous. He'd hold the door open for ladies, walk you to your door at night, give out compliments left and right, help an old lady with her groceries, help you into your coat. How does he even exist?!
-He is a cowboy
Ripped muscles!! That bod... And when he tips his hat *swoons*
-He is compassionate
He works with animals on his family's ranch, and it's so sweet how caring and kind he is. At school Tucker is so popular because he's nice to everyone. He's caring to all, especially those he loves.
-He is romantic
He plans so many romantic gestures for Clara in the series and drops all these swoony lines! Mr. Darcy, step aside... (see quotes below)
-He is funny
Tucker has such a cute sense of humor. He's a tad sarcastic with a big joking heart.
Tucker Avery is just the best, okay? Don't believe me? Read these swoony quotes (and enter the giveaway below).
"Tucker: "But she gave me the perfect gift."
Clara: "What?"
Tucker: "You."
"I'm looking at you. Why are you always trying to hide how pretty you are?"
"I wanted to tell you that wherever I am, whatever happens, I'll always think of you, and the time we spent together, as my happiest time. I'd do it all over again, if I had the choice. No regrets."
"I can't leave you," he says hoarsely.
"I can't leave you either," I say, shaking my head. "I can't."
"Then don't," he says, and grabs me behind the neck and kisses me again, and the world is tilting, and everything goes black."
"What we have is divine. It's beautiful and good and right. I feel it..." He presses his his hand to his chest, over his heart. "I feel it all the time. You're in here, part of me. You're what I go to bed thinking about and what I wake up to in the morning."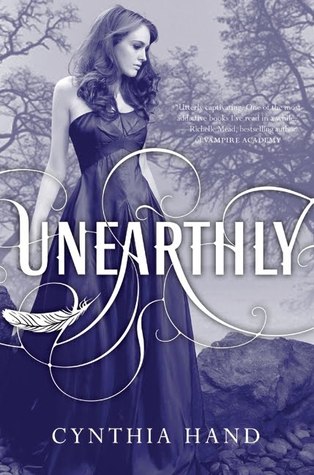 In the beginning, there's a boy standing in the trees... Clara Gardner has recently learned that she's part angel. Having angel blood run through her veins not only makes her smarter, stronger, and faster than humans (a word, she realizes, that no longer applies to her), but it means she has a purpose, something she was put on this earth to do. Figuring out what that is, though, isn't easy.
Her visions of a raging forest fire and an alluring stranger lead her to a new school in a new town. When she meets Christian, who turns out to be the boy of her dreams (literally), everything seems to fall into place and out of place at the same time. Because there's another guy, Tucker, who appeals to Clara's less angelic side.
As Clara tries to find her way in a world she no longer understands, she encounters unseen dangers and choices she never thought she'd have to make between honesty and deceit, love and duty, good and evil. When the fire from her vision finally ignites, will Clara be ready to face her destiny?
Unearthly is a moving tale of love and fate, and the struggle between following the rules and following your heart.
Goodreads
Giveaway
1. International (if TBD ships to you)
2. One entry per household
3. Winner must respond within 72 hours <---
a Rafflecopter giveaway
Rachel is a teenaged unapologetic fangirl and perfectionist.
She loves reading for the escape it gives from reality and enjoys crying over books, swooning over characters, and laughing out loud over funny lines. She is a semi-recovering Netflix addict and a middle child of three.
You can find her on Twitter
@yaperfectionist
&
Goodreads
.