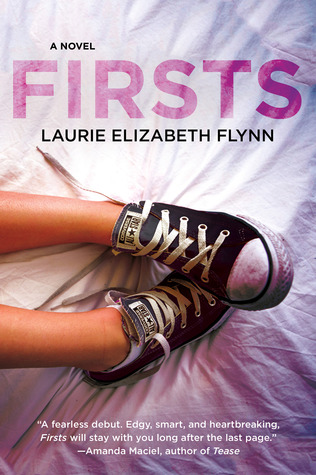 Author: Laurie Elizabeth Flynn
Genre: Contemporary
Page Length: 320 Pages
Publication Date: January 5th, 2016
Publisher: St. Martin's Griffin
Source: eARC via Netgalley
Goodreads
|
Amazon
|
B&N
|
Indie Bound
|
Kobo
|
iBooks
|
Google
In the vein of Easy A, an honest and refreshing young adult novel about sex, love, and high school.

Seventeen-year-old Mercedes Ayres has an open-door policy when it comes to her bedroom, but only if the guy fulfills a specific criteria: he has to be a virgin. Mercedes lets the boys get their awkward fumbling first times over with, and all she asks in return is that they give their girlfriends the perfect first time-the kind Mercedes never had herself.

Keeping what goes on in her bedroom a secret has been easy - so far. Her mother isn't home nearly enough to know about Mercedes' extracurricular activities, and her uber-religious best friend, Angela, won't even say the word "sex" until she gets married. But Mercedes doesn't bank on Angela's boyfriend finding out about her services and wanting a turn - or on Zach, who likes her for who she is instead of what she can do in bed.

When Mercedes' perfect system falls apart, she has to find a way to salvage her own reputation -and figure out where her heart really belongs in the process. Funny, smart, and true-to-life, Firsts is a one-of-a-kind young adult novel about growing up.
Interview
1. I was instantly captivated by the synopsis of your book. It's not very often you see a book tackle sex in such a way. How do you feel about the portrayal of sex in YA books these days?

Thank you so much! I think there are so many sex-positive YA books out there and authors tackling really important topics. I wanted to write a book with a lot of moral gray area—Mercedes is trying to do something she sees as a good thing for the virgins, but the guys she lets into her bedroom have girlfriends. Mercedes is definitely not your traditionally likeable heroine and she may be hard to cheer for sometimes. I wanted to write a story from the perspective of a girl who doesn't always get her own story.

2. What was the hardest part of writing Firsts?

Since I pantsed the whole thing, the hardest part was feeling stumped some days and not knowing what came next. During at least a few of my writing sessions, I sat there and stared at the screen, willing the right words to fly from my fingertips. But every time, I made myself keep writing and reminded myself that there was no wrong direction to take—the only wrong thing would be not finishing the story.

3. What messages do you hope readers take away from Firsts?

I hope readers realize that they may know a Mercedes, or someone who has a lot going on under the surface that she has conditioned herself to hide from people. Be kind, because everyone is going through something or has gone through something in the past.

4. What is one thing you're looking forward to next year as you debut in the publishing industry?

I'm so excited to meet some of my fellow debut authors. We have built such great friendships and I just want to give them all huge hugs! Also, I get to meet my incredible editor at the ALA Midwinter Conference, and I'm thrilled about that!

This or Thats:

Tea or coffee? Black coffee. Lots and lots of it!
Day or night? Day, since I try to get my writing done early in the morning before going to work at my day job.
eBooks or physical copies? I love my Kobo, but there's nothing like holding a physical copy of a book you love (and getting the author to sign it)!
Paris or Hawaii? I lived in Paris when I was modeling, so I'll have to say Paris. I'd absolutely love to go back!
I honestly had no idea what to expect when I first started this book. The synopsis ignited a hesitant curiosity in me, which eventually blossomed into a maddening addiction as I was gripped by the story and the plot until the book was over.
Mercedes acts as a sex coach for guys so their girlfriends will have the unforgettable first time that Mercedes never had. A synopsis like that is quite intriguing because few books rarely center around sex as boldly as this book does. But the plot thickens of course... When someone finds out about Mercedes's activities and threatens to expose her to the whole school, Mercedes must figure out what's important in her life, what's not, and how to cope.
I thought Mercedes would be a hard character to connect with given her "activities" at night and her motivations behind it. At times she was a bit harsh and cold and just really hard to understand her actions, but most of the time I really sympathized for her. She made mistakes just like any teen would, and she had tremendous strength and bravery after all the horrible things she'd been through. She's driven, likes control, and is gifted in Chemistry. I love how Flynn entwines Chemistry with the plot and juxtaposes it with so many of the themes and ideas in the story.
Mercedes's no-strings-attached "buddy" Zach of course wants more than mere sex. He genuinely likes Mercedes and pushes her to become his girlfriend. Of course stubborn Mercedes likes to keep everyone at arms length, even her best friend, religious Angela, and the tell-it-to-you-straight new student Faye. Zach is so so sweet and considerate, and I honestly can't believe he let Mercedes walk all over him for a majority of this book. I shipped those two so hard though because they balance each other out, and they make such a swoon-worthy match.
Flynn tackles so many social issues in this book, and I bow down to her for it. Slut-shaming, double-standard, sexuality, teen life, abuse, parenting, and friendship are just a few to list. Slut-shaming always makes me cringe in shock and horror. It's such a real and relevant part of society though, and I'm glad that it wasn't left out. I hate the double-standard in sexuality for men and women, and this book reminds me a bit of 99 Days in its portrayal of the injustice of the double-standard. Discussing teen sexuality was a fresh element that isn't seen much in YA. Yes, teens have sex, you might as well be open about it in literature instead of ignoring and hiding it and pretending it doesn't happen. Props to Flynn for discussing it!
Honestly there were so many elements of this book that could have made it a disaster, but Flynn expertly navigated through it all and left it classy, thought-provoking, and heart-warming. The plot was provocative and bold yet also powerful and sad in spots. The emotions were keyed up and perfect. I loved the characters and the writing. Pacing was an issue near the middle of the book, but I was so enthralled that I just kept chugging through the story. I really enjoyed this book and would recommend it to YA contemporary fans looking for something edgy and powerful!
About the Author:
Laurie Elizabeth Flynn went to school for journalism and later worked as a model, a job that took her overseas to Tokyo, Athens, and Paris. She lives in London, Ontario, with her husband and her Chihuahua.
Giveaway
St. Martin's Press is kindly hosting a giveaway for a signed finished copy of Firsts (US/Canada).
You can enter below!
a Rafflecopter giveaway
Rachel is a teenaged unapologetic fangirl and perfectionist.
She loves reading for the escape it gives from reality and enjoys crying over books, swooning over characters, and laughing out loud over funny lines. She is a semi-recovering Netflix addict and a middle child of three.
You can find her on Twitter
@yaperfectionist
&
Goodreads
.