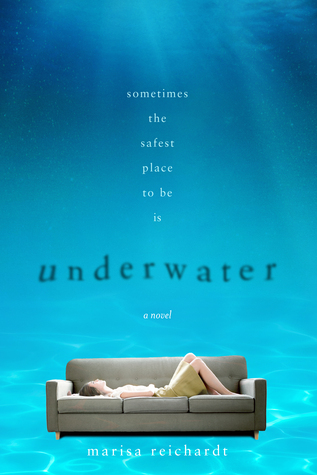 Author: Marisa Reichardt
Genre: YA Contemporary
Page Length: 288 Pages
Publication Date: January 12th, 2016
Publisher: Farrar, Straus, & Giroux
Source: eARC via Netgalley
Goodreads | Amazon
Morgan didn't mean to do anything wrong that day. Actually, she meant to do something right. But her kind act inadvertently played a role in a deadly tragedy. In order to move on, Morgan must learn to forgive—first someone who did something that might be unforgivable, and then, herself.

But Morgan can't move on. She can't even move beyond the front door of the apartment she shares with her mother and little brother. Morgan feels like she's underwater, unable to surface. Unable to see her friends. Unable to go to school.

When it seems Morgan can't hold her breath any longer, a new boy moves in next door. Evan reminds her of the salty ocean air and the rush she used to get from swimming. He might be just what she needs to help her reconnect with the world outside.

Underwater is a powerful, hopeful debut novel about redemption, recovery, and finding the strength it takes to face your past and move on.
I'm very choosy about contemporary reads. I tend to gravitate towards the lighter ones but whenever I do find a good book that deals with grief, loss, and tragedy, I try to take as many of the impactful lessons to heart as I can.
I really liked the characters and relationships in this book. A tragedy at school affects Morgan so deeply that she confines herself to her apartment, too frightened of the outside world to consider leaving. She struggles to recover from her PTSD, anxiety, and guilt, and we see Morgan battle her way back to her former self and life. Morgan has such a quirky personality, which I love about her. Her honesty and determination to get better make her such an admirable protagonist. I was rooting for her the whole time.
Evan, her new next-door neighbor really helps Morgan along the way to recovery. He's so understanding and sweet, and I love their dialogues. The romance was pretty cute and kept on the side. I appreciate that it didn't overshadow the plot nor did the romance resemble the "solution" to all of Morgan's problems. Besides their friendship and eventual relationship, I loved Morgan's family. Her little brother, Ben, is so adorable and inadvertently helps Morgan's progress.
Underwater
is a special book for so many reasons. The writing is simply flawless. I love how the writing perfectly captures the mood of the story. The pacing is quick, and the story is absorbing from the beginning to the end. The tragedy of the story is revealed to us in small parts throughout the story, and I thought that worked really well in the novel. Morgan's character growth throughout is astounding. I loved seeing her will and progression advance. The messages in this story are well portrayed and well executed. I deeply enjoyed all this book had to offer!
I felt
Underwater
was a great book, yet it didn't really stand out as a favorite book. The ending was cute yet too picture-perfect. So for that reason and my simply wanting a bit more, I think I'd give this book a four out of five stars.
Rachel is a teenaged unapologetic fangirl and perfectionist.
She loves reading for the escape it gives from reality and enjoys crying over books, swooning over characters, and laughing out loud over funny lines. She is a semi-recovering Netflix addict and a middle child of three.
You can find her on Twitter
@yaperfectionist
&
Goodreads
.