Today I have the immense pleasure of interviewing debut author Emily Henry of
The Love That Split The World
! I'm pretty sure most of the bookish community is lusting over her book, but if you're not already obsessed check out this gorgeous synopsis, cover and subsequent interview!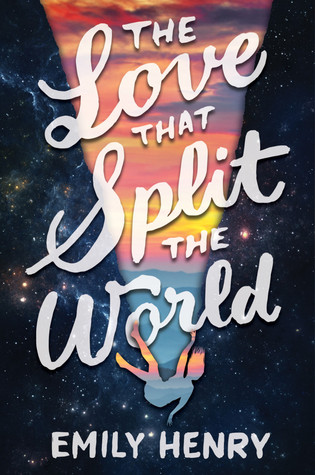 Publisher: Razorbill
Release Date: January 26th, 2016
Page Length: 400
Natalie's last summer in her small Kentucky hometown is off to a magical start…until she starts seeing the "wrong things." They're just momentary glimpses at first—her front door is red instead of its usual green, there's a pre-school where the garden store should be. But then her whole town disappears for hours, fading away into rolling hills and grazing buffalo, and Nat knows something isn't right.

That's when she gets a visit from the kind but mysterious apparition she calls "Grandmother," who tells her: "You have three months to save him." The next night, under the stadium lights of the high school football field, she meets a beautiful boy named Beau, and it's as if time just stops and nothing exists. Nothing, except Natalie and Beau.

Emily Henry's stunning debut novel is Friday Night Lights meets The Time Traveler's Wife, and perfectly captures those bittersweet months after high school, when we dream not only of the future, but of all the roads and paths we've left untaken.
Hey Em, thanks so much for stopping by A Perfection Called Books today to talk about your book!
It's my absolute pleasure! You know what a fan I am of your lovely site.
1. How did you come up with the idea for
The Love That Split the World
?
I'm very much a "figure the story out as you go" type of writer, so I didn't totally know what TLTSTW would be before I began writing it, but it was summertime, and I wanted to capture the magical, nostalgic feeling of Kentucky in July. I also had always wanted to write about hypnopompic hallucinations (essentially waking dreams, which I get on occasion) as doorways to other times, places, people, and possibilities, so the whole story really evolved from those two points. It's definitely an amalgam of my life experiences and favorite things, all sliced up and rearranged to make something new.
2. If you could spend the day with any one of your characters which character would you choose? What would you do?
Honestly, if I could spend a day with any of my characters, it would be Megan, and the truth is, I regularly do. She lives three blocks from me. She just stopped by so we could hug one last time in 2015* (This interview takes place on New Year's Eve.*) because she's going to her parents' house tonight so we won't see each other again until 2016! Megan from TLTSTW is very much drawn from real-life Megan, as well as a couple other close friends, and for those who read my book, it will be obvious that this makes me the luckiest person on the entire planet.
But given that I can see real-life Megan on the reg, maybe I'd take Beau or Natalie. Natalie and I would probably just drink a bunch of root beer floats, put on a horrible made-for-TV rom-com, and giggle through the whole thing (which is mostly what Megan and I do, too). Beau and I would probably just sit in a golden field, watching the sun get low and not-talking (which would be incredibly hard for me).
3. This is your debut novel, how has the experience been so far?
I've been so surprised by the range of emotion involved! I've wanted to be a writer since I was eight years old, but I'd never put much thought into all the minutae that comes with it. The two coolest things have been 1) getting to know all the other 2016 debut authors and 2) getting to hear early responses from the online book community. I've had moments of anxiety, but hearing how
actual
teenagers have connected with the book has turned me into the kind of goopy mess who regularly feels tempted to tweet " #blessed."
4. What is one thing you're looking forward to in 2016?
Hmm... getting a dog. Hopefully. Also writing more books! The writing's still my favorite part.
5. Are you working on any other writing projects? Is there anything you can tell us about it?
I'm working on another weird, surreal, genre-bending YA and also a high fantasy. I'd love to keep doing both.
6. Do you have any writing advice you would like to share with aspiring authors?
A) Learn to write everyday but don't force yourself to continue once you've proven you can, because everyone's process is different. A daily word-count might be what you need, but it also might not be.
B) Keep your eyes on your own paper and don't worry about what anyone else is doing. You see very little of the struggle and get an inflated version of the success, so tune out what you
think
you see on social media and let yourself love the "getting there."
C) Read and write as much as you can, but also make time for real life. Which leads into...
D) If there's one thing I wish I'd realized earlier it's this: don't write for any other reason than wanting to tell the story. If you put in the time and effort, you
can
get published, but selling a book won't make all your problems go away. It will bring you all kinds of new joys and new struggles. When it comes down to it, your books aren't going to love you back. They're your gift to the world, and you need people who pour back into you all that you pour out, or you're going to burn out. Make time for writing, absolutely, but also make time for the people who will love you as much if you're a NYT bestseller as if you never write again.
7. If you could visit any city or place in any time period where would you want to go?
If fictional places are up for grabs, of course Hogwarts. Also there are a lot of little moments from my own life that I wish I could relive, which is probably why TLTSTW was born. I'd like to fall in love with my husband at our friend Nathan's birthday party again (Ohio, 2007), and I'd like to hold my dog who died this past summer back when she was a newborn puppy (Kentucky, 2000), and I'd like to visit Holland, Michigan in winter of 2011, specifically a night when my best friend and I, for some reason, covered ourselves in fake vampire blood and went to a frat party. We came home early, probably because we wanted to watch The Vampire Diaries, and stood in the bathroom of the turreted house I shared with eleven other girls, washing our faces with corners of my ONE towel, which probably hadn't been washed in weeks. We were so slap happy already and then one of us, I don't remember which, said, "I just realized something. Technically speaking, we're uncool," and we laughed so hard we cried and probably blew face-wash bubbles with our nostrils. If I could go anywhere, maybe I'd go to the Night We Realized We Were Uncool (Michigan, 2011). But Greece could be nice too.
8. Lastly, can you list some 2016 debut novels you're excited for?
You of all people know how hard this is! In Contemporary, some of my favorites and most anticipated would be:
A Study in Charlotte, Scarlett Epstein Hates It Here, The Serpent King
, and
The First Time She Drowned
. In fantasy:
The Girl From Everywhere, Where Futures End
(technically sci-fi!),
Burning Glass, Rebel of the Sands,
and
The Star-Touched Queen
. I know i'm missing a ton, but luckily I'm sure all your readers are well-versed in the other 2016 debuts thanks to a certain blogger.
Thank you so much for having me! It was a blast!<3
Emily Henry is full-time writer, proofreader, and donut connoisseur. She studied creative writing at Hope College and the New York Center for Art & Media Studies, and now spends most of her time in Cincinnati, Ohio, and the part of Kentucky just beneath it. She tweets @EmilyHenryWrite.
Rachel is a teenaged unapologetic fangirl and perfectionist.
She loves reading for the escape it gives from reality and enjoys crying over books, swooning over characters, and laughing out loud over funny lines. She is a semi-recovering Netflix addict and a middle child of three.
You can find her on Twitter
@yaperfectionist
&
Goodreads
.