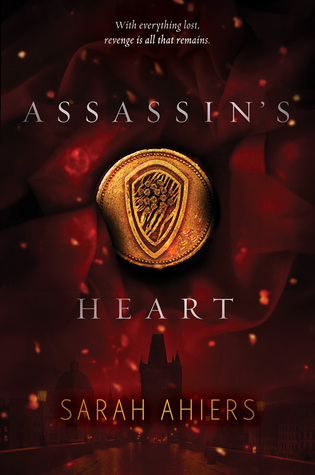 Author: Sarah Ahiers
Genre: YA, Fantasy, Romance, Adventure
Page Length: 400
Publication Date: February 2nd 2016
Publisher: Harper Teen
Source: Edelweiss
Goodreads
In the kingdom of Lovero, nine rival Families of assassins lawfully kill people for a price. As a highly skilled member of one of these powerful clans, seventeen-year-old Lea Saldana has always trusted in the strength of her Family. Until she awakens to find them murdered and her home in flames. The Da Vias, the Saldanas' biggest enemy, must be responsible—and Lea should have seen it coming. But her secret relationship with the Da Vias' son, Val, has clouded her otherwise killer instinct—and given the Da Vias more reason than ever to take her Family down.

Racked with guilt and shattered over Val's probable betrayal, Lea sets out to even the score, with her heart set on retaliation and only one thought clear in her mind: make the Da Vias pay.

With shades of The Godfather and Romeo and Juliet, this richly imagined fantasy from debut author Sarah Ahiers is a story of love, lies, and the ultimate vengeance.
An ARC was provided by Harper Teen via Edelweiss in exchange for a honest review
I've always loved books about assassins! It was an obsession that started thanks to Poison Study, and I adore stories about these kick ass murderers with so much hidden vulnerability! So when I heard about Assassin's Heart, I knew that I had to read it! In addition, when I saw the tagline "with shades of The Godfather..." I was a goner, because GODFATHER IS ONE OF MY FAVOURITE MOVIES EVER PERIOD!!!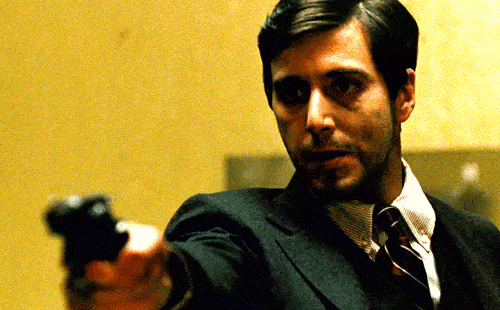 *flails*
Oops, sorry, I went a bit off track there! ;D
Lea Saldana comes from a family of assassins. Her family, along with nine others, honor their goddess by the doing the "service of murder". Tension is present in between all nine families, and there's certainly no love lost between the Saldanas and the Da Vias. Lea's life turns upside down, when her secret romance with Val Da Vias puts her family in extreme danger, her one motive in life becomes revenge, and Assassin's Heart is the story of her vengeance.
Now, I would be lying if I say that Assassin's Heart is perfect. The book had its flaws. But at the same time, the book was also unique. And there were certain elements that I adored and which made me want to hug Sarah Ahiers tightly for including them in the story. In the end, Assassin's Heart had its ups and downs, which created mixed feelings in me.
One of the biggest positives of the book is that it's a feminist's dream fantasy. First of all, Lea was a fierce girl. She was an unapologetic killer, an awesome fighter and knows her way through poisons, weapons and fight techniques. Sure, the girl did take some stupid decisions, but in the end, she was ready to pay the price to all her mistakes. I also loved how she firmly believed in her job and what she's doing, I thought it was refreshing, because in her mind, murder was right, and she didn't feel any guilt by doing the deed.
And the book also offers one of my biggest dreams ever. A love interest in a fantasy story who is a terrible fighter. Whom the girl has to protect. Who depends on the girl and learns to fight from her. Who's sweet, supportive, cute but also useless. Because honestly, I am tired of the super confident guys who knows everything and is the one who leads the clueless MC through her journey of self discovery. I felt like the typical fantasy gender roles were reversed in this book, and I loved that about Assassin's Heart!
I also adored the mafia take on assassins. The world building was a perfect combination of mafia families, assassins and fantasy, and I also found Ahiers' world building really original. Though in the beginning, it reminded me a lot of the movie Romeo + Juliet, in a few chapters, the story took a new turn, and gave a fresh outlook of the classic tale.
The book's biggest drawback was its writing. It was.....so normal and unremarkable. A story like Assassin's Heart deserved a better writing in my opinion. I felt like the writing style of the book was so "meh", that often phrases felt repetitive and didn't carry the impact that they're supposed to do. I also felt like the words lacked feel or emotion, failing to bring out the intensity of the story and certain situations.
If only Assassin's Heart had a more powerful and intense writing style, it would've been a terrific novel. But alas, it's not the case. But at the same time, there were certain things that make this book so special and enjoyable, and I'd recommend it to all fans of fantasy, assassins, mafia stories and Graceling.
Mishma is a 17 year old teenager from Sri Lanka who's always loved books and talking about them. She often comes off as a loud, outgoing, funny, hyperactive and happy go lucky girl! Her addictions include books, Twitter and Buzzfeed and she has an unapologetic love for classic old movies with uncensored violence and villains with a vulnerable side.
You can find her at her own
blog
,
Twitter
,
Instagram
. She loves making friends, so stop by to say a hi!