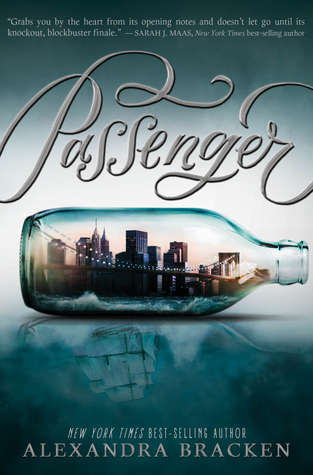 Author: Alexandra Bracken
Genre: YA Fantasy/Historical Fiction/Time Travel
Page Length: 464 Pages
Publication Date: January 5th, 2015
Publisher: Disney Hyperion
Source: ARC via Big Honcho Media
Goodreads | Amazon
passage, n.
i. A brief section of music composed of a series of notes and flourishes.
ii. A journey by water; a voyage.
iii. The transition from one place to another, across space and time.

In one devastating night, violin prodigy Etta Spencer loses everything she knows and loves. Thrust into an unfamiliar world by a stranger with a dangerous agenda, Etta is certain of only one thing: she has traveled not just miles but years from home. And she's inherited a legacy she knows nothing about from a family whose existence she's never heard of. Until now.

Nicholas Carter is content with his life at sea, free from the Ironwoods—a powerful family in the colonies—and the servitude he's known at their hands. But with the arrival of an unusual passenger on his ship comes the insistent pull of the past that he can't escape and the family that won't let him go so easily. Now the Ironwoods are searching for a stolen object of untold value, one they believe only Etta, Nicholas' passenger, can find. In order to protect her, he must ensure she brings it back to them— whether she wants to or not.

Together, Etta and Nicholas embark on a perilous journey across centuries and continents, piecing together clues left behind by the traveler who will do anything to keep the object out of the Ironwoods' grasp. But as they get closer to the truth of their search, and the deadly game the Ironwoods are playing, treacherous forces threaten to separate Etta not only from Nicholas but from her path home . . . forever
The Darkest Minds
, so I was stoked to hear she was writing a second series.
Passenger
highlights all of Bracken's strong suits: strong characters, extensive history research, character-driven plot, and shippable romance and keeps readers guessing until the very end.
Violin prodigy, Etta Spencer, accidentally uncovers the secret society of time travelers and is thrust into a dangerous hunt to retrieve a powerful object that could change the world for the worst if fallen into the wrong hands. The most exciting part about this hunt is that it take places in various countries in various time periods. I commend Bracken for making
Passenger
such a thrilling on-the-run story. The research was spot-on and and the details were impeccable. I loved all the descriptions of the time periods and the settings. I always have major fangirl moments when authors incorporate historical facts into their stories.
Etta is such a strong-willed and feisty person. I love her fearlessness and her whip-smart mind. As she follows her mother's cryptic clues from place to place to find the hidden object, Etta is thrust into harrowing situations which really help build her character and growth. But she's not on this journey alone. Enter, Nicholas Carter, a freed slave-turned privateer in the late 1700s. I think I enjoyed his character a bit more than Etta because he was such an interesting and multifaceted person. Both Etta and Nick have such strong personalities that really shine through. I am pleased to see a bit of diversity in the main cast of characters and secondly I am proud to see a biracial romance represented in this story! I love the development and the slow-burn of this one. Definitely a top power couple of the year. Overall though, I love their honesty and their courage to speak their minds (and hearts) no matter what.
Bracken's writing is so eloquent and highly descriptive. Her plotting was brilliant and never too predictable. I was hooked from the beginning (haha no pun intended...) and engaged throughout, although I did feel there was a slight pacing problem in the middle. Sometimes in the frantic action sequences I got a bit confused as to what was going on. A lot of this book is clue-solving and running, but I wish the plot could have slowed down a bit for the characters (and us readers) to explore the time periods.
Time traveling is incredibly easy for an author to mess up and quite difficult for an author to do well. Thankfully Bracken's execution and extensive attention to detail in regards to time travel were both perfect. I love how she explained time travel, made it her own (a bit different), and kept it relatively simple for us to comprehend. At times though it was a bit hard to keep up with the explanation of repercussions of all the bad things that would happen if the object fell into the wrong hands. This reminds me of
Interstellar
or
Inception
at times where the plot just went a little over my head at times... But that's a me problem!
I was a bit disappointed that not much of this book takes place on ships, especially since the cover of the book has a ship on it. That along with some minor pacing and plot issues made me shave a star off. Overall this book is historically action-packed and lots of fun! I'd definitely recommend this book to Bracken fans.