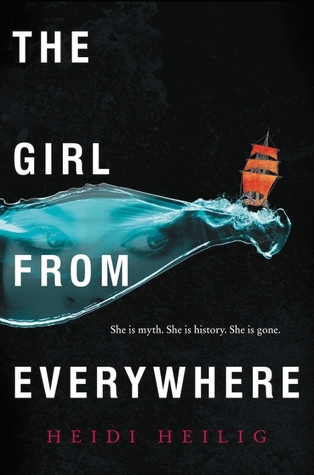 Author: Heidi Heilig
Series: The Girl From Everyone #1 (Duology)
Genre: YA Fantasy/Historical Fiction/Time Travel
Page Length: 464 Pages
Publication Date: February 16th, 2016
Publisher: Greenwillow Books
Source: eARC via Edelweiss
Goodreads | Amazon
Heidi Heilig's debut teen fantasy sweeps from modern-day New York City to nineteenth-century Hawaii to places of myth and legend. Sixteen-year-old Nix has sailed across the globe and through centuries aboard her time-traveling father's ship. But when he gambles with her very existence, it all may be about to end. The Girl from Everywhere, the first of two books, will dazzle readers of Sabaa Tahir, Rae Carson, and Rachel Hartman.

Nix's life began in Honolulu in 1868. Since then she has traveled to mythic Scandinavia, a land from the tales of One Thousand and One Nights, modern-day New York City, and many more places both real and imagined. As long as he has a map, Nix's father can sail his ship, The Temptation, to any place, any time. But now he's uncovered the one map he's always sought—1868 Honolulu, before Nix's mother died in childbirth. Nix's life—her entire existence—is at stake. No one knows what will happen if her father changes the past. It could erase Nix's future, her dreams, her adventures . . . her connection with the charming Persian thief, Kash, who's been part of their crew for two years. If Nix helps her father reunite with the love of his life, it will cost her her own.
In The Girl from Everywhere, Heidi Heilig blends fantasy, history, and a modern sensibility with witty, fast-paced dialogue, breathless adventure, and enchanting romance.
Let me start by saying what a brilliant author Heidi is. Not only is her story engaging, but her meticulous planning and artful weaving of the plot leaves my mind blown with all expectations hit out of the proverbial park.
"Paradise is a promise no god bothers to keep. There's only now, and tomorrow nothing will be the same, whether we like it or not."
The majority of this book takes place in late 1800's Hawaii, and I love how well Heidi captures the vibes and feel of the paradisiacal island of Oahu. Her descriptions and tenderness towards the setting has me anxious to visit and feel and experience everything just as these characters did. I also really appreciated how Heidi captured the turning point where Hawaii lost more of its Hawaiian charm, culture, and authenticity and became overrun by foreign influence. It's a sad and tragic past, but someone has to tell it. So often it's written off as inconsequential, but Hawaii was annexed and diminished from its natural peacefulness in such a horrid way.
The main character, Nix is really intuitive and easy to relate to. She struggles with her warring desires and her idea of home and family. Slate, her father, is quite an enigmatic and complex person. I loved his development in the book. Kashmir is dashing and the wittiest comic relief. The secondary characters were fleshed out and each had their own respective backstories. Mostly everyone was likable too. One of my favorite parts of the book was the evolving relationship between Nix and Slate. Slate's monomaniacal obsession with saving Nix's mother in the past really fractured any genuine father-daughter relationship. I loved seeing their relationship grow, and my favorite scene in the whole novel happens between these two.
The romance in this book is kept to a minimum and although it looks like there might be a love triangle forming, it's hardly there at all and won't overshadow the plot or your love for the book. Also this is a duology, so everything will develop and sort itself out in the next book.
I was hooked on this book immediately from the beginning. The idea of this story is so well developed and explained. It was fascinating learning about the time travel and the importance of maps. I love how Heidi mixed various fantasy/myth and historical elements into her story. We get to read of places and elements we're familiar with and other creatures and destinations that are innovative creations. Some parts were a bit confusing at times with the time travel, but everything happens for a reason, and all is revealed by the end. There are so many unexpected events in this novel; the unpredictability of this adventure novel was a definite hit for me. I also love the incorporation of diverse cultures placed in the novel.
This book could read as a standalone, but there's one more book to give us another amazing adventure with this great cast of characters and a phenomenal author. I can't recommend this book enough!
Rachel is a teenaged unapologetic fangirl and perfectionist.
She loves reading for the escape it gives from reality and enjoys crying over books, swooning over characters, and laughing out loud over funny lines. She is a semi-recovering Netflix addict and a middle child of three.
You can find her on Twitter
@yaperfectionist
&
Goodreads
.