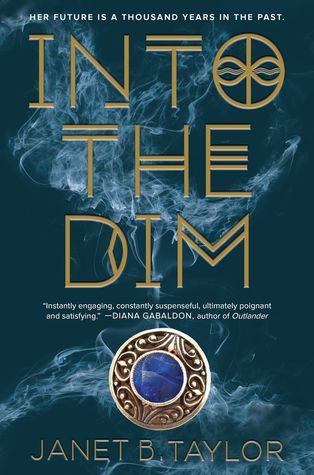 Author: Janet B. Taylor
Genre: YA Historical Fiction
Page Length: 432 Pages
Publication Date: March 1st, 2016
Publisher: HMH
Source: ARC via Publisher
Goodreads
|
Amazon
|
Barnes and Noble
|
iBooks
When fragile, sixteen-year-old Hope Walton loses her mom to an earthquake overseas, her secluded world crumbles. Agreeing to spend the summer in Scotland, Hope discovers that her mother was more than a brilliant academic, but also a member of a secret society of time travelers. Trapped in the twelfth century in the age of Eleanor of Aquitaine, Hope has seventy-two hours to rescue her mother and get back to their own time. Along the way, her path collides with that of a mysterious boy who could be vital to her mission . . . or the key to Hope's undoing.

Addictive, romantic, and rich with historical detail, Into the Dim is an Outlander for teens.
Are you in the mood for a fast-paced, whirlwind adventure to the past? If so then "Into the Dim" is the book for you.
Quirky and eidetic memory-wielding Hope Walton is thrust into the world of time traveling after her mother, Sarah, goes missing when really she's stuck in another century. Hope and two other time travelers are tasked with rescuing Sarah. They are her last chance, and if they can't save her she will never be able to return to her proper time period.
"Into the Dim" has a slower start, but by 100 pages in we emerge in a different era and that's where the ball starts rolling and the plot picks up the pace. And oh does it ever! Janet introduces an endearing cast of characters. We have the innocent and slightly naive Hope, a charming yet seemingly untrustworthy Bran, a serious and driven time traveler Collum, and his peppy and spunky teen sister Phoebe. I really liked the group dynamic and their vow never to leave each other behind. So often in books we see characters make the "hard choice" and leave their friends behind in tricky situations, yet I think the truly hard decision is fighting that urge and rescuing your friends like these characters do.
I really enjoyed the historical elements that Janet weaved into the story. I learned so much about Eleanor of Aquitaine and London in the 1100's. It's such a fascinating time period that isn't really explored much in YA.
The romance was cute, but I felt it was a bit rushed. I love the bickering and sassy dialogue between Bran and Hope. A love triangle is not present in this book for those wondering. Overall I can't wait to see what happens to this power couple next because they have a serious bout of forbidden love plaguing them. Speaking of sassy, there are some hilarious moments in this book that really broke up the dreariness of life in the 1100's.
The pacing of this novel was perfect as we see the characters run from troubles at every turn. There was plenty of action and mystery coupled in this story. My favorite element is definitely the numerous plot twists that Janet pulls. I love hypothesizing and guessing what happens next (and I usually get it right), but Janet pulled the proverbial rug out from underneath me multiple times. Jaws will drop! Heads will roll. (Kidding on that last part, but there's always book 2....)
The story has a satisfying end yet there are still some lose threads that I can't wait to see come to attention and fruition in the next book!
About the Author
The 2013 winner of the coveted #PitchWars, Janet B Taylor, has four years' experience writing web content for a major television network fan site (CBS) that garners over a hundred thousand hits a day. Janet travels extensively to those places where her novels are set, often roaming around at night to commune with the famous historical figures about which she loves to write. She is a member of several writing organizations, including the SCBWI and the Historical Novel Society, and lives in a tiny town in Arkansas with her family.
Website
|
Twitter
|
Facebook
|
Goodreads
|
Tumblr
|
Pinterest
Giveaway:
a Rafflecopter giveaway
Tour Schedule:
Rachel is a teenaged unapologetic fangirl and perfectionist.
She loves reading for the escape it gives from reality and enjoys crying over books, swooning over characters, and laughing out loud over funny lines. She is a semi-recovering Netflix addict and a middle child of three.
You can find her on Twitter
@yaperfectionist
&
Goodreads
.