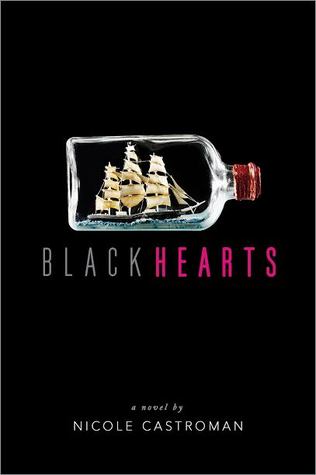 Author: Nicole Castroman
Genre: YA Historical Fiction
Page Length: 384 Pages
Publication Date: February 9th, 2016
Publisher: Simon Pulse
Source: ARC via publisher
Goodreads
|
Amazon
|
Barnes and Noble
|
iBooks
Blackbeard the pirate was known for striking fear in the hearts of the bravest of sailors. But once he was just a young man who dreamed of leaving his rigid life behind to chase adventure in faraway lands. Nothing could stop him—until he met the one girl who would change everything.

Edward "Teach" Drummond, son of one of Bristol's richest merchants, has just returned from a year-long journey on the high seas to find his life in shambles. Betrothed to a girl he doesn't love and sick of the high society he was born into, Teach dreams only of returning to the vast ocean he'd begun to call home. There's just one problem: convincing his father to let him leave and never come back.

Following her parents' deaths, Anne Barrett is left penniless and soon to be homeless. Though she's barely worked a day in her life, Anne is forced to take a job as a maid in the home of Master Drummond. Lonely days stretch into weeks, and Anne longs for escape. How will she ever realize her dream of sailing to Curaçao—where her mother was born—when she's stuck in England?

From the moment Teach and Anne meet, they set the world ablaze. Drawn to each other, they're trapped by society and their own circumstances. Faced with an impossible choice, they must decide to chase their dreams and go, or follow their hearts and stay.
Today I am lucky to share the blog with Nicole Castroman in the form of an interview. I've met Nicole in person, and she's just as sweet in person as she is online. I loved her book too!
Interview
1. If you could be a pirate for a day, what would you do? Where would you want to go?
If I could be a pirate for a day, I would want to head somewhere warm. As I'm writing this, it's snowing outside. We don't typically get snow in Georgia, so at the moment, I definitely want to visit somewhere where it's very warm and sunny. I recently went on a cruise to the Cayman Islands and Cozumel, Mexico and I would love to do it again. Except this time I think I would head to Curacao. I've heard it's beautiful and has a European flair. Did I mention already how much I want to be some place where it's warm?
2. What inspired you to write "Blackhearts?"
The fact that only the last two years of Blackbeard's life are known was too good of an opportunity to pass up. That's why I decided to write BLACKHEARTS. He was a fascinating figure in history and I wanted to play with that. And I knew I wanted a girl to be the reason he turned to piracy.
3. "Blackhearts" features a smoldering romance, what key elements do you need to write to execute the perfect romance in a book?
I'm not sure I know what makes a perfect romance. I just wrote the kind of romance that I enjoy, which is a slow burn.
4. I see quite a few ties between your lovely book and the amazing tv show Poldark. It's no secret that you LOVE that show, so my question is... Why do you love Poldark so much?
I love history. I think it's fascinating to learn how people lived in different times and places. That's why I've always enjoyed historical fiction. And of course I enjoy romance. Poldark combines these elements brilliantly, with flawed characters and a beautiful setting. And it doesn't hurt that Aidan Turner is Ross Poldark. I don't know how they do it, but the BBC has a knack for perfect casting. Eleanor Tomlinson as Demelza is fabulous as well. The writing and acting are spot on. It's an easy show to get caught up in. And I have to say that I have converted at least 50 people into Poldarkians. Well, technically, the show converts them, but I've been responsible for turning them to the show in the first place. I wonder if there is a certain number I need to convert, before I get to be an extra on set. ☺
5. What has been the best moment on the publishing journey so far?
I think it's been getting to know so many amazing people, both in real life and on line. It's a nice community to be involved in.
6. Are you working on any other writing projects right now? Anything you can tell us? :)
I have another pirate book in the works, but that's about all I can say. Oh, and I would love to continue Anne and Teach's story. Turning into a pirate can't happen overnight. It's an evolution, one that takes time. ☺
7. Finally, what other 2016 releases are you looking forward to this year?
All of the 2016 debuts! Seriously, I've read some fantastic ones so far! THE STAR TOUCHED QUEEN, REBEL OF THE SANDS, THE GIRL FROM EVERYWHERE, CARAVAL, THE SERPENT KING and many, many more. I'm looking forward to THE READER, A SHADOW BRIGHT AND BURNING, EVER THE HUNTED. This list goes on and on. On top of those, I can't wait to read the sequel to SIX OF CROWS. I'm also excited to read THE WINNER'S KISS, and the last book in Mary Pearson's THE BEAUTY OF DARKNESS. I've already had the pleasure of reading THE SKYLIGHTER by Becky Wallace. There are so many amazing books coming out this year.
I've always been fascinated by Blackbeard, yet I'd never seen nor learned much about his early life. I was curious to see how Nicole would craft such a story, and I ended up really enjoying it. Her writing is easily engaging, and she weaves the romance in such a way that we really understand the plights and issues with such a forbidden love yet it makes us fall even harder in love with the story and the characters. This book is definitely more on the romantic side, and I really loved it.
Five Reasons Why You Should Read Blackhearts
1. The Time-Period -
Blackhearts
takes place in the late 16th century/very early 1700's, and I love this time in history. The British Empire is still at its prime, and tensions are brewing around the world. Also there are balls and pretty dresses, and I've always loved the etiquette and sense of propriety and decorum of the time! It's so proper and fascinating...
2. The Characters - Edward "Teach" Drummond is a wealthy son of a merchant who wants to be free from his father and his aspirations to be welcomed by the aristocracy. All Teach wants to do is sail around the world, yet his overbearing father will never let him do that. Orphaned Anne wants to start a new life away from all the dreariness and pain living in Bristol has caused her. Teach is so energetic and thoughtful and caring. His compassion and good nature are such high points in this novel. Anne is really stubborn and tenacious which I admire. Sadly mostly everyone else in the cast is evil or mean in some way...
3. The Poldark-ness - This book is reminiscent of the tv show Poldark and Aidan Turner in particular! *swoons*
4. The Romance - Slow-burn romances are always my favorites, and this ship does just that. I love it so so so so much.
5. The Ending -It's gut-wrenching and will leave you writhing in pain, you've been warned!
About the Author
Nicole was lucky enough to come with her very own best friend...she has a twin sister who can read her mind and finish her sentences for her.

At the age of 13, she went to Europe for the first time and it changed her life. She loves learning about different people, languages and cultures and speaks fluent German. She knows enough Spanish to get herself into trouble and can still read the Cyrillic alphabet from when she studied Russian.

She received her B.A. from Brigham Young University and has lived in Germany, Austria and two different places called Georgia. One is located on the Black Sea. The other is the state of Georgia where she now lives with her handsome husband and two beautiful children who continue to amaze her.
Rachel is a teenaged unapologetic fangirl and perfectionist.
She loves reading for the escape it gives from reality and enjoys crying over books, swooning over characters, and laughing out loud over funny lines. She is a semi-recovering Netflix addict and a middle child of three.
You can find her on Twitter
@yaperfectionist
&
Goodreads
.