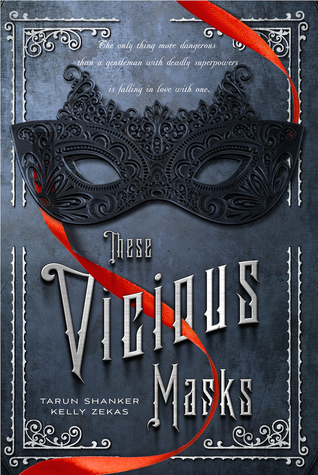 Authors: Tarun Shanker & Kelly Zekas
Genre: YA Paranormal/Historical Fiction
Page Length: 352 Pages
Publication Date: February 9th, 2016
Publisher: Swoon Reads
Source: ARC via publisher (thanks!)
Goodreads | Amazon
Jane Austen meets X-­Men in this gripping and adventure-­filled paranormal romance set in Victorian London.

England, 1882. Evelyn is bored with society and its expectations. So when her beloved sister, Rose, mysteriously vanishes, she ignores her parents and travels to London to find her, accompanied by the dashing Mr. Kent. But they're not the only ones looking for Rose. The reclusive, young gentleman Sebastian Braddock is also searching for her, claiming that both sisters have special healing powers. Evelyn is convinced that Sebastian must be mad, until she discovers that his strange tales of extraordinary people are true—and that her sister is in graver danger than she feared.
These Vicious Masks
definitely portrays the best elements of both stories. The protagonist, Evelyn, is reminiscent of Elizabeth Bennet with extra sides of disregard for society expectations and recklessness to entertain readers. We have the brooding Darcy named Mr. Braddock and an equally dashing and witty young friend (Wickham potentially?) Mr. Kent. What I especially love about this novel is how everyone has a theoretical mask. Everyone is hiding behind some facade which allows for deep character exploration and shocking truths and betrayals. This book engaged me from the start with a mystery and plot that grew thicker. I loved the paranormal incorporation and thought the authors did a wonderful job making the element unique. Although the writing was quite good, the pacing was a bit off in places and some of the events were just too convenient for my taste. I also felt this book was missing some swoon, I would've liked a bit more romance since this imprint is known for it. To end on a high note, the witty banter refreshes readers, and there are quite a few laugh-out-loud moments to give readers a good time. I enjoyed the ending and will definitely stay tuned for book 2!
Author: Jessica Khoury
Genre: YA Fantasy/Retelling
Page Length: 352 Pages
Publication Date: February 23rd, 2016
Publisher: Razorbill
Source: ARC via publisher (thanks!)
Goodreads | Amazon
She is the most powerful Jinni of all. He is a boy from the streets. Their love will shake the world...

When Aladdin discovers Zahra's jinni lamp, Zahra is thrust back into a world she hasn't seen in hundreds of years -- a world where magic is forbidden and Zahra's very existence is illegal. She must disguise herself to stay alive, using ancient shape-shifting magic, until her new master has selected his three wishes.

But when the King of the Jinn offers Zahra a chance to be free of her lamp forever, she seizes the opportunity—only to discover she is falling in love with Aladdin. When saving herself means betraying him, Zahra must decide once and for all: is winning her freedom worth losing her heart?

As time unravels and her enemies close in, Zahra finds herself suspended between danger and desire in this dazzling retelling of Arabian Nights from acclaimed author Jessica Khoury.
The Wrath and The Dawn
vibes!
Zahra is one of the most powerful jinnis and a curse has confined her to a lamp where she must slave herself to the wishes of humans. Given a chance at freedom by the omnipotent King of Jinn, Zahra must walk a narrow, complex line and decide if she has the heart to trick her latest master who she's starting to fall for in order to gain her greatest wish, freedom, or if that wish has changed to something more. Something like love...
Both Zahra and Aladdin were such complex characters, and I really liked how they grew in this book. Aladdin and Zahra were such engaging characters, and I love their chemistry. Even from the beginning there seemed to be an invisible, intoxicating string binding these two together. Every smile, every glance, every scowl edged them closer and closer together. The romance was smooth and subtle and completely adorable. I love their banter and all the cute things they say around one another. This forbidden romance is definitely a slow-burn, and I really loved every second of it.
This book is definitely influenced by Aladdin, yet it takes liberties and changes things to make it unique. The jinn world was so richly described, and I love the culture infused in the story. The writing was addictive, and I was impressed by the plotting. The beginning is a bit slower yet still engaging, and it picks up quickly. There's plenty of action, romance, deception, court politics, humor, and more to please readers.
Sacrifice, friendship, and love are integral parts of this story, and I love all that Jessica imparts to readers through those themes. The ending was sweet and perfect and leaves readers wanting more. I completely adored this book, and I'll definitely buy a finished copy!