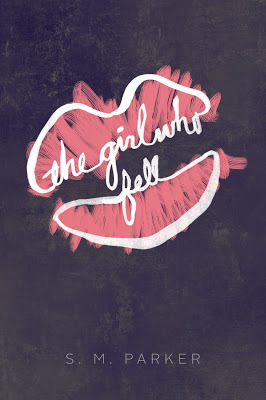 Author: Shannon M. Parker
Genre: YA Contemporary
Page Length: 320 Pages
Publication Date: March 1st, 2016
Publisher: Simon Pulse
Source: ARC borrowed
Goodreads | Amazon
His obsession.
Her fall.

In this dark kissing book, high school senior Zephyr Doyle is swept off her feet—and into an intense relationship—by the new boy in school.

Zephyr is focused. Focused on leading her team to the field hockey state championship and leaving her small town for her dream school, Boston College.

But love has a way of changing things.

Enter the new boy in school: the hockey team's starting goaltender, Alec. He's cute, charming, and most important, Alec doesn't judge Zephyr. He understands her fears and insecurities—he even shares them. Soon, their relationship becomes something bigger than Zephyr, something she can't control, something she doesn't want to control.

Zephyr swears it must be love. Because love is powerful, and overwhelming, and…terrifying?

But love shouldn't make you abandon your dreams, or push your friends away. And love shouldn't make you feel guilty—or worse, ashamed.

So when Zephyr finally begins to see Alec for who he really is, she knows it's time to take back control of her life.

If she waits any longer, it may be too late.
The Girl Who Fell
reminds me of the importance of reading and the capacity books have to bring attention to necessary issues.
In
The Girl Who Fell
, main character Zephyr is realistic and relatable. She plays field hockey, has family issues, dreams of going to her top college. And then she meets Alec, and everything in her life seems to fall away. She becomes consumed by Alec and falls headfirst into a toxic relationship that effects all aspects of her life.
A toxic/abusive relationship was at the core of this novel, and Shannon portrayed it exceptionally. I really appreciate how Shannon chose this topic. It's not something that people often write into stories, it's a brutal concept but something that needs to be discussed. She captured the guilting, the manipulation, the begging and twisted nature of this relationship in such a realistic way to show readers just how it appears in real life and how to see the signs. She brings readers along on the journey as Zephyr pulls away little by little from all that was once important to her. Shannon's writing is captivating and engaging, and this book is a definite page-turner. The romance is so messed up, but it has a sexy edge, a crackling chemistry that draws readers in.
The characters didn't really stand out to me much, but that didn't really detract from the story for me. I was constantly frustrated with Zephyr as she became more and more dependent on Alec and more insensitive towards others. Alec creeped me out for most of the book, you could just tell he's bad news. I loved Gregg and Lizzie though! Yay for best friends, never forget them...
There are some graphic and violent scenes that, although necessary, people should be warned about. This book is not for the faint-hearted. With that being said, there's a mysterious, ominous tone in the story right from the beginning that really kept my attention. Overall I was thoroughly impressed by this impactful debut, and if you're looking for a darker contemporary read then I recommend this to you!