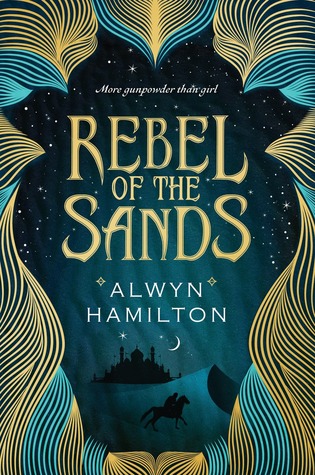 Author: Alwyn Hamilton
Series: Rebel of the Sands #1
Genre: YA Fantasy
Page Length: 320 Pages
Publication Date: March 8th, 2016
Publisher: Viking
Source: ARC via ALAMW
Goodreads | Amazon
She's more gunpowder than girl—and the fate of the desert lies in her hands.

Mortals rule the desert nation of Miraji, but mystical beasts still roam the wild and barren wastes, and rumor has it that somewhere, djinni still practice their magic. But there's nothing mystical or magical about Dustwalk, the dead-end town that Amani can't wait to escape from.

Destined to wind up "wed or dead," Amani's counting on her sharpshooting skills to get her out of Dustwalk. When she meets Jin, a mysterious and devastatingly handsome foreigner, in a shooting contest, she figures he's the perfect escape route. But in all her years spent dreaming of leaving home, she never imagined she'd gallop away on a mythical horse, fleeing the murderous Sultan's army, with a fugitive who's wanted for treason. And she'd never have predicted she'd fall in love with him...or that he'd help her unlock the powerful truth of who she really is.
Rebel of the Sands is a book that quickly gained hype and for good reason. Alwyn manages to blend together three distinct elements into a sparkling, beautiful gem of a book. I was transfixed from the start and dazzled until the very end.
Amani lives in the desert, the farthest from civilization in her gritty, tough love Western-style town of Dustwalk. Quick and lethal with a gun, Amani enters a shooting contest in hopes of winning the prize money, so she can escape her home. I love Amani's spunk and ferocity. This girl has the quick thinking and resilience needed to stay alive in the dangerous desert. I love how we see Amani grow so much in this book alone. In the beginning she's more focused on surviving by herself than helping others. Throughout this book she's put through many tests that make her question how she's lived her entire life and how she plans to do so in the future.
At the shooting contest Amani meets Jin, a handsome foreigner who is being pursued by the Miraji army. Caught up in this chase, she and Jin must flee across the desert to safety, wherever that may be. As tensions brew among Miraji, the Gallan kingdom to the north, there are calls for rebellion within Miraji as the rebel prince Ahmed rises.
I love the concept of Rebel of the Sands; never would I have thought that Wild West, Middle Eastern, and fantasy could mix so well, yet somehow Alwyn makes it work flawlessly. Her writing is enchanting, and I devoured it like it was the last drops of water in the Miraji desert. Alwyn packed this book with twists and turns; I never knew what was coming next. Rebel keeps a punishing pace with non-stop action and shocks in quick succession. This book is unapologetically badass.
The desert is given an eerie, magical edge that I really enjoyed. By day the desert is seemingly endless with intense heat shining down while at night mythical creatures are abound. At all times the desert is a treacherous place to be where only the toughest can survive. The djinni aspect infuses some magic into the story, and I can't wait to see how this further develops.
Overall
Rebel of the Sands
has so much going for it. There are lots of little components and threads that I can see weaving into something greater in the next two books. I can't think of a single thing I didn't like in this one! This book had non-stop action with bits of humor here and there, some hardcore rebelling, a sizzling romance, a slew of vibrant secondary characters, and a promising end that makes me anxious for book 2.
Rachel is a teenaged unapologetic fangirl and perfectionist.
She loves reading for the escape it gives from reality and enjoys crying over books, swooning over characters, and laughing out loud over funny lines. She is a semi-recovering Netflix addict and a middle child of three.
You can find her on Twitter
@yaperfectionist
&
Goodreads
.