I'm so excited for
Rebel of the Sands
by Alwyn Hamilton, which is out on March 8th, 2016. The main character of
Rebel of the Sands
, Amani is known for her sharp-shooting skills. I was asked what
I
would be known for as a blogger! With the help of some friends, I've selected a few things I think I'd be known for in the blogosphere.
I'd be a blogger known for...
1.
Debut Love
aka the blogger who loves promoting debuts
Through my annual Meet the Newbies debut feature, countless MTN debut Twitter chats, FAC16, TTT lists, and reviews, I think it's safe to say I LOVE debuts. Maybe I'll write a post up on why I love debuts so much. It's been my "thing" for over two years now, and I just love helping promote all books but especially those by debuts.
2.
Bookish Knowledge
aka the blogger who recites book titles she's excited about for hours on Twitter (chats)
I love learning about the latest book deals, so while people are crazing over the books coming in 3-5 months, I'm already looking 1-2 years ahead! I am quite proud of my cultivated
Goodreads
shelves. I scour sites to learn about the latest rights sold and the newest books announced. I just like to be in the know and share the book love!
3.
Organization/Scheduling
aka the blogger who sends the long, detailed emails to authors/bloggers and owns a colorful blog calendar
I have a rigid, organized way of blogging. I have a color-coded calendar; my events run a tight ship. Organization is one of my favorite things. I also really like scheduling posts ahead of time, so most of the posts you read here on APCB are actually written a few months prior.


This was July's calendar!
4.
Enthusiasm
aka the blogger who uses the SHOUTY CAPS and the exclamation points!!!!
Books are my happy place, and I tend to let that enthusiasm seep through my online and real life personalities. (They're actually pretty similar, I'm not that different in person or so I'm told.) I try to be as inviting and friendly to all because why be mean?? We're all new to the bookish community at some time or another, so why not welcome everyone with open arms and make them feel the love?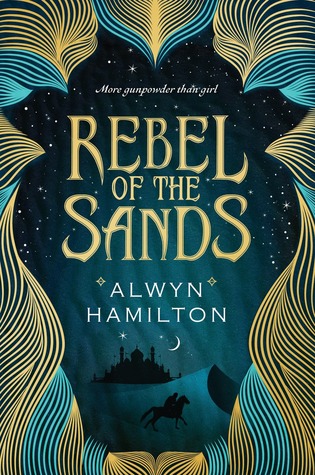 Release Date: March 8th, 2016
Publisher: Viking
Goodreads
She's more gunpowder than girl—and the fate of the desert lies in her hands.

Mortals rule the desert nation of Miraji, but mystical beasts still roam the wild and barren wastes, and rumor has it that somewhere, djinni still practice their magic. But there's nothing mystical or magical about Dustwalk, the dead-end town that Amani can't wait to escape from.

Destined to wind up "wed or dead," Amani's counting on her sharpshooting skills to get her out of Dustwalk. When she meets Jin, a mysterious and devastatingly handsome foreigner, in a shooting contest, she figures he's the perfect escape route. But in all her years spent dreaming of leaving home, she never imagined she'd gallop away on a mythical horse, fleeing the murderous Sultan's army, with a fugitive who's wanted for treason. And she'd never have predicted she'd fall in love with him...or that he'd help her unlock the powerful truth of who she really is.
Giveaway
Penguin is kindly offering 5 US winners a finished copy of Rebel of the Sands, a Penguin tote bag, and a sand hourglass. Ooh ahh! Enter below.
a Rafflecopter giveaway
What would you be known for as a blogger/reader?
Rachel is a teenaged unapologetic fangirl and perfectionist.
She loves reading for the escape it gives from reality and enjoys crying over books, swooning over characters, and laughing out loud over funny lines. She is a semi-recovering Netflix addict and a middle child of three.
You can find her on Twitter
@yaperfectionist
&
Goodreads
.