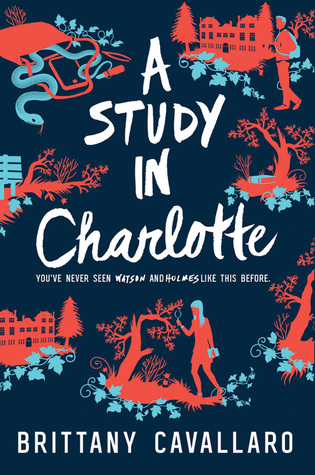 Author: Brittany Cavallaro
Series: A Study in Charlotte #1
Genre: YA Mystery/Thriller
Page Length: 336 Pages
Publication Date: March 1st, 2015
Publisher: Katherine Tegen Books
Source: ARC via author

(thanks Brittany <3)
Goodreads
|
Amazon
|
B&N
|
Indiebound
|
The Book Depository
The last thing sixteen-year-old Jamie Watson–writer and great-great-grandson of the John Watson–wants is a rugby scholarship to Sherringford, a Connecticut prep school just an hour away from his estranged father. But that's not the only complication: Sherringford is also home to Charlotte Holmes, the famous detective's enigmatic, fiercely independent great-great-granddaughter, who's inherited not just his genius but also his vices, volatile temperament, and expertly hidden vulnerability. Charlotte has been the object of his fascination for as long as he can remember–but from the moment they meet, there's a tense energy between them, and they seem more destined to be rivals than anything else.

Then a Sherringford student dies under suspicious circumstances ripped straight from the most terrifying of the Holmes stories, and Jamie and Charlotte become the prime suspects. Convinced they're being framed, they must race against the police to conduct their own investigation. As danger mounts, it becomes clear that nowhere is safe and the only people they can trust are each other.

Equal parts tender, thrilling, and hilarious, A Study in Charlotte is the first in a trilogy brimming with wit and edge-of-the-seat suspense.
Although this book isn't one I'd usually pick up since I'm not an avid reader of mystery novels, the synopsis was too alluring to pass up and I quickly became obsessed with the premise of this novel. I've always had fond memories of Sherlock Holmes. When I was younger I used to watch old black-and-white tv series episodes with my father. I'd feebly attempt to solve the mystery and delight in the fact that I was never right. The eccentricity and pure brilliance of Holmes along with the intricacies of the crimes, the Watson companionship, and the revealing ends left a charmed imprint of Sherlock on my childhood.
Throughout this novel, Brittany spreads her love and knowledge of Sherlock Holmes to readers in such a fresh way. I love the idea of Holmes and Watson being real and their descendants solving crimes together.
This book balances the line between paying homage to Holmes and also being fresh and original.
I especially admired the book's ties to the Sherlock Holmes mysteries and was wildly impressed by how fluid and natural the connections were between Holmes stories and
A Study in Charlotte
. It's so creative and fun to see how one of the most famous fictional-sleuthing duos is re-imagined as reality.
Given how authentic the connections are between this book and Sir Arthur Conan Doyle's stories, it's no surprise that the characterization was perfect. Charlotte mirrors Holmes' quirks and addictions. Her speech and actions are uncannily similar to him, yet she's still her own person. Her insecurities, troubles, and motives are where she really diverges from Holmes, and I'm glad Charlotte wasn't portrayed as a carbon copy of him. Her perceptiveness and reasoning skills are riveting. Her character is so fascinating, and I'm glad this story is told from Watson's point of view which makes her even more mysterious and a better study. Oh my dear Watson! I love Jamie. He's likable and funny and the perfect person to temper Charlotte.
I love the evolving relationship between Charlotte and Jamie as we see them learn to trust each other and become so much more. I ship it! That is all I shall say on the matter.
The dynamic between Charlotte and Jamie manages to keep up with the golden interactions between Holmes and Watson.
The interactions are hilarious and awkward and as strange as you'd expect.
Someone is framing Charlotte and Jamie for the death of a student at school in a sick imitation of Holmes' most famous mysteries. As more and more suspicious activities arise, the two team up and attempt to clear their names. I loved how this mystery developed and heightened throughout the book. There are so many twists and turns in the plot, you have no idea who you can trust!
The complexity and attention to detail in the plotting of the crimes are creepy yet artfully done. The plotting is pure genius and meticulously planned.
I'm in awe of the sheer scope and connections and threads scattered throughout this novel that manage to seamlessly come together at the end.
Brittany's writing is stellar and completely absorbing. Her wit and humor shine through in this novel as does her talent for writing.
A Study in Charlotte
ends fairly resolved, and there are two more books in the series to come! I thoroughly enjoyed this book and can't wait to see where the newest Holmes and Watson take us next.
A Study in Charlotte brings a thrilling plot, spot-on characterization, whip-smart writing, and a puzzling mystery that will keep you guessing until the very end.
About Brittany Cavallaro:
Brittany Cavallaro is a poet, fiction writer, and old school Sherlockian. She is the author of the poetry collection Girl-King (University of Akron) and is the recipient of a National Endowment for the Arts fellowship. She earned her BA in literature from Middlebury College and her MFA in poetry from the University of Wisconsin-Madison. Currently, she's a PhD candidate in English literature at the University of Wisconsin-Milwaukee, where she teaches creative writing, detective fiction, and lots of other things. She lives in Wisconsin with her husband, cat, and collection of deerstalker caps. Find her at her website, brittanycavallaro.com, or on Twitter @skippingstones.
LINKS:
Website
|
Twitter
|
Facebook
|
Tumblr
a Rafflecopter giveaway
Rachel is a teenaged unapologetic fangirl and perfectionist.
She loves reading for the escape it gives from reality and enjoys crying over books, swooning over characters, and laughing out loud over funny lines. She is a semi-recovering Netflix addict and a middle child of three.
You can find her on Twitter
@yaperfectionist
&
Goodreads
.