Richelle Mead is one of my all-time favorite authors. Her books are so addictive and she takes stereotypes (such as vampires) and puts a fresh spin on them. Her
Vampire Academy
series is still one of my favorites as it is action-packed, romantic, and hilarious. Richelle's newest fantasy series,
The Glittering Court
comes out April 5th, and I hope you guys are just as excited for it as I am!
As I'm over halfway through the novel, I can confidently express my adoration for this book. This book holds so much promise, especially for the subsequent books. It's a wonderful blend of old and new, and I really can't wait to see how it all ends in this book.
Some teasers to get you excited:
-Sassy Characters
-Teasing Banter
-Pretty Dresses
-Gleaming Jewels
-Inspiring Friendships
-Smoldering Romance
I'd highly recommend you add this one to your shelves and pre-order it. Penguin is hosting a sweepstakes incentive for those who pre-order and send in their receipt.
You'll receive a welcome kit containing gemstone tattoos and a guide to The Glittering Court and also be entered for the chance to win the Glittering Court Grand Prize which includes a Skype call with Richelle Mead, a $500 American Express gift card, $100 Sephora gift card and Glittering Court necklaces!
You can send in your receipts to claim your prize
here
. <---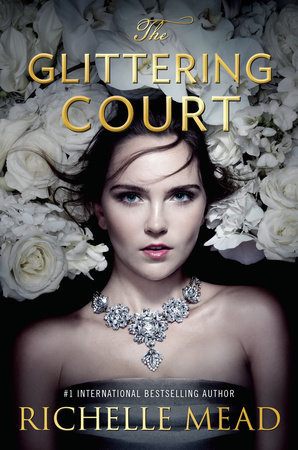 Big and sweeping, spanning the refined palaces of Osfrid to the gold dust and untamed forests of Adoria, The Glittering Court tells the story of Adelaide, an Osfridian countess who poses as her servant to escape an arranged marriage and start a new life in Adoria, the New World. But to do that, she must join the Glittering Court.

Both a school and a business venture, the Glittering Court is designed to transform impoverished girls into upper-class ladies capable of arranging powerful and wealthy marriages in the New World. Adelaide naturally excels in her training and even makes a few friends: the fiery former laundress Tamsin and the beautiful Sirminican refugee Mira. She manages to keep her true identity hidden from all but one: the intriguing Cedric Thorn, son of the wealthy proprietor of the Glittering Court.

When Adelaide discovers that Cedric is hiding a dangerous secret of his own, together, they hatch a scheme to make the best of Adelaide's deception. Complications soon arise—first, as they cross the treacherous seas from Osfrid to Adoria, and later, when Adelaide catches the attention of a powerful governor.

But no complication will prove quite as daunting as the potent attraction simmering between Adelaide and Cedric. An attraction that, if acted on, would scandalize the Glittering Court and make them both outcasts in wild, vastly uncharted lands. . . .
This giveaway is US Only and hosted by Penguin!
a Rafflecopter giveaway
Are you excited for The Glittering Court? Tell me your fondest Richelle Mead/book memory or why you're so excited for this book.
Rachel is a teenaged unapologetic fangirl and perfectionist.
She loves reading for the escape it gives from reality and enjoys crying over books, swooning over characters, and laughing out loud over funny lines. She is a semi-recovering Netflix addict and a middle child of three.
You can find her on Twitter
@yaperfectionist
&
Goodreads
.