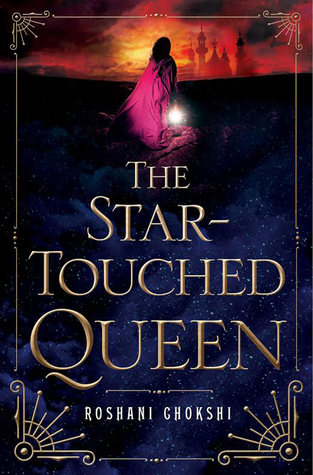 Author: Roshani Chokshi
Series: No, but companion novel to come!
Genre: YA Fantasy
Page Length: 354 Pages
Publication Date: April 26th, 2016
Publisher: St. Martin's Press
Source: ARC
Goodreads | Amazon
Cursed with a horoscope that promises a marriage of Death and Destruction, sixteen-year-old Maya has only earned the scorn and fear of her father's kingdom. Content to follow more scholarly pursuits, her world is upheaved when her father, the Raja, arranges a wedding of political convenience to quell outside rebellions. But when her wedding takes a fatal turn, Maya becomes the queen of Akaran and wife of Amar. Yet neither roles are what she expected. As Akaran's queen, she finds her voice and power. As Amar's wife, she finds friendship and warmth.

But Akaran has its own secrets - thousands of locked doors, gardens of glass, and a tree that bears memories instead of fruit. Beneath Akaran's magic, Maya begins to suspect her life is in danger. When she ignores Amar's plea for patience, her discoveries put more than new love at risk - it threatens the balance of all realms, human and Otherworldly.

Now, Maya must confront a secret that spans reincarnated lives and fight her way through the dangerous underbelly of the Otherworld if she wants to protect the people she loves.

The Star-Touched Queen is a lush, beautifully written and vividly imagined fantasy inspired by Indian mythology.
A new title and a quick pitch immediately caught my eye on PW's site: "pitched as a Hades and Persephone-style romance infused with Indian mythology, about an unlikely princess who must overcome her sinister horoscope but instead embarks on a quest to unravel her true identity and find the one she loves." With such a captivating plot, I was sucked in long before I even got the book.
The beauty of The Star-Touched Queen's cover pales in comparison to the beauty on the inside. Roshani artfully strings together such rich and elaborate descriptions. Her grandiose prose is flawless and unmatched by any author. I loved her lavish imagery and sharp dialogue. There is no writing like Roshani's! The diction portrays the ethereal quality, elegance, and timeless nature of this gorgeous retelling. I simply adore the Indian culture and folktales infused into the story.
Roshani has a talent for creating and weaving such intriguing concepts and ideas. I won't spoil, but there are so many wondrous things that Roshani creates that are awe-inspiring. There's a beautiful and hardly delicate garden, a tree meticulously preserved, a tapestry that basically comes to life, and a night bazaar I wish I could see in person. Also a certain opinionated animal enters the story and brings some comedic relief.
I really loved all of the characters and found it easy to relate to them. Maya has a horrible horoscope that promises death and destruction should she wed. She's constantly alienated by the people around her, and I felt so bad for her. Through all the mistreatment though, she learns some valuable lessons and really shines through as a wise and forgiving person. Amar is swoony and mysterious. I was entranced by his character. I love the sisterly bond between Maya and Gauri as well as the complex relationship between Maya and her father.
This is so much intrigue built into this novel, there's always something urging you to continue reading. I love the layers and layers of mystery packed into the story. The pacing was luxuriously slow in parts which I didn't mind because there was so much actually going on in the scene. The last hundred pages of the book had a quickened pace and all the build up from the first part of the book made sense! In that aspect, this book reminds me a bit of Daughter of Smoke and Bone by Laini Taylor. The Star-Touched Queen is a standalone, and I thought the ending was perfect and well done. I was satisfied, but I want more!
I completely forgot that this story is a retelling but once I saw the pieces coming together, I was thoroughly impressed. Roshani did such a wonderful job entwining both Indian and Greek mythology into her story yet still making it fresh and unique in its own way. The romance in this book is smoldering and gorgeous. I love their scenes and dialogue together which crackle with chemistry.
Overall this book managed to surpass my insanely high expectations and is stellar in all aspects. This book rests among the stars for me. 5 stars are simply not enough! If you're in the mood for a standalone fantasy novel with beautiful writing and a lovely story then I suggest you pick up this book.
Rachel is a teenaged unapologetic fangirl and perfectionist.
She loves reading for the escape it gives from reality and enjoys crying over books, swooning over characters, and laughing out loud over funny lines. She is a semi-recovering Netflix addict and a middle child of three.
You can find her on Twitter
@yaperfectionist
&
Goodreads
.