Meet the Newbies is a blog event dedicated to introducing you to the "newbie" published debut authors. In this event, expect to learn more about the authors, their books, and silly fun facts! Check out the full Meet the Newbies lineup
here
.
Ashley Herring Blake has been such a bright spot in the bookish community through her impactful statements on religion and sexuality and hilarious tweets in general. I connected with her through Twitter nearly from the beginning of my blogging career, and I've been anxiously waiting to read her debut novel, Suffer Love. Ashley is such an amazing person and a wonderful writer, and now you can get to know her too!
Author Most Likely to Organize Books by Color While You Sleep
Nickname: Curls
First Day of School: May 3rd, 2016
Homeroom: Houghton Mifflin Harcourt
Grade: Contemporary
Extracurricular Activities: Organizing books by color, gazing at books organized by color, wondering which book organized by color I shall read next, convincing you to organize your books by color, dreaming of my next cup of coffee while looking at books organized by color, listening to gloomy girl music while organizing books by color, reading a book I have previously organized by color.
Favorite class: British Lit
Favorite Quote: "I took a deep breath and listened to the old brag of my heart. I am, I am, I am." -Sylvia Plath
Interview:
1. Describe your book in 5 words.
Family, betrayal, anger, kissing, forgiveness.

2.
You are such a huge advocate for sexuality and women. Where did this passion originate? Was there one defining moment that helped you decide you wanted to make a difference in the community?
The best way I can put it is that this grew out of many years of feeling small specifically because I'm a woman. As girls, we're told over and over again that we don't matter as much as boys. It's so subtle sometimes that we don't even notice it. For me, I didn't really recognize the repercussions of this cultural assault until I was in my 20s and then…well. I just got angry. I'm tired of feeling less, like my choices and my body and my preferences don't matter or are silly or aren't intellectual enough and I don't want young girls growing up like that. This message is everywhere and one thing we can do about is to talk about it a lot. So I do. I talk about it because so many didn't when I was younger. As far as sexuality goes, I spent many years suppressing how I really felt about myself and my own sexuality and once I finally got the point that I was ready to talk about it, I wanted to make sure others felt the freedom to talk about it when they were ready too. Sexuality is such a complicated thing. It's fluid and how we deal with it and express it is extremely personal. That being said, it helps to talk about this too, even if it is just to say, "Hey, you don't have to know or understand yourself fully or even talk about it." If not for other people expressing their ideas and thoughts, I might never have found my voice about my own experiences and feelings.

3.
Can you describe a typical writing day for you? Do you have any writing rituals?
Right now I have a day job, but during the summer or when I have a day to myself, I like to get my coffee, first and foremost. I usually scroll through Twitter for a few minutes before I dive in. When I'm writing a first draft, I like to write everyday and hit a certain word count. If I can't hit the count, I try and make sure the words I do get are good ones and that they move the story forward, even if it's just an inch or two. I love writing in the morning the most, but I usually end up fiddling around at night as well. I don't have any regular writing rituals other than just getting the words down when I'm drafting. Sometimes I listen to music and sometimes I don't. I do like making Pinterest pages for my books and often fall into a Pinterest hole when I should be writing. When I have to do my day job, I usually get up around

5AM

or so to get in some words. Yeah, it's not pleasant, but I've found my day goes a lot better if I can get in touch with that part of me and get that done before going to teach.
4.
Suffer Love covers such a sensitive topic. What advice would you give to teens/kids whose parents are going through a divorce or tough family matter?
Oh, wow, this is a tough one. My parents divorced when I was 16, although my experience was vastly different from both Sam and Hadley's. I think the biggest advice I'd give is to let yourself feel however you need to feel. Sad, angry, confused, whatever it might be, there is no wrong way to feel. However, I'd couple that with being honest with your friends and family. This is your parents issue, absolutely, but it affects you and will affect you for the rest of your life, so communicating with them is key. You can still be angry. You can still be sad. But let them know that, even if it's just to say "Hey, leave me alone for a while please."

5.
Which 2016 debuts have you read and would recommend to others?
Oh wow, there are so many great ones. One of my absolute favorites is Paula Garner's Phantom Limbs. It's out in September and is about a boy sifting through some really intense grief, a broken friendship he's trying to mend, and his amputee friend he's trying to be too many things for at once. It's gorgeously writing and I cannot recommend it enough. Another one I loved is Audrey Coulthurst's Of Fire and Stars. It's a beautifully written fantasy about a princess who falls in love with her betrothed's sister and oh my goodness, right? I am always here for f/f YA and fantasy f/f YA is something we don't have enough of. This one did not disappoint. Two more that absolutely blew me away are Shannon Parker's The Girl Who Fell and Rebecca Podos' The Mystery of Hollow Places.
About the Book: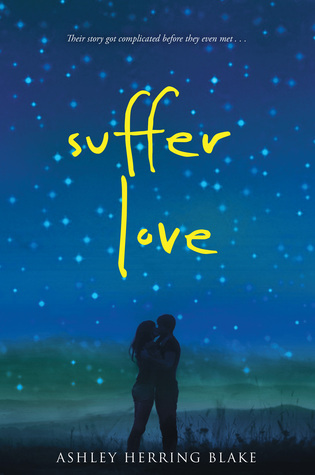 "Just let it go."
That's what everyone keeps telling Hadley St. Clair after she learns that her father cheated on her mother. But Hadley doesn't want to let it go. She wants to be angry and she wants everyone in her life—her dad most of all—to leave her alone.
Sam Bennett and his family have had their share of drama too. Still reeling from a move to a new town and his parents' recent divorce, Sam is hoping that he can coast through senior year and then move on to hassle-free, parent-free life in college. He isn't looking for a relationship…that is, until he sees Hadley for the first time.
Hadley and Sam's connection is undeniable, but Sam has a secret that could ruin everything. Should he follow his heart or tell the truth?
Buy Links:
Goodreads
|
Amazon
|
Barnes and Noble
|
Indiebound
About the Author:
Ashley Herring Blake is a poet, teacher, and YA novelist. Her debut novel, SUFFER LOVE, follows two teens as they attempt to wade through an intense relationship complicated by their parents' infidelities. Ashley lives in Nashville, TN.
Social Media Links:
Website
|
Twitter
|
Goodreads
|
Tumblr
|
Instagram