Meet the Newbies is a blog event dedicated to introducing you to the "newbie" published debut authors. In this event, expect to learn more about the authors, their books, and silly fun facts! Check out the full Meet the Newbies lineup
here
.
Harriet's debut
The Square Root of Summer
instantly caught my attention because time travel always fascinates me. And there's physics in this book! Without further ado, I present Harriet Reuter Hapgood!
Author Most Likely To Talk To You Earnestly About Dawson's Creek
Nickname: baggylettuce
First Day of School: May 3, 2016
Homeroom: Roaring Brook Press
Extracurricular Activities: Kitchen disco, applying eyeliner on the bus, Instagramming cats, felt-tip pen illustrations of unicorns, time travel
Favorite Class: I study at the school of Goop.com every Thursday ;)
Favorite Quote/Motto: "I am going to make the largest wizard staff in the world. I was also going to summon something wonderful but you are already here." from
Leigh Stein's Birthday
by Lauren Ireland
Interview:
1. Pitch your book in 5 words!


Summer romance meets quantum kitten.




2. The Square Root of Summer features time travel! If you could travel back to any time in your life so far, when would you travel to? Why?


I wouldn't! I think about this a lot and ultimately come to the same conclusion every time - I couldn't offer my past self any advice or help, because I had to go through whatever mistakes or bad decisions (from boys to haircuts) to get to this point, y'know? My mum is quite fatalistic and very "what's done is done" and I think I've inherited that. So while I'd love to think I could find 17-year-old me and convince her not to worry, and that she was a total babe, so why all the tears? I probably wouldn't mess with the universe's design.




3. I love the cover of your book! Can you share the cover design process? What are some of your favorite details? (I quite like the square root over the word 'summer')


Thank you! I love it too. It's by the very talented Elizabeth H Clark at Macmillan. I was originally sent two totally different designs, quite late on in the design process, and shared some feedback on each. This cover was chosen, and has been gradually and subtly tweaked ever since. My favourite details are the way the grass and daisies interact with the title type, rather than just having the text "float" over the top. And I love the faded-out wormhole-esque numbers - if you look closely, some of them are numbers cubed. So clever!




4. What aspects of yourself and your interests have you weaved into your book?


A little of everything! It really is just me, my family and friends, remixed. My auntie had a ramshackle cottage in north Norfolk, near the sea, which I remember from childhood and made it Gottie's home. I love the British seaside. I love dilapidated old second-hand bookshops, so I gave Grey one. I love baking - Thomas's bake-offs throughout the book are really just me drooling about pastries. Oddly, the one thing I wasn't a passionate fan of before writing the book is its major theme: quantum physics! I'm a fashion journalist by trade, not a maths whizz. I also can't ride a bike, so a little of Gottie is my wishful thinking...




5. Is there anything that has surprised you about the publishing industry or writing in general?


That I can write! I didn't show my work to anyone before getting an agent, and then when we sent the book out on submission we were like, "Is anyone gonna be interested in this weird English book about particle physics?" It was a lovely surprise to hear so many yeses! The whole process is surprising, really - the number of edits, copy-edits, line-edits, proofreads, typesets, tweaks... and that's before you get into cover design, publicity, marketing, sales... It takes one person to write a first draft. But it takes a village to make it into a book.



6. Can you share anything about your latest WIP?


That it's currently a hot mess? ;) I write in a bizarre, non-linear way. Everything is completely plotted out, like totally detailed, post-its everywhere... then I type a bunch of other random stuff instead! I don't always know why or how, or where it's going to go in the book. Eventually the planned plot and the stream-of-consciousness stuff comes together... I hope it does, anyway! Some clues: I'm currently researching black magic, grimoires, clouds and meteorology, California, and 1990s teen television. Yes, watching Buffy again counts as research, OK?
About the Book: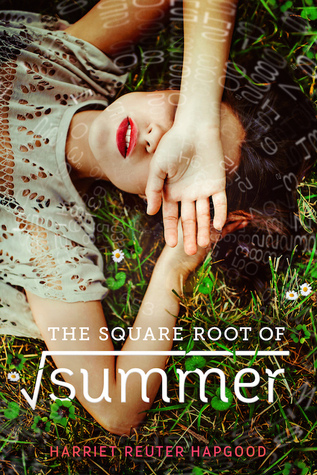 Gottie H. Oppenheimer is losing time. Literally. When the fabric of the universe around her seaside town begins to fray, she's hurtled through wormholes to her past:
To last summer, when her grandfather Grey died. To the afternoon she fell in love with Jason, who wouldn't even hold her hand at the funeral. To the day her best friend Thomas moved away and left her behind with a scar on her hand and a black hole in her memory.
Although Grey is still gone, Jason and Thomas are back, and Gottie's past, present, and future are about to collide—and someone's heart is about to be broken.
Book Buy Links:
Goodreads
|
Amazon
|
Barnes and Noble
About the Author:
Harriet Reuter Hapgood is a freelance fashion journalist and author of THE SQUARE ROOT OF SUMMER (coming May 2016). Her first-ever professional writing credit was for Just Seventeen magazine, and she's been YA obsessed ever since. She likes burritos, cats, Gwyneth Paltrow and young adult fiction, which she plans to write more of, though she's also considering a PhD in Dawson's Creek. Follow her on Twitter: @hapgoodness and on Instagram: @hapgo0dness if you like pictures of cats
Social Media Links:
Website
|
Twitter
|
Goodreads
|
Instagram
|
Tumblr
|
Pinterest
a Rafflecopter giveaway
Have you read this book? Why are you excited to read it? If you could time travel to any time period, when/where would you go? Are you good at physics? (Haha I'm NOT)