Meet the Newbies is a blog event dedicated to introducing you to the "newbie" published debut authors. In this event, expect to learn more about the authors, their books, and silly fun facts! Check out the full Meet the Newbies lineup
here
.
Julie Eshbaugh is a local author, and I've had the immense pleasure of meeting her on multiple occasions! She is such a wonderful friend and an amazing supporter of APCB. Her debut historical fantasy novel,
Ivory and Bone
, is a sweeping tale that will grab you from the very start. Here is Julie!
Author Most Likely to One Day Live in a House Built of Books
Nickname: Jewels
First Day of School: June 7, 2016
Grade: Historical Fantasy
Extracurricular Travel, wandering through museums, staying up way too late reading, binge watching TV with the family
Favorite Quote/Motto: "Make good art." Neil Gaiman
Interview:
1. Describe your book in 5 words.
Romantic adventure set in prehistory.
2. Why did you decide to write your book in second person point of view? How do you feel it enriches the book?
I wrote the book the way it came to me. The idea for the scene that became the prologue came to me first, and I imagined Kol telling Mya a story. I wrote a few chapters in that storytelling style, and I found that it just felt right. I
did
try to change it to a straight first person narration at one point, but I felt it lost a certain sense of immediacy when I did. I feel like the second person narration works for this story because it fits the time period—a time when oral storytelling would have been a huge part of the culture—and the complexity of the relationship between Kol and Mya.
3. Which scene was your favorite to write and why?
There's a scene where Kol needs to travel by kayak through a bad storm. He faces a lot of danger on that trip, but he also faces his feelings, so the scene is loaded with external and internal tension. When I typed it, it just flowed onto the page. I felt like it was already written, and I was merely transcribing it. It is by far my favorite scene in the book.
4. I love the historical details of the Ice Age era that you weaved into
Ivory and Bone.
Did you experience any difficulties in finding information on an era so far back in time? How did you get around it? What is the most fascinating thing you learned in your research?
You're absolutely right that there is little known with any certainty about life 12,000 years ago because the evidence is sparse. Also, there are competing theories among archaeologists, especially about the first people to settle North America. (Though it's never stated in the book, I imagine the characters to be among the people who crossed the Bering Land Bridge.) Probably the most fascinating thing I learned about was a settlement in Monte Verde, Chile that archaeologists believe to be over 14,000 years old. The camp has revealed a more complex and varied lifestyle than scientists would have expected for the period. The designs of the camps in IVORY AND BONE were based somewhat on what I learned about Monte Verde.
5. I understand that you write for
Pubcrawl
. Can you tell readers a little bit about what the site is and what you have learned from your time writing for the site?
Publishingcrawl.com is a group writing blog that currently has twelve active contributors. Some of us are writers at various stages of our careers, and some are publishing professionals. The roster of contributors has changed over the years, and many PubCrawl alumni are bestselling authors, (like Sarah J. Maas, Susan Dennard, and Leigh Bardugo, among others!) We post four times a week, covering everything from advice on the craft of writing to the business of publishing.
I honestly don't believe I would be published at this point if it weren't for PubCrawl. I've learned so much from the other contributors, and I've increased my knowledge by creating my own posts. Also, the support of the contributors and readers is amazing. When I joined in 2010, I really found a writing community I could call home.
6. Would you be able to live and survive in the Ice Age period?
Absolutely not! There's a line in IVORY AND BONE where a character is bragging about his older brother. He says, "My brother can hunt down a mammoth, skin it, butcher it, and make a boat from the pelt and bones." If that's the required skillset, I would be sorely out of luck!
About the Book: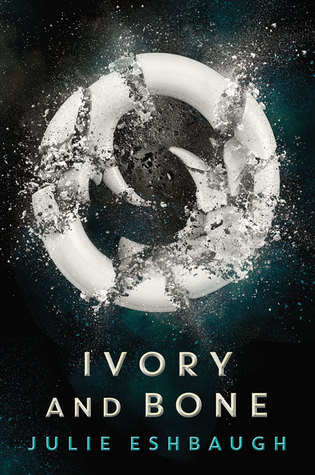 A prehistoric fantasy—with allusions to Pride and Prejudice.
Hunting, gathering, and keeping his family safe—that's the life seventeen-year-old Kol knows. Then bold, enigmatic Mya arrives from the south with her family, and Kol is captivated. He wants her to like and trust him, but any hopes of impressing her are ruined when he makes a careless—and nearly grave—mistake. However, there's something more to Mya's cool disdain…a history wrought with loss that comes to light when another clan arrives. With them is Lo, an enemy from Mya's past who Mya swears has ulterior motives.
As Kol gets to know Lo, tensions between Mya and Lo escalate until violence erupts. Faced with shattering losses, Kol is forced to question every person he's trusted. One thing is for sure: this was a war that Mya or Lo—Kol doesn't know which—had been planning all along.
Book Buy Links:
Goodreads
|
Amazon
|
Barnes and Noble
About the Author:
Julie Eshbaugh used to have trouble staying in one spot, having lived in places as varied as Utah, France, and New York City. She eventually returned home to the Philadelphia area, where she now lives in the house she grew up in with her husband and son. Early on, Julie focused her artistic energies on filmmaking and online video. She made two short films and spent several years producing a web series for teens that became an early YouTube hit and received several honors from the Webby Awards. Julie's debut young adult novel, Ivory and Bone, will be published by HarperTeen in 2016.
Julie is a member of the group writing blog
Pub(lishing) Crawl
, where she posts regularly. You can also add Julie on
Goodreads
, and follow her on
Twitter
,
Instagram
,
Pinterest
, and
Facebook
.