Meet the Newbies is a blog event dedicated to introducing you to the "newbie" published debut authors. In this event, expect to learn more about the authors, their books, and silly fun facts! Check out the full Meet the Newbies lineup
here
.
Karen's debut
Frannie and Tru
immediately snared my attention with its premise of a girl taken in by her charismatic cousin for an adventure-filled summer. And then the plot deepens and blossomed into something even more complex and lovely. Here is Karen Hattrup!
Author Most Likely to Have a Favorite Playlist Titled "Teenage Angst" Even When She's in her Thirties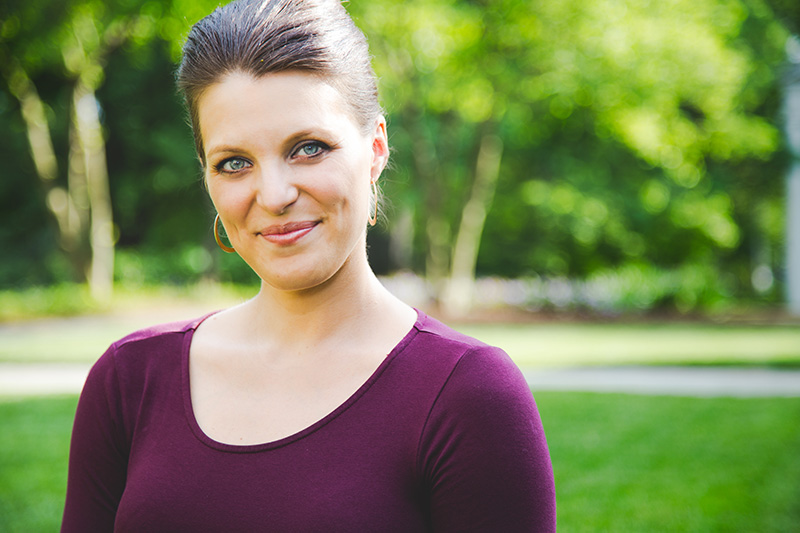 Nickname: The Over-thinker
First Day of School: May 31, 2016
Homeroom: HarperTeen
Grade: Contemporary YA
Extracurricular Activities: Fangirling around the YA sections of all the libraries and bookstores in Baltimore, hunching over my current writing project while cycling between joy and despair, counting the minutes until it's reasonable to drink more coffee (And back when I was in high school: dance, yearbook, homecoming hall/float, and lots of nonrequired reading)
Favorite class: Mine was AP English senior year – where all the book nerds united. Frannie's is biology – she'll totally end up doing something super-rad and STEM-related.
Favorite Quote: "When we are green, still half-created, we believe that our dreams are rights, that the world is disposed to act in our best interests, and that falling and dying are for quitters. We live on the innocent and monstrous assurance that we alone, of all people ever born, have a special arrangement whereby we will be allowed to stay green forever. That assurance burns very bright at certain moments." -Tobias Wolff
Interview:
1. Describe your book in 5 words.


Quiet girl finds the world.



2. How did you react when first finding out your book sold to Harper? How did you celebrate?


I was at a work happy hour, and I went out on the deck to call back my agent when I saw that I'd missed him twice. My heart was pounding as I dialed, and cars were screaming by on the street next to me, so I could barely hear. When he told me the news, I was convinced that I was misunderstanding him. It was just so hard to believe. . . As for celebrating, I feel like maybe I forgot that part? I mean, I celebrated by making a bunch of edits and trying to learn something about this whole publishing a book thing? I'm only kind of joking - I had a baby in the last year in addition to the book and life has been chaos! But my husband and I are going out for a really nice dinner before it comes out, and I'll be celebrating at my launch party here in Baltimore on June 4. YAY.



3. Frannie and Tru tackles some serious social issues including race and sexuality. Why did you choose to include such sensitive topics? (I totally commend you for it!)
When people hear that the book is about those things, they might assume that it's full of big drama, but FRANNIE AND TRU looks at those topics in a quieter way. It's about a girl who is smart, sensitive, and kind, but still naïve to her place in the world, still wrong-headed in certain ways, even when (or maybe especially when) she thinks she's acting with the best intentions. As a straight, white girl, Frannie starts to learn what it means to come from a place of privilege. She struggles to more fully understand that and to figure out how she should move forward in her life, knowing more than she did before.



In the very, very beginning, I didn't set out to write a book about those things! I set out to write about what happens when you're young and you make a charismatic friend and you start to think that they're the key to imagining yourself anew. And the book is still very much about that, but early on, those other issues became all tangled up with the original idea, and I realized they could be an important part of Frannie's story. As for why, I would say that it's because I think about and struggle with those very same things. For me, writing is the best way I know to try and figure out myself and the world.



4. What do you hope people take away from reading your novel?


I always find it hard to answer that question, as I think different people will take away different things. But I can say that I hope there are some moments that make readers cringe, and that they find some meaning in that discomfort. And I hope there are other moments that just make them feel, that evoke the unforgettable joy, hope, and sadness of being young.

5. What do you like to do in your free time besides writing and reading?


Play with my kids. Go for a run. Eat ice cream – that's, like, a full, legitimate hobby, right? And no matter how bad my day has been, Broad City, VEEP, and My Crazy Ex-Girlfriend will always make me feel better. Also, my husband and I discuss Orphan Black and the Walking Dead with the same intensity some people bring to Shakespeare.
About the Book:
When Frannie Little eavesdrops on her parents fighting she discovers that her cousin Truman is gay, and his parents are so upset they are sending him to live with her family for the summer. At least, that's what she thinks the story is. . . When he arrives, shy Frannie befriends this older boy, who is everything that she's not–rich, confident, cynical, sophisticated. Together, they embark on a magical summer marked by slowly unraveling secrets. Book
Buy Links:
Goodreads
|
Amazon
|
Barnes and Noble
|
Indiebound
About the Author:
Karen Hattrup grew up in the suburbs of Washington, D.C. with her parents and brother, devouring books from an early age. At Loyola University Maryland, she studied journalism and spent a semester abroad in Thailand. She went on to become a newspaper reporter, first in Maryland and then in Indiana, writing features and serving as an award-winning arts critic. Karen later studied nonfiction writing at the Johns Hopkins University. She lives in Baltimore City with her husband, daughter, and son.
Social Media Links:
Website
|
Twitter
|
Goodreads
|
Facebook