Meet the Newbies is a blog event dedicated to introducing you to the "newbie" published debut authors. In this event, expect to learn more about the authors, their books, and silly fun facts! Check out the full Meet the Newbies lineup
here
.
Kathryn's debut,
Burning Glass
, was easily one of my most anticipated books of the year. I read it back in August, and it definitely lived up to my expectations! I love Kathryn's writing, the Russian culture, the subplots, the characters, and the searing romance. And so I present to you... Kathryn Purdie!
Author Most Likely To Get Trapped in Her Seatbelt in the High School Parking Lot (True Story)
Nickname: Firestarter
First Day of School: March 1, 2016
Homeroom: Katherine Tegen Books/HarperCollins
Extracurricular Activities: Dream Interpretation, Wild Horse Training (and some serious ones: acting, guitar, singing, art)
Favorite Class: Sensing Assassins 101
Favorite Quote/Motto: "I'm not a mirror. And I don't break like glass." ~Sonya from BURNING GLASS
Interview:
1. Pitch your book in 5 words.
Empath forced to protect emperor.
2. I love the romantic tension in your novel and the complicated relationship between the brothers and Sonya. Why do you think romantic tension is such an important thing to have in your novel?
Tension in relationships is critical to any story, in my opinion. Tensions in a romantic relationship offer some of the highest impact because they're so relatable. Who hasn't felt jilted, forgotten, swept away, imbalanced, headstrong, or lost in love? Almost every song on the radio is about romantic love. The majority of young adult stories heavily feature love. At the height of coming into your own as an individual teenager often goes hand-in-hand with discovering what romantically attracts you AND romantically frustrates you about another person. Romantic tension is a fascinating, page-turning device for stories, it's a legitimate device (despite those sexist naysayers who like to bash what they deem as "girly books," and my favorite stories include it.
3. The Auraseer aspect of Burning Glass is so fascinating. If you were an Auraseer yet you could only detect one emotion, which would it be?
Ooh, I love this question. I'd have to say the one emotion I'd love to detect is deception. I usually can tell when someone is feeling a certain way, but it'd be nice to know why. And if I asked why, I'd want to know if that person was telling me the truth!
4. Why did you choose the Russian culture to fuse with your novel? What is the most fascinating thing you learned in your research?
I've always been fascinated with Imperial Russia and its fall when I learned many years ago that the last heir to the throne, Alexei, had hemophilia like my son, three brothers, and grandfather. That led me to fall in love with Russian stories that are dark, passionate, moody, have high stakes, and are epic in scope. Within the first minute I conceived of the idea behind BURNING GLASS, I knew I'd set it in a Russia-inspired world. It was the perfect fit for all of those reasons!
5. Can you share some of your writing habits or rituals?
I write on my laptop in my bed. I have a huge window that overlooks the Rocky Mountains. I pull up my blinds and gaze at them as I'm plodding for the perfect words. I also listen to movie soundtracks. My favorite composer is Rachel Portman, and I often write to her film scores for BELLE and THE DUCHESS.
6. What do you like to do when you're not writing?
My husband is a high school drama teacher, and I'm a classically trained actress, so I love to be involved in assistant-directing his plays as needed and helping behind the scenes. I also sing and play guitar, and I compose a song for every story I write. My husband and I are huge movie and TV buffs, so we nerd out watching shows together. We just watched BROOKLYN--so good!! We have three kids, and the five of us love to watch THE FLASH, SUPERGIRL, and THE VOICE. Of course, I love to read, and I gobble up books whenever I can. My favorite recent reads are AN EMBER IN THE ASHES by Sabaa Tahir and THE LOVE THAT SPLIT THE WORLD by Emily Henry.
About the Book: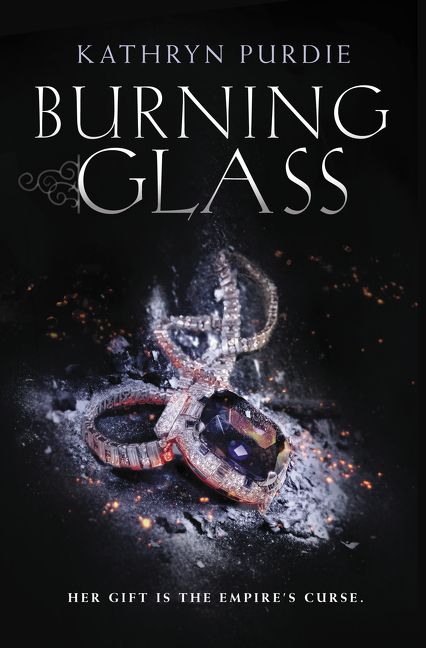 Sonya was born with the rare gift to feel what those around her feel—both physically and emotionally—a gift she's kept hidden from the empire for seventeen long years. After a reckless mistake wipes out all the other girls with similar abilities, Sonya is hauled off to the palace and forced to serve the emperor as his sovereign Auraseer.
Tasked with sensing the intentions of would-be assassins, Sonya is under constant pressure to protect the emperor. One mistake, one small failure, will cost her own life and the lives of the few people left in the world who still trust her.
But Sonya's power is untamed and reckless, her feelings easily usurped, and she sometimes can't decipher when other people's impulses end and her own begin. In a palace full of warring emotions and looming darkness, Sonya fears that the biggest danger to the empire may be herself.
As she struggles to wrangle her abilities, Sonya seeks refuge in her tenuous alliances with the volatile Emperor Valko and his idealistic younger brother, Anton, the crown prince. But when threats of revolution pit the two brothers against each other, Sonya must choose which brother to trust—and which to betray.
BURNING GLASS is debut author Kathryn Purdie's stunning tale of dangerous magic, heart-rending romance, and the hard-won courage it takes to let go.
Book Buy Links:
The King's English (Kathryn's Indie)
|
Goodreads
|
Amazon
|
Barnes and Noble
|
Indiebound
|
iBooks
|
Indigo
|
Book Depository
About the Author:
Kathryn's love of storytelling began as a young girl when her dad told her about someone named Boo Radley while they listened to the film score of TO KILL A MOCKINGBIRD. In high school and college, Kathryn focused on acting, poetry, guitar, and extensive journal writing. Years later, when she was in recovery from donating a kidney to her brother, inspiration for her first novel struck. She's been writing darkly fantastical stories ever since. Her debut novel, BURNING GLASS, releases winter 2016 from HarperCollins/Katherine Tegen Books.
Social Media Links:
Website
|
Twitter
|
Facebook
|
Goodreads
|
Tumblr